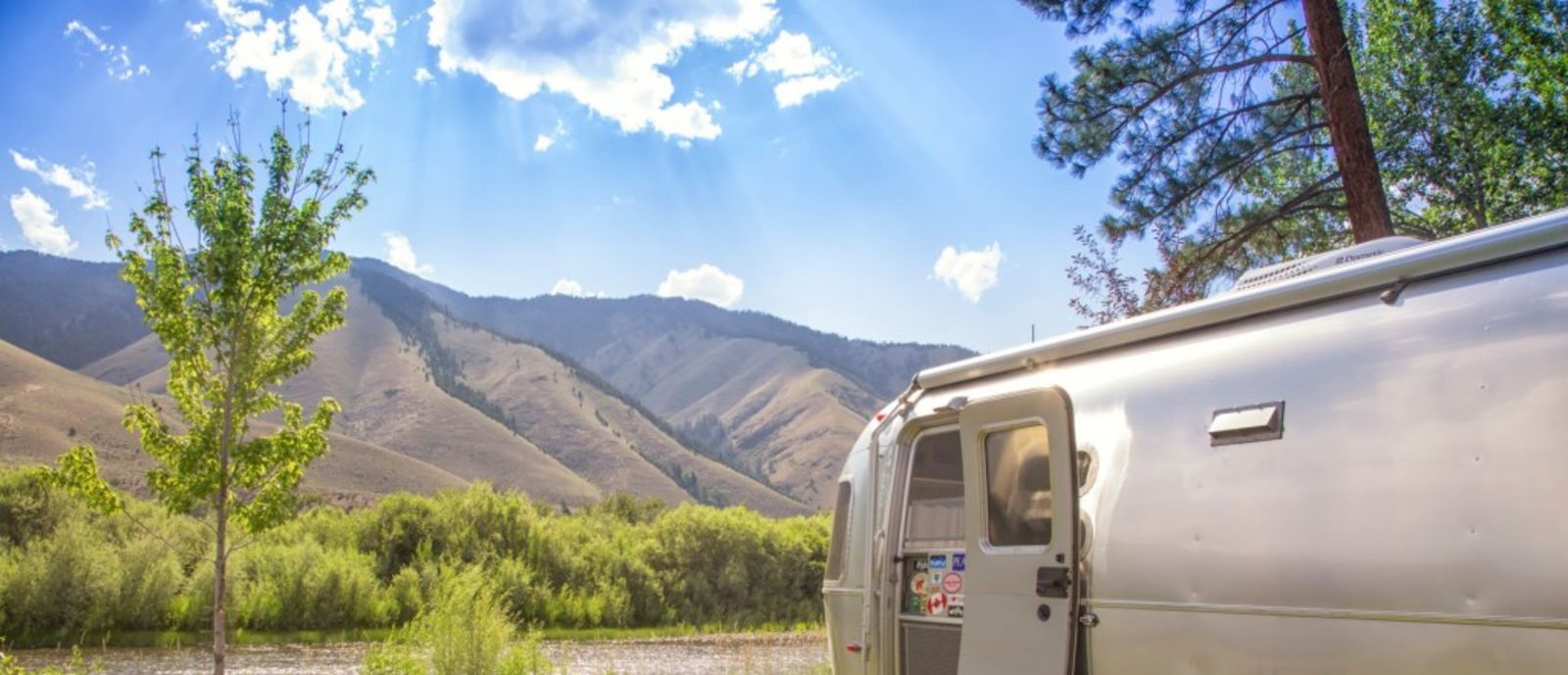 Trip Planning
The Beauty Of Idaho's Salmon River
Situated along the banks of the Salmon River in North Fork, Idaho is where one can find the picturesque Wagonhammer RV Park. As we pull in and head to our site, we notice that this park has it all, including beautiful manicured landscaping, ample and very accommodating sites for RVs of all sizes and a general store complete with a charming gift boutique.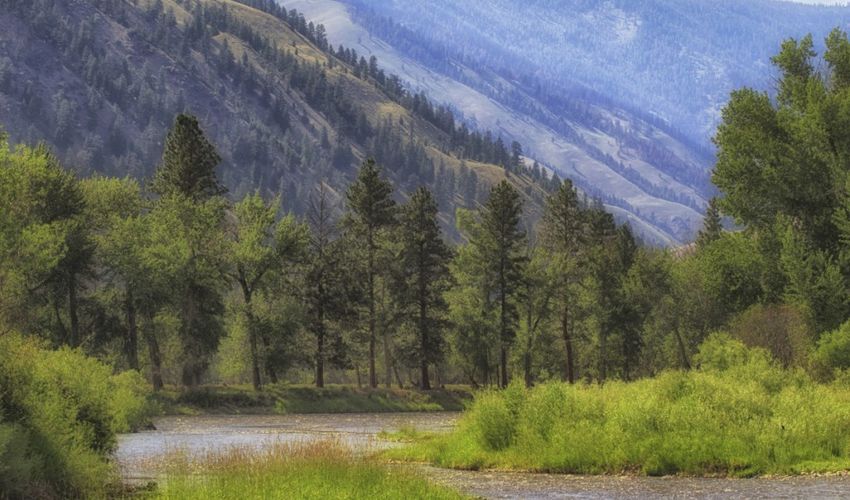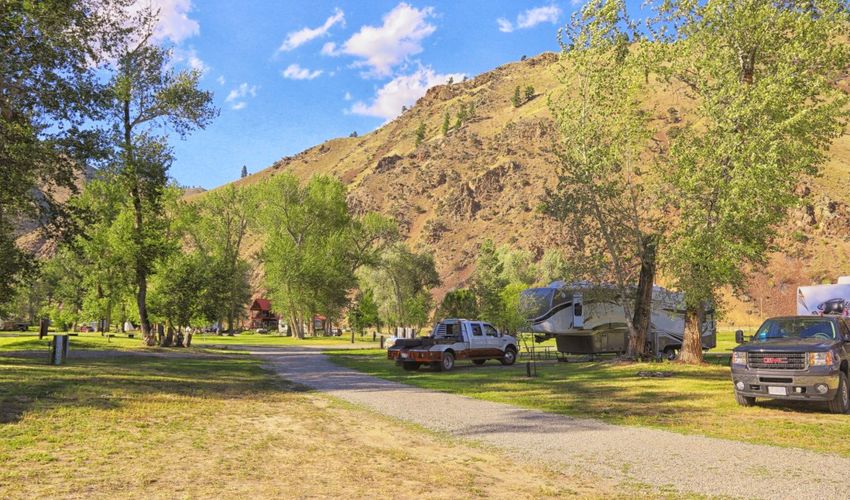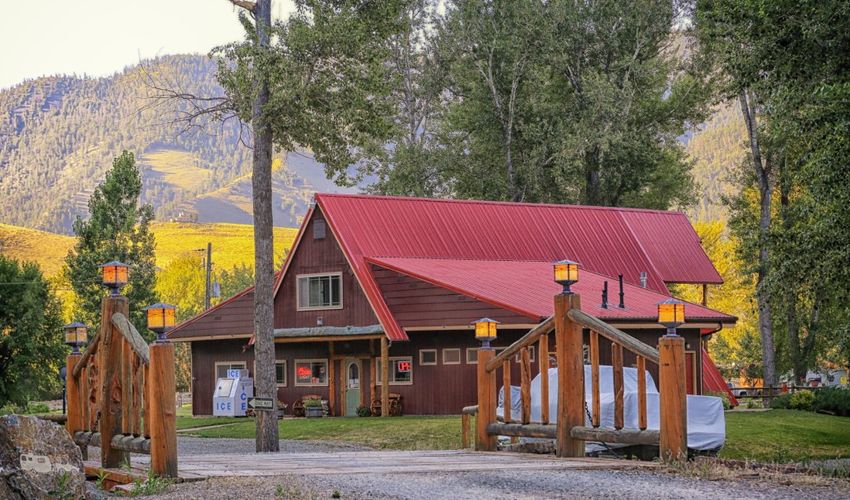 Our site is located right along the Salmon River and we couldn't be happier about that. The sound of the rushing river was the icing on the cake here in our happy little campsite.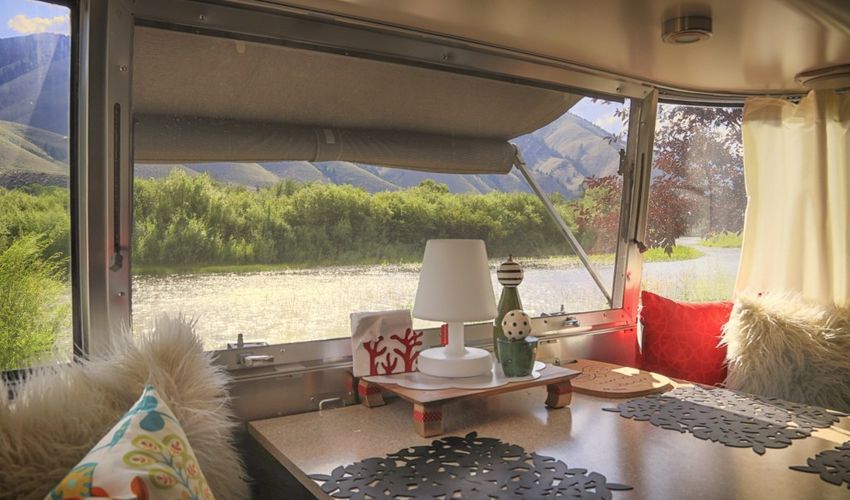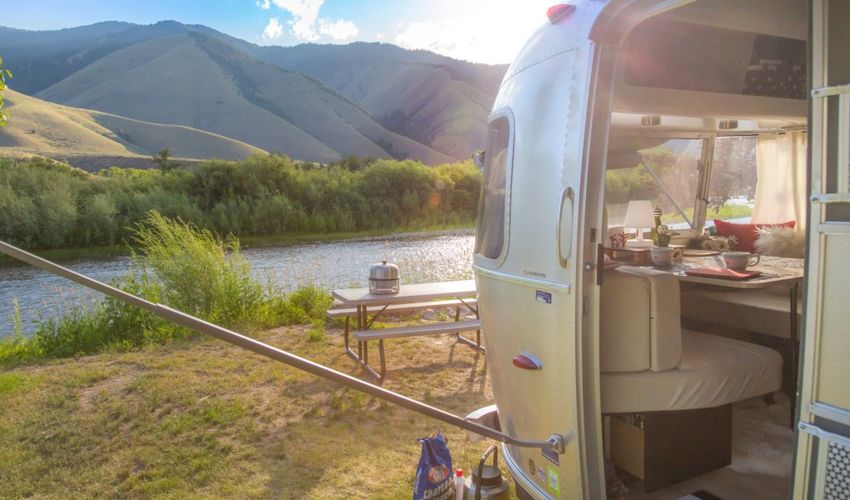 Eventually, we took a stroll around the park to get acquainted with our surroundings. B ran happily in the wide-open, grassy spaces while hubby and I smiled with adoration over our boy's happiness. As we strolled along, we came across a campsite that had many white trays stacked on top of each other all over the campsite. Upon closer inspection, these trays were holding an enormous amount of Morel mushrooms.
We stopped dead in our tracks.  We were speechless and hubby just looked at me. He knew how obsessed I was over these types of mushrooms. Oh morels, how many times I have tried to hunt you down and find you with never any success. Okay, okay, there was one time where I found a single Morel mushroom all by its lonely little lonesome self, but that was it. Sadly, there was never another to be found and here before my eyes in North Fork, Idaho, at the Wagonhammer RV Park, lay at least a billion precious Morel mushrooms.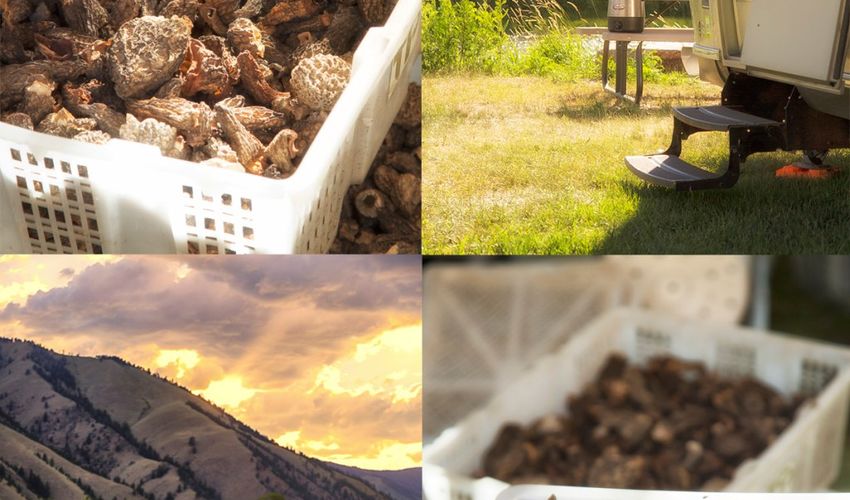 A lady soon appeared from behind a white tent in the campsite, smiled and said, "Hello there!" I was still speechless, just staring at the mushrooms until hubby gave me a good elbow nudge and brought me back to life.
"Hello! You have so many mushrooms. Oh my goodness, so many mushrooms." It was all that I could say. I wanted to ask her where she found them all but I knew better.  Why did I know better? Well let me tell you a little something about Morel mushrooms if you don't know – their secret locations are kept just that way. Secret. These mushrooms can't be commercially grown, only harvested from the wild from where they grow. It is because of that, the secret locations are highly respected in the Morel mushroom hunting world.
We chatted about the mushrooms and I told her about my passion and obsession over finding them with no success. Such a sweet lady she was that she gave me a handful to take back to the trailer. I was completely in awe and ever so thankful. She suggested a way to cook them that would truly make their earthy flavor shine and I have to say, she knew what she was talking about. They were divine.  As you will see below, I served the crispy Morel rings alongside some red pepper aioli (mayo, red pepper chopped, garlic and lemon mixed together — everything to taste). What a treat.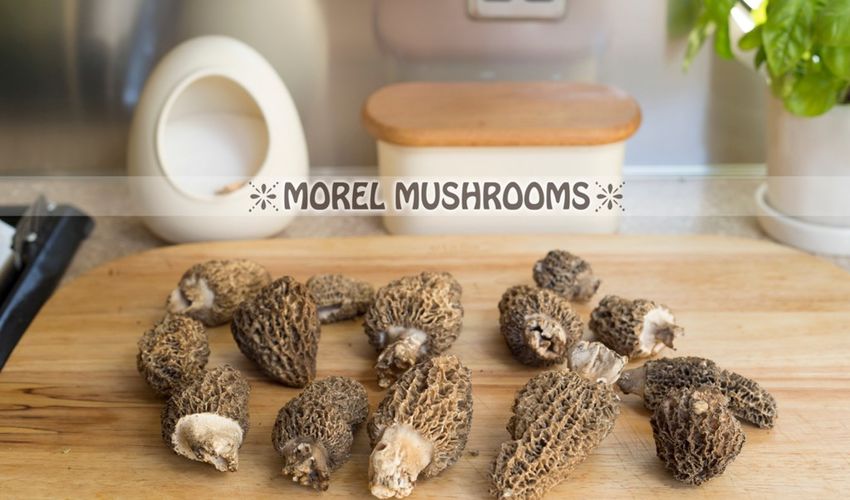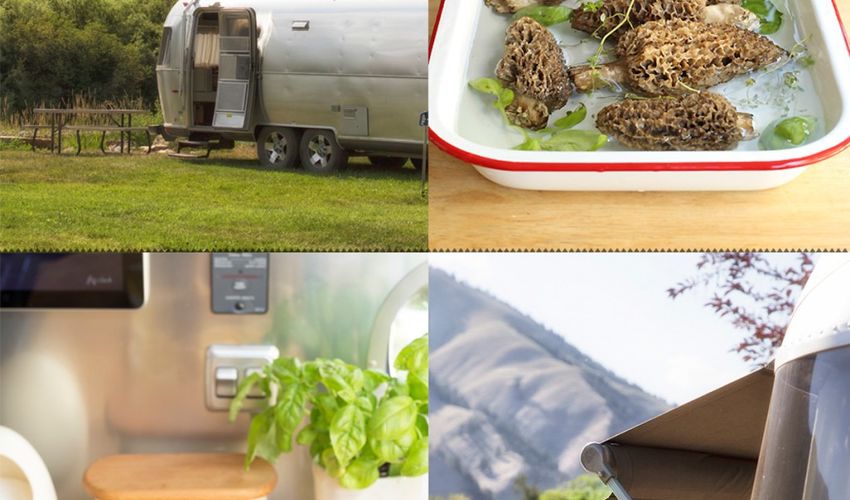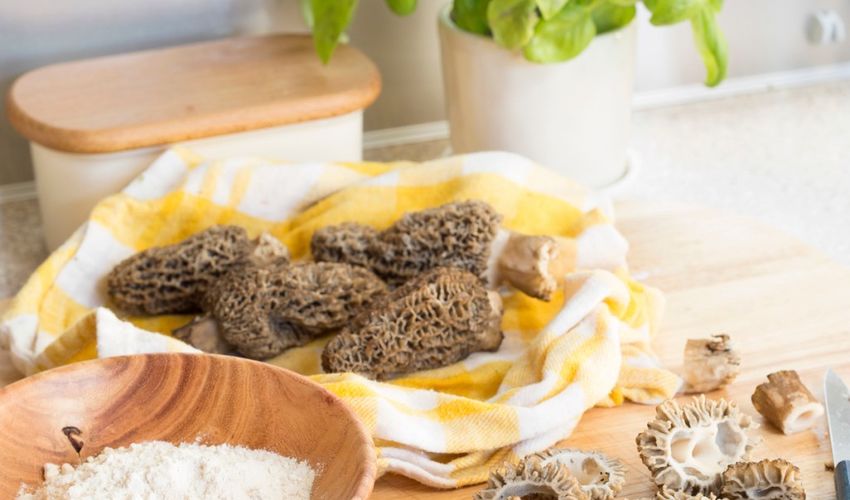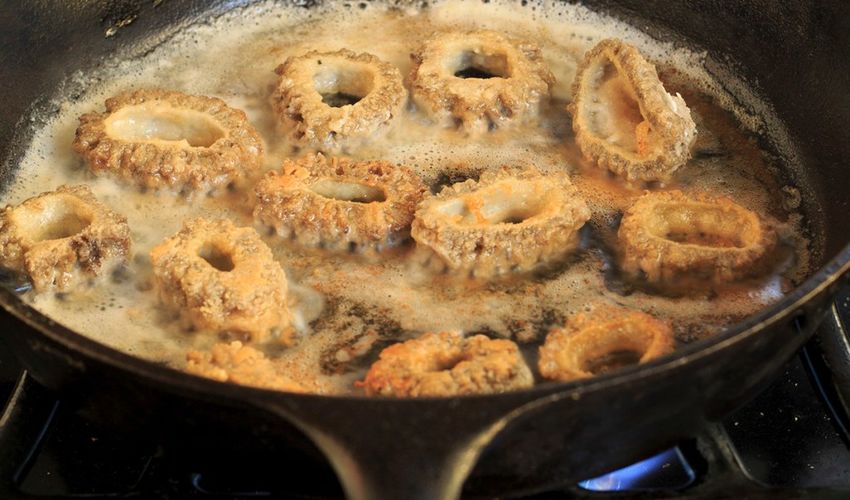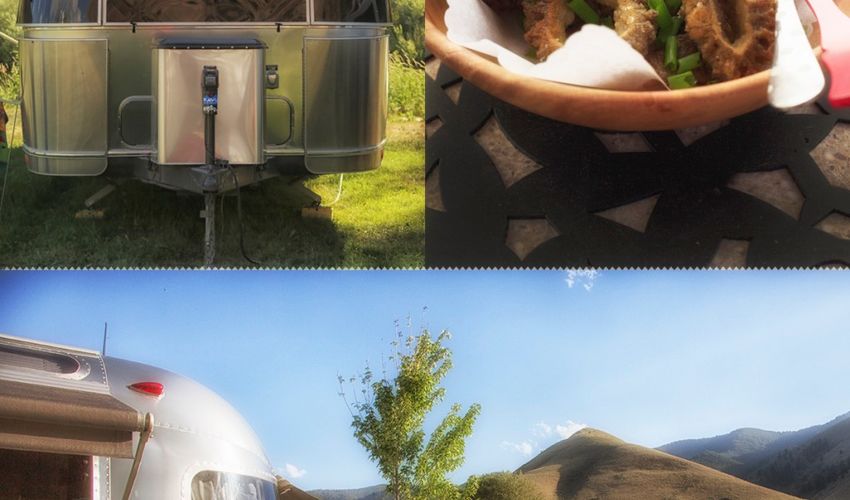 We enjoyed the rest of our day fishing the Salmon River, playing Frisbee and enjoying the serene sunset over the river from our campsite.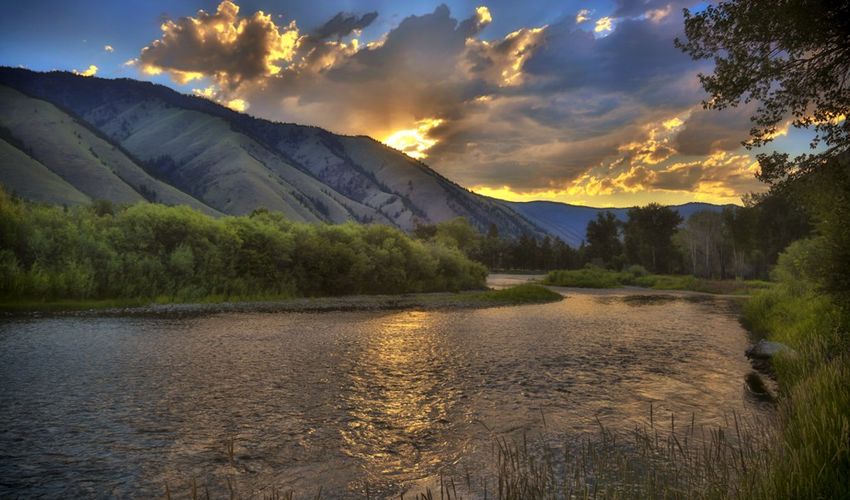 The following morning, we enjoyed a leisurely breakfast and some more fly-fishing, when we realized we'd better get on the road to our next destination. We said goodbye to the Wagonhammer RV Park and made our way into downtown Salmon, Idaho where we enjoyed lunch at the Junkyard Bistro.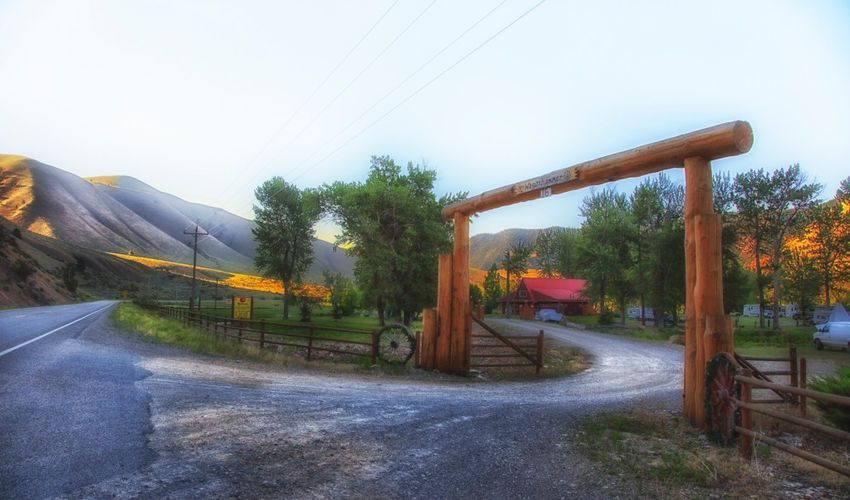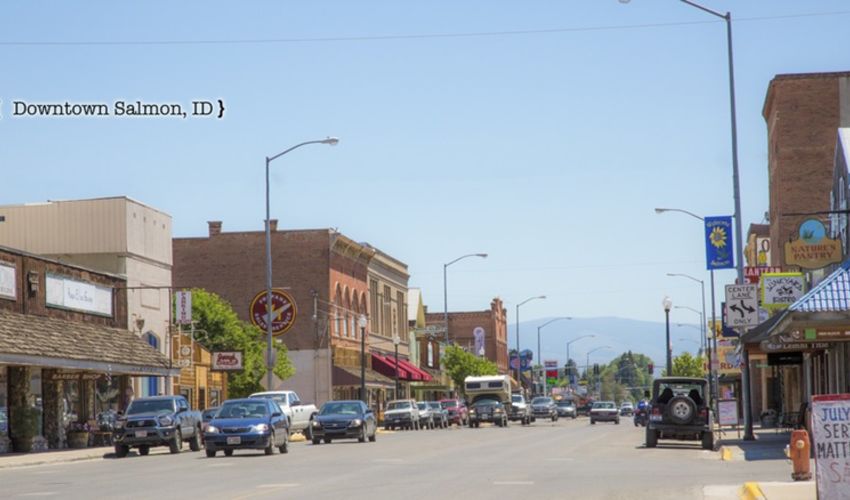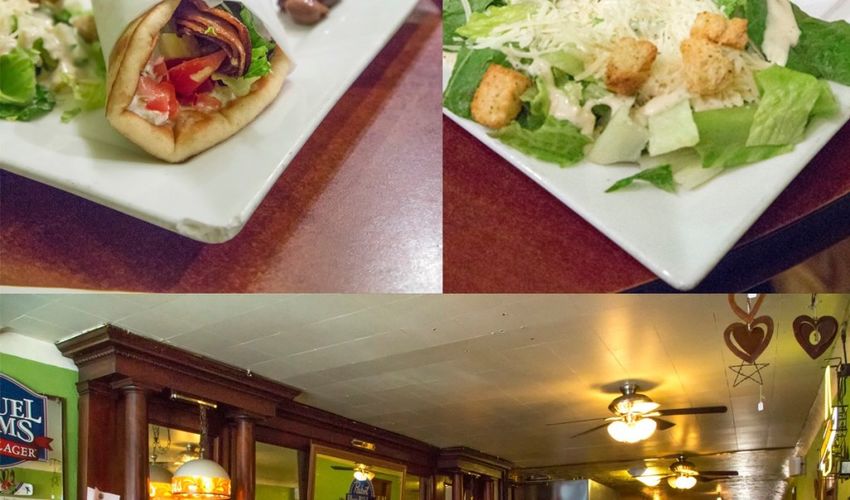 Our route after lunch takes us along the Salmon River Scenic Byway which was incredible. The views are so spectacular and I take about a million pictures. Can't help it. We are all mesmerized by the beauty of Mother Nature here.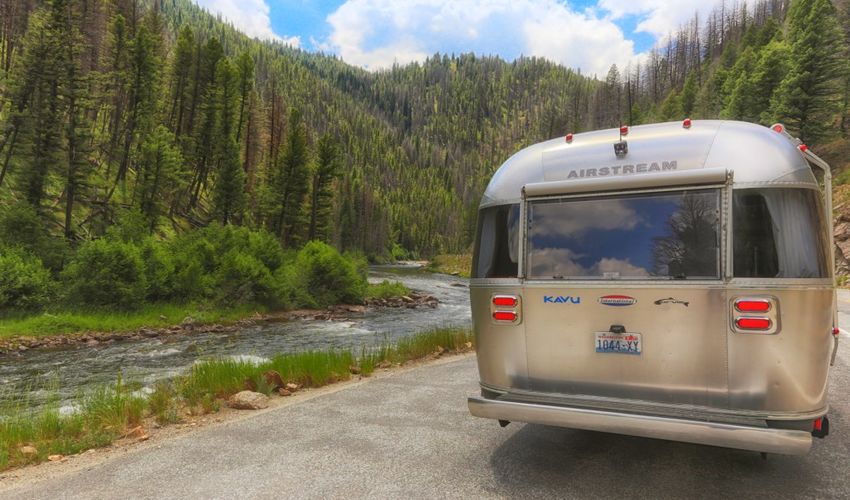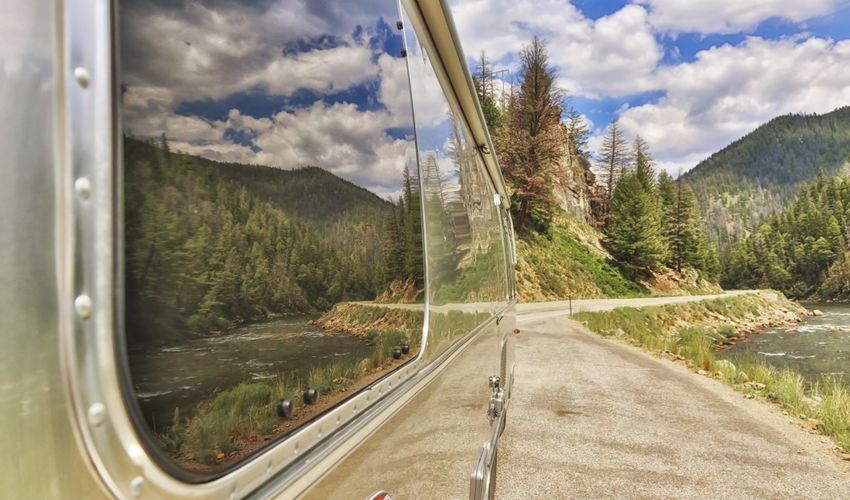 Shortly thereafter, our campsite and destination was fast approaching on the left. The Salmon River Campground was our spot for the night. Located in the Sawtooth National Forest, this campsite offers up 30 dry camping sites that are situated in a mixed lodgepole pine and meadow-sagebrush environment.
As we pull into our site we are giddy with excitement as we see the Salmon River flowing just steps away from the front door of our trailer and all we can think about is enjoying some more fly fishing.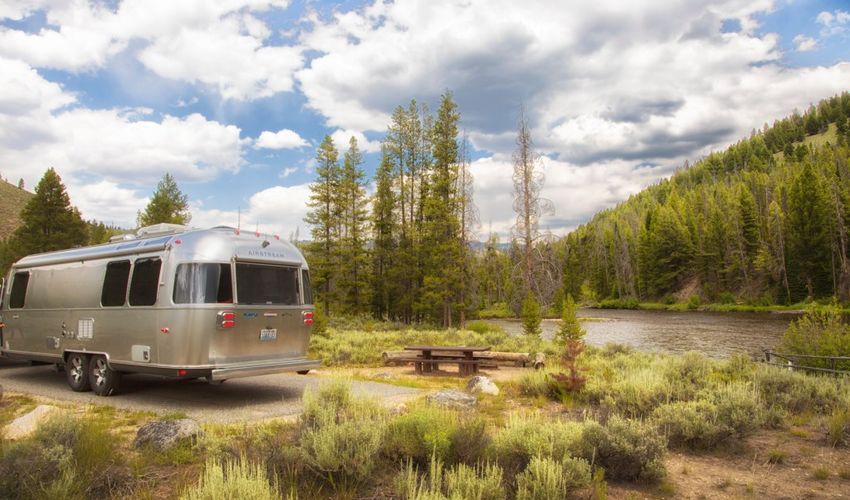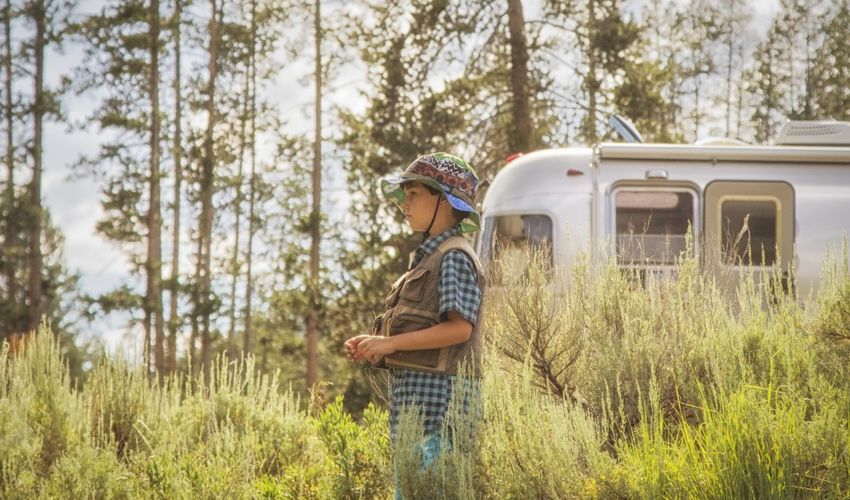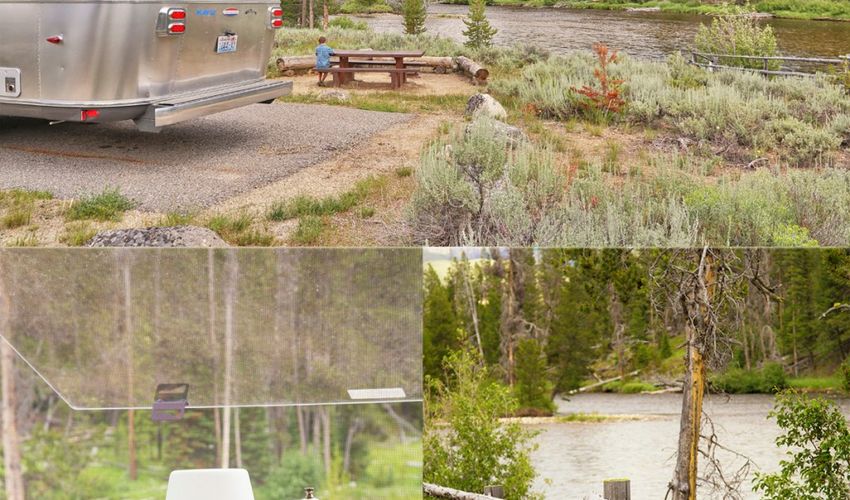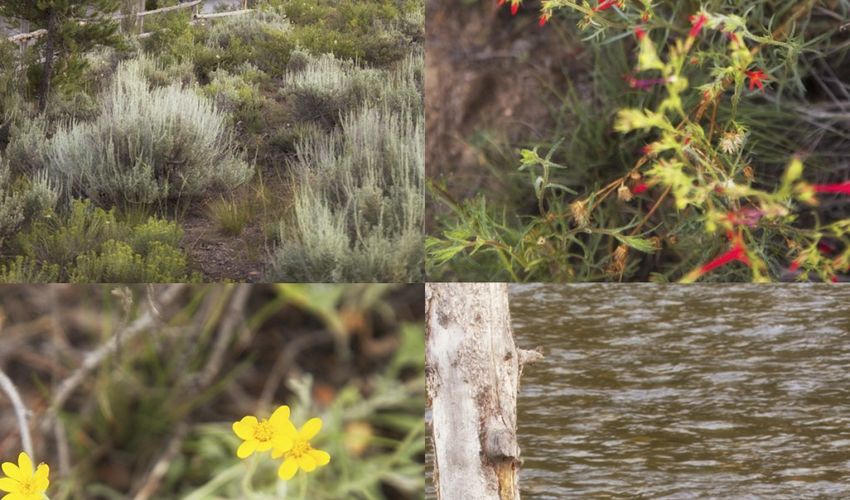 The views of the river from inside our trailer are nothing short of breathtaking.  We decide to fish, walk the banks of the river and watch the wildlife.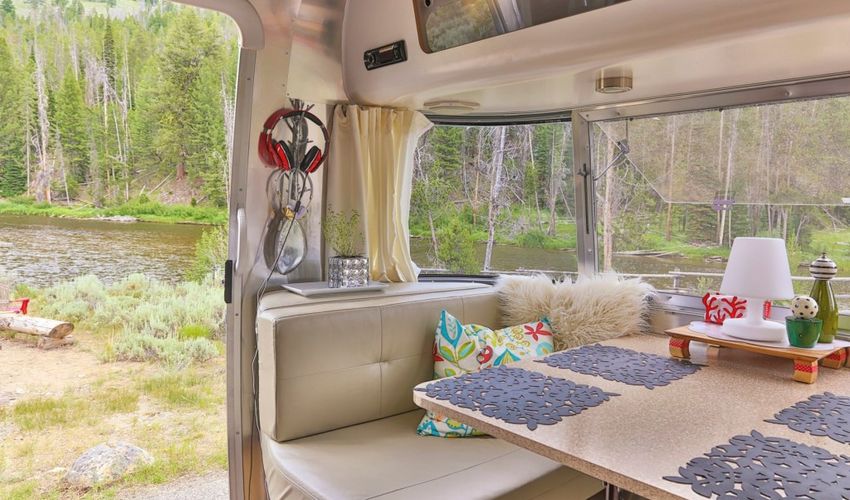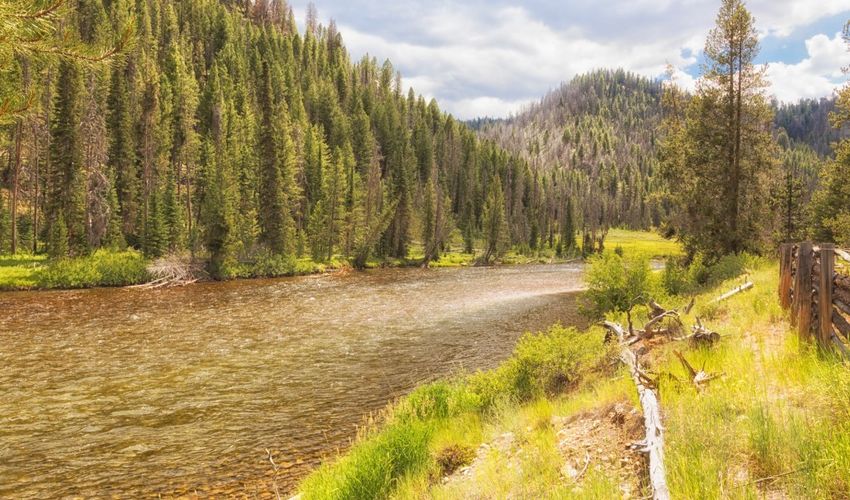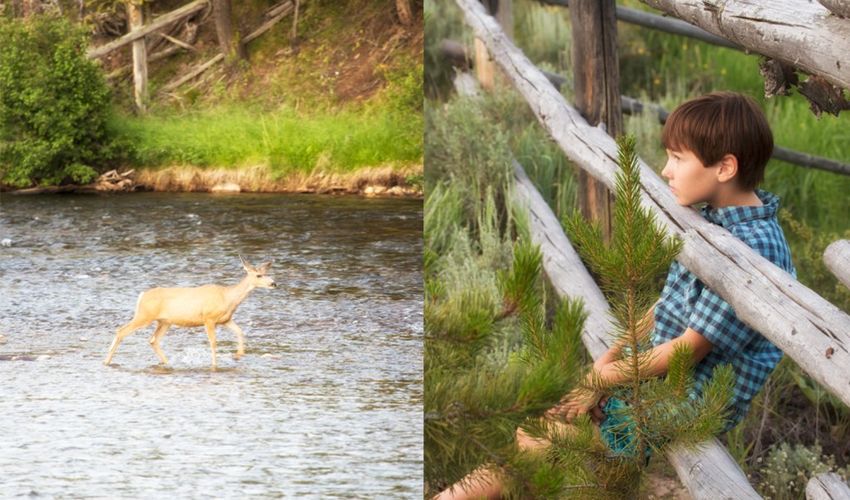 Later in the day we meet a very nice park ranger who comes by to say hello.
He spends time with us and teaches us about so many things in the Salmon River Campground.  He has suggestions coming non-stop for activities that we should do with B and places we should take him.  He gives me a map and takes his time outlining points of interest for us and then he asked me the question . . .
"Monica, do you enjoy mushroom hunting?"
Oh boy.  After that question, we talked for what seemed a good hour about everything mushroom hunting.  He told me stories about the ginormous sized Morels one can find during a deep hike in the mountains beyond the river.
I told him about my story — in the past — where I have gone hunting for Morels but never had any luck even though I tried so hard to follow the signs of the earth to where the mushrooms must be.
While I was telling him that story he was listening so carefully to me.
"Wait a second — I'll be right back," and he went to his campsite next door to us and disappeared into his trailer.  Moments later he reappeared carrying a handful of something — I couldn't tell — he was too far away but then he came closer and the little objects in his hands became clearer to me.
"Morels," I whispered . . .
"Here, I want you to have these Monica. I've been saving them for a long time now but I really want you to have them."
I was so touched by the kindness of this park ranger that I will never, ever forget him.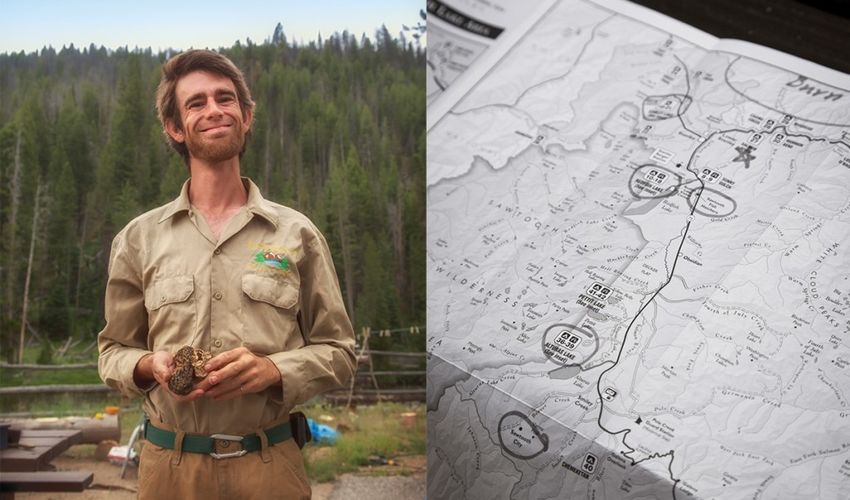 The beauty of Idaho continues to amaze us and leaves us only with the longing to explore more. If you are ever in Idaho and have the chance to drive from North Fork to Stanley via the Salmon River Scenic Byway, I will promise you one thing, it will be an experience you will not soon forget.
This Sunday is Father's Day and I wonder where your travels will take you. Wherever you may be, may your Father's Day be the most special. Here is a little card I designed that may help you in your celebrations. I hope you like it.