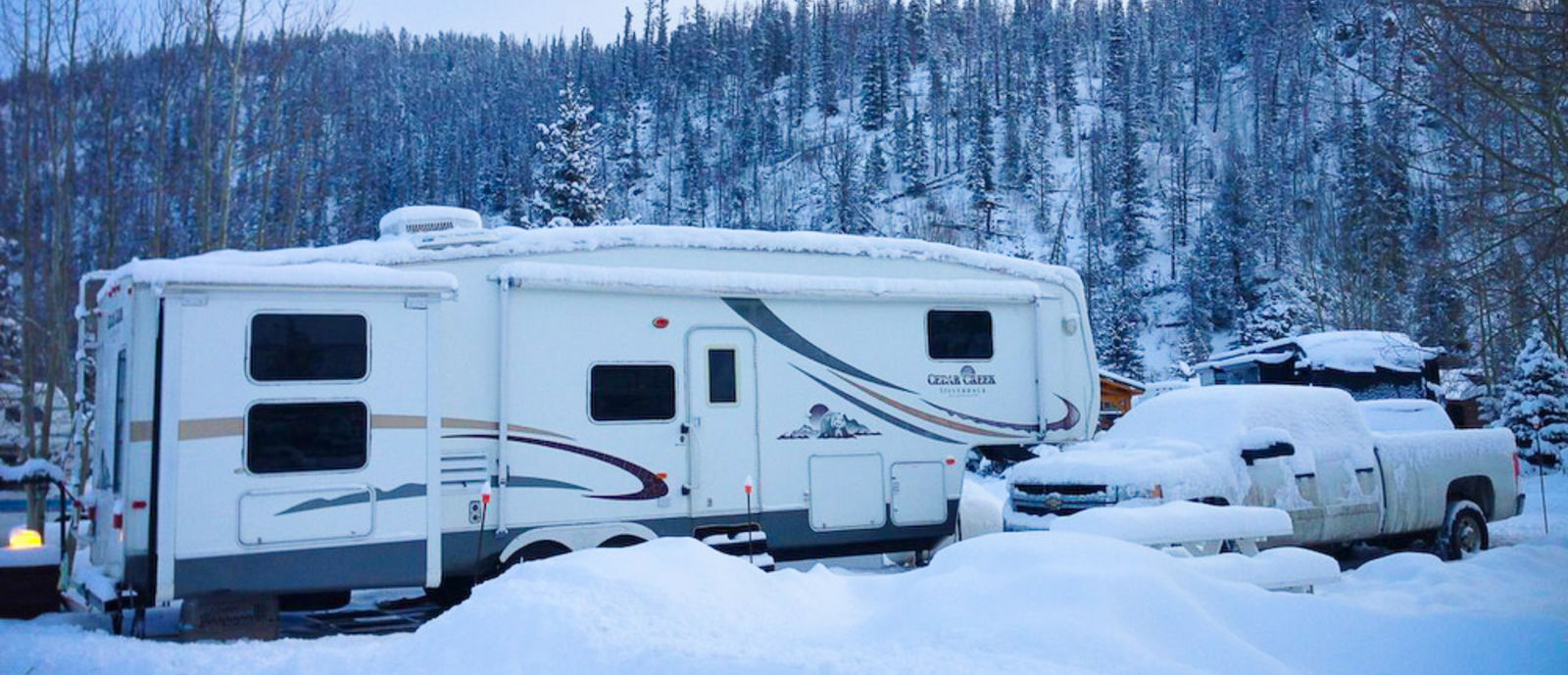 How-To
How to Winterize Your RV
When some friends asked us to join them in Breckenridge, Colorado, last winter, I smiled politely and thought to myself, "Head to the snow on purpose in an RV? Some people are crazy."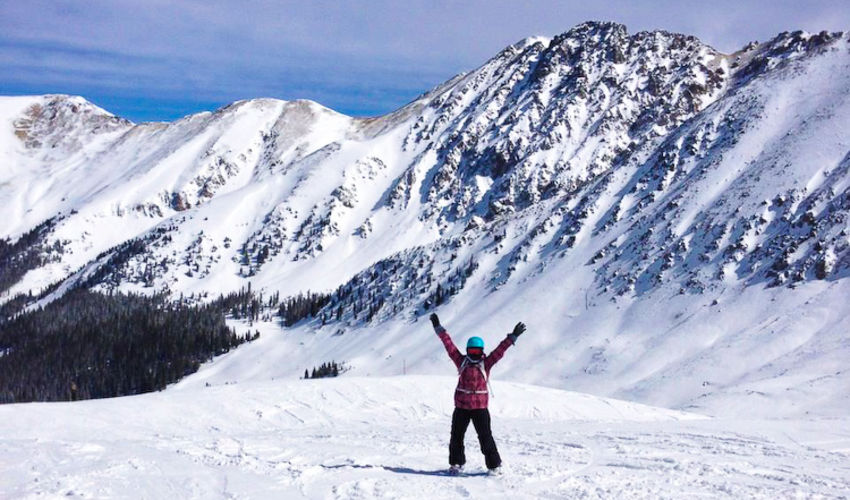 A few days later my husband, Brent, mentioned how fun it sounded and I was horrified. Had he lost his mind? My parents took me to Summit County, Colorado a few times for ski trips when I was a teenager so I knew how beautiful it was out there. I also knew how cold it was too. There was no way I was going to spend an entire winter in my RV where temperatures can drop as far as 20 below zero. No way.
Except Brent kept mentioning how cool it would be to be able to snowboard all winter long. We also learned there was a ski and snowboarding school that the boys could join.
After a few weeks of contemplation, it started to sound fun to me too. After all we began this trip as a way to have new experiences and create lasting memories. Most of all, I loved the idea of the boys having the chance to really learn how to ski or snowboard. Plus, secretly, it had always been one of my dreams to learn to snowboard but I thought that was something you do at 15 not 35.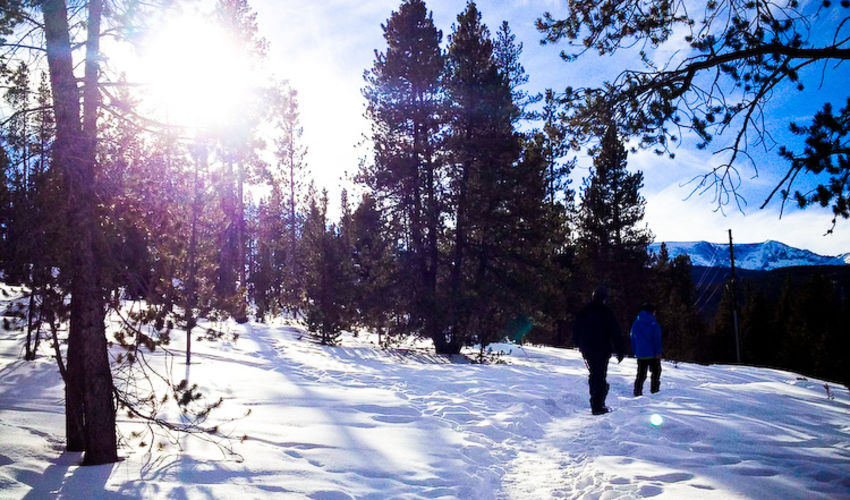 Brent pointed out that we may never have this opportunity again. It was true. When else would our boys be this age, a perfect age to learn? Not to mention we were healthy and we had the freedom to go where we wanted  in our RV. We had already spent a winter in Florida and loved it, but why not try something new? Something out of my comfort zone. Isn't that why we began this journey in the first place? Reluctantly, I agreed to give it a try for, if not for anything else, the boys. We bought our season passes and began preparations to live in an RV all winter.
With our friends help, a little research, and some trial and error, we got our RV comfortable and had the most amazing winter. AMAZING! Our kids went from falling down the bunny slopes on their snowboards to being able to ride black diamond runs and so did I, even at 35! Not only did we have a blast snowboarding as a family, we fell in love with the majesty of the mountains in winter. We learned to enjoy and appreciate winter hiking. Most importantly, we grew closer as a family in our cozy RV all winter long.
When we first started out I didn't think I'd make it a 4 weeks. Much to my surprise we were the last family in our group to leave the RV resort after four and a half months. Yes, four and a half months of freezing temperatures! We didn't just enjoy winter in our RV we thrived!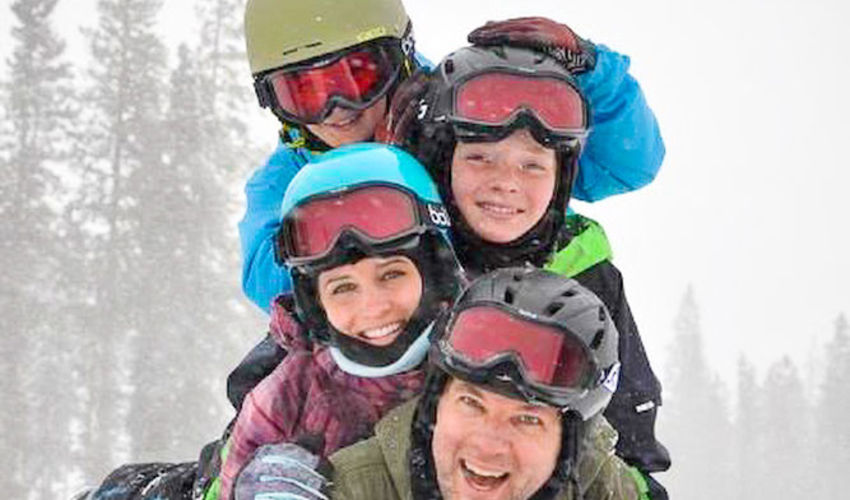 When many people think of winter RVing, they immediately think, "Thanks but no thanks." That is how I felt, but with the right preparations it can be not just fun, it can be wonderful. RVing in the winter, opens up a whole new world of possibilities. You can do things that you can't do all summer like ski, snowboard, snowshoe, sled, ice skate, or stay inside all day with a hot cup of cocoa without any guilt.
But, to make sure you next RV adventure becomes a magical winter wonderland and not a nightmare, learn from us and follow these tips!
---
Five Tips to Prepare for a Snowy RV Trip:
Prevent Freezing Water and Sewer Lines

One of our biggest problems were freezing water lines. We started with just insulation and heat tape but our lines kept freezing. Then we tried a friend's heated hose and even that didn't work. Finally, we wrapped the hose in aluminum foil, heat tape, and insulation. The foil did the trick by conducting the heat and we didn't have one more freeze up. For the sewer, we would wait until the tank was full before dumping.

Insulate and Make Sure Your RV is Watertight

Before heading to the cold, take the time to check any caulking at the seams (don't forget the roof), and seals around your slideouts. Not only do you want to keep cold air from seeping in you want to prevent any water damage. If you are going to be in the cold for an extended time, consider buying or building a skirt around the bottom of your RV to help keep the cold air from coming up through the floor and to prevent your tanks from freezing. We built a skirt from rigid foam insulation board used in houses. Some people have used packed snow as a skirt as well. I wouldn't recommend straw because it could possibly attract rodents, but it is an option. Another thing you may want to consider to improve insulation is covering your windows with temporary mylar shrink film. It's easy to put on, inexpensive, and helps keep things a little less drafty. You may also want to think about vent insulators to help keep warm air from leaking out your overhead vents.

Prevent Moisture Build Up

While all the insulating is great for keeping heat in, it also unfortunately keeps moisture in which can lead to problems like mold if not kept in check. Cooking, bathing, and breathing all contribute to potential moisture build up. So while it might sound contradictory, consider keeping a window or ceiling vent cracked. Other options are to use a dehumidifier or hanging moisture absorber bags. I was shocked by how much water our bags collected from the air!

Heating

So let's talk about the obvious. Check your gas furnace to make sure it's in proper working order before you go. (We recommend installing a carbon monoxide detector) Also, make sure to bring along a space heater or a few. Strategic placement of space heaters can really help keep the chill down. Not only can they be used indoors but outdoors as well. For instance, if you build a skirt you can put a space heater inside the skirt to help keep your tanks thawed. Or consider putting a small heater in the underbelly storage compartment if there are visible water lines. We did both and attached temperature activated switches so they only ran when the temperature got below freezing. NOTE: Always use caution when using space heaters. Keeping heaters safe distances from fabric and other flammable materials. Be sure wiring has no cuts or shorts. Use heaters for limited periods with cool-downs in between. NEVER leave a space heater plugged in/powered on when you are away from your RV.

Have the Right Gear

Having a warm RV is important but you want to make sure you can enjoy the glorious outdoors and good quality insulated clothes can make all the difference in your level of comfort. You'll need a warm jacket, pants, gloves, boots, and a hat for sure. You may also want to consider a neck gator, balaclava, thermal underwear, and high quality winter socks. Having the right gear can be expensive but, trust me, it's worth it. To save try Craigslist, Ebay, thrift stores, and look for sales in the summer. We didn't pay full price for one item we bought and our gear made a world of difference for our comfort level.
What about you? Have you ever gone RVing in the winter? How did you like it? Any tips you can share?