The Best Views
A spontaneous weekend is so much better without reservations and check-out times
Slow Down
Recharge and refresh – any way you choose
Reconnect
After a week of work stress, let your RV take you to your favorite nearby happy place
A Weekend Getaway in Your RV
Sometimes, two days is all you need to hit the road and get away.
The Aguilas Family Vacation
The Aguilas family enjoyed sun, sand, and lots of smiles and laughs on their trip to Sun Outdoors San Diego Bay park model RV resort in Chula Vista, CA. For them, spending time together is the most important thing, especially while the kids are young. An RV park allows them to do tons of activities as a family and has everything they need for a stress-free stay.
Food Taste's Better With Friends
For these two couples, nothing is better than spending time together and sharing good food. With a park model RV, they have a home away from home with everything they need to create their foodie masterpieces.
5 Great Places to Camp in Mississippi and What to Do While You Are There
Mississippi is full of great campsites and things to do for the whole family.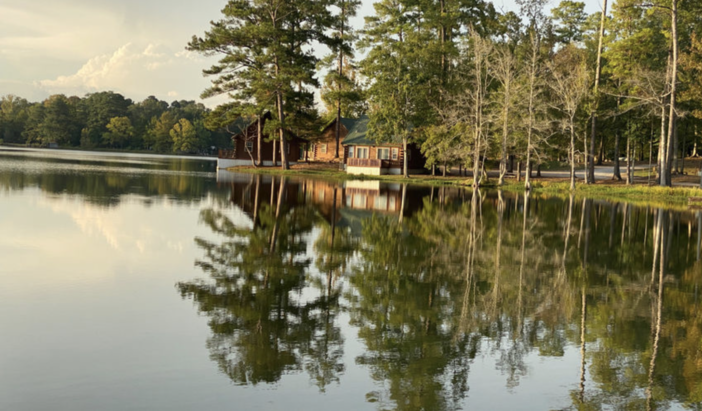 Tips for A Las Vegas Girl's Trip Using Airbnb for RVs
Melissa shares her tips for planning a girl's trip to Las Vegas in an RV.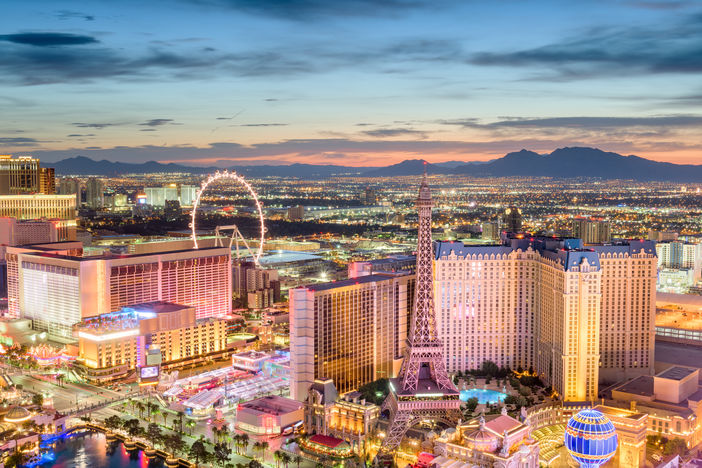 Our Happy Place
Will and Britta Brown decided not to wait until retirement to start checking off the items on their bucket list. They love the spontaneity of RVing and enjoy living out all their life dreams together. They enjoy biking, cooking and anything else that lets them enjoy time together, just the two of them.
8 Great Locations for a Romantic RV Vacation
Do you have a deep desire to escape the stress of everyday life and #roamoutside with the person that you love the most? Maybe it's time to plan a romantic RV vacation and reconnect in one of our country's most beautiful locations. Find the right spot so you both can breathe the fresh air at the top of a mountain or with your bare feet in a clear mountain stream. The best part might be that each night will end in the comfort and privacy of your own RV, with your own bedding, bathroom, and kitchen.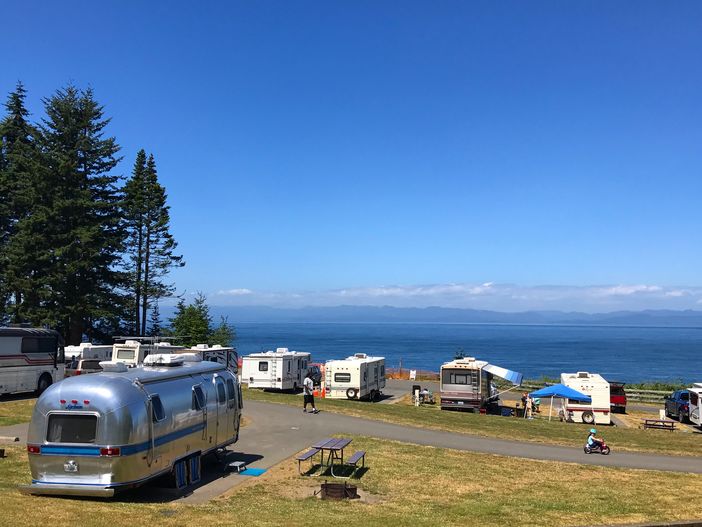 Hear from Real RVers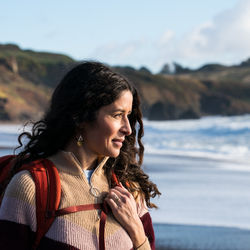 Our time outside is very limited to the weekend. I work hard so the weekends mean a lot to me.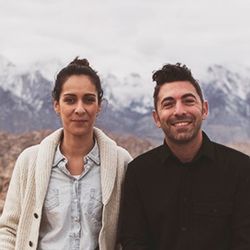 We went to bed to the sound of waves and woke up to the sound of waves – that was really beautiful.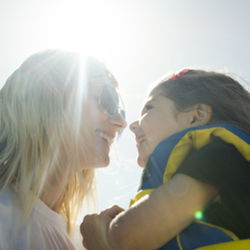 This is how we shut down from a busy week – we come out here in nature, and our kids get to be kids.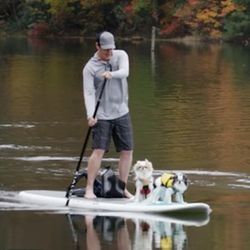 We work really hard and we don't always have a chance to take those week-long vacations. As soon as we can, we hop in the trailer and that gives us a chance to have two-day microvacations.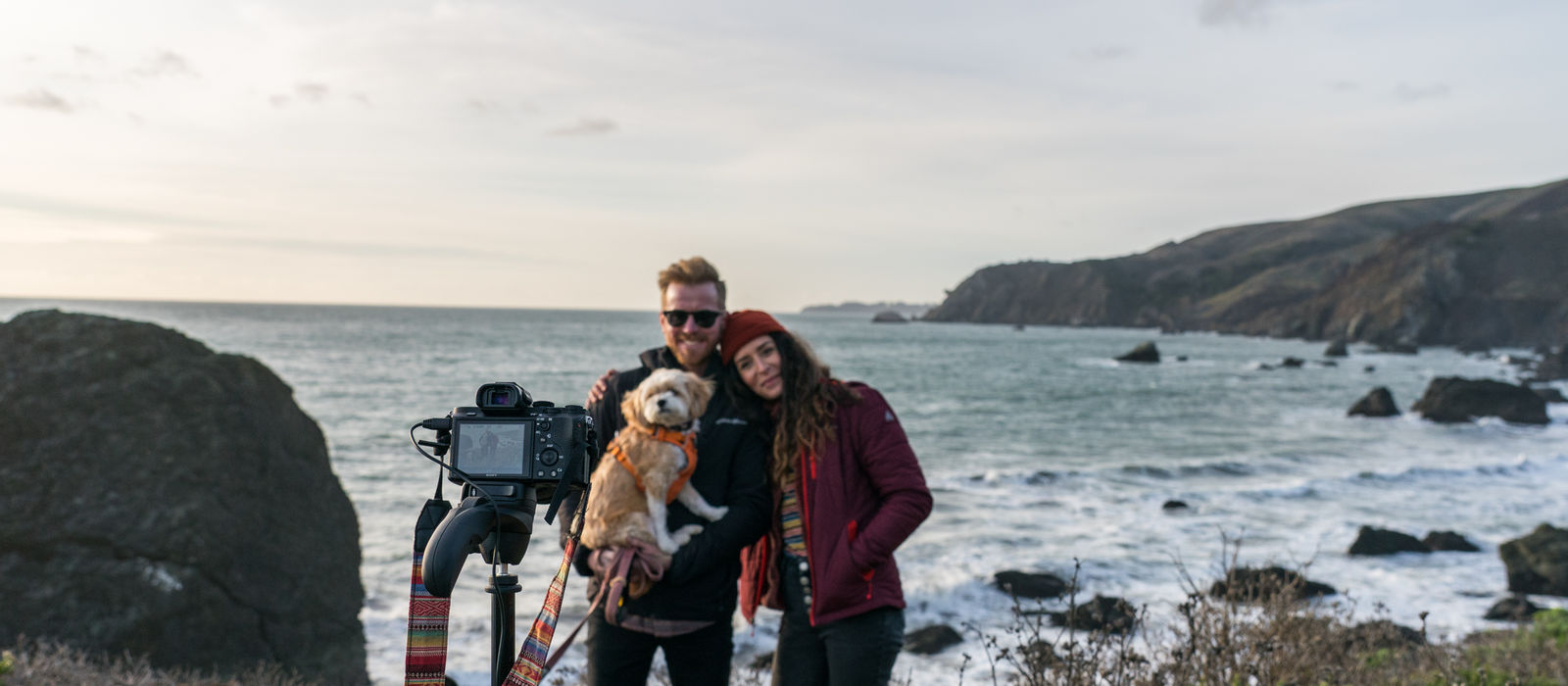 On the Road with RVers
Weekend Adventurer
Noel believes the outdoor lifestyle should be accessible to everyone. She enjoys sharing her passion with those she loves and has become a weekend warrior who connects with nature as often as possible.
Read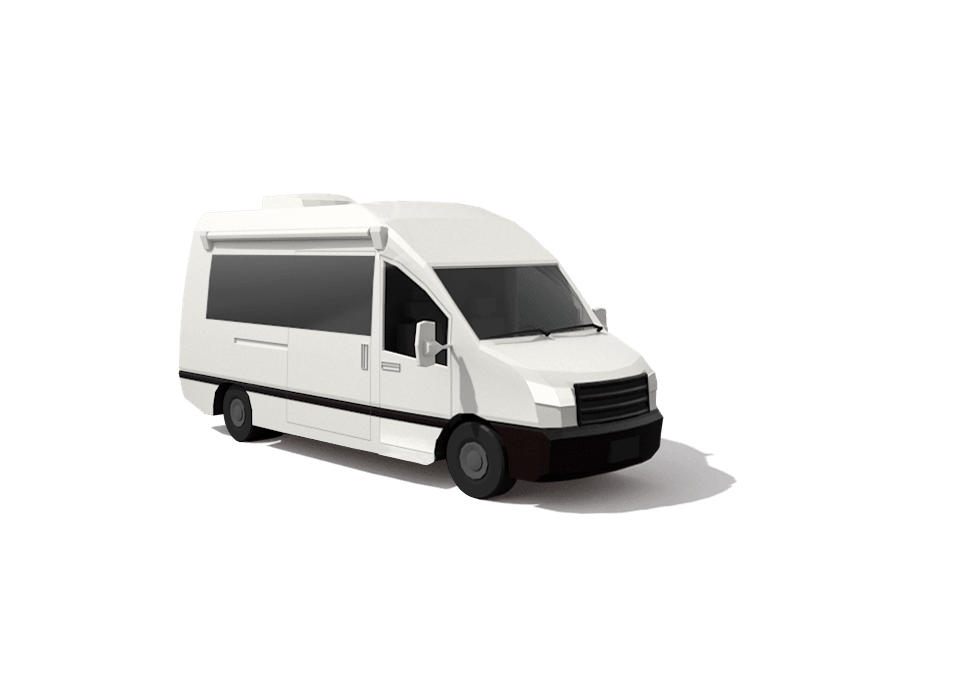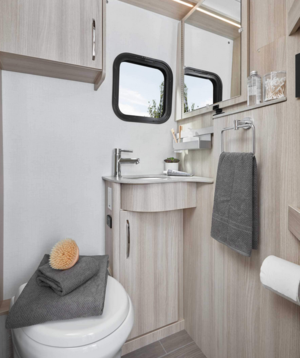 Full Bathroom
Space is used efficiently in class B RVs and many have full wet or dry baths.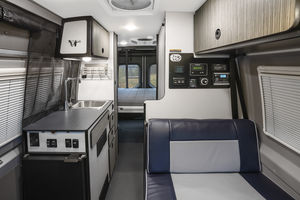 Beyond the Basics
Class Bs offer a kitchen, seating, bathroom and place to sleep.
Motorized
Class B Motorhomes
Class B motorhomes, also known as camper vans, feature all the conveniences of a furnished motor home but are compact enough to make driving one as easy as your regular van or SUV.
Sleeps 2 to 4 people
Easy Parking
Nimble & easy to drive
Simple Bathroom Facilities
Compact kitchen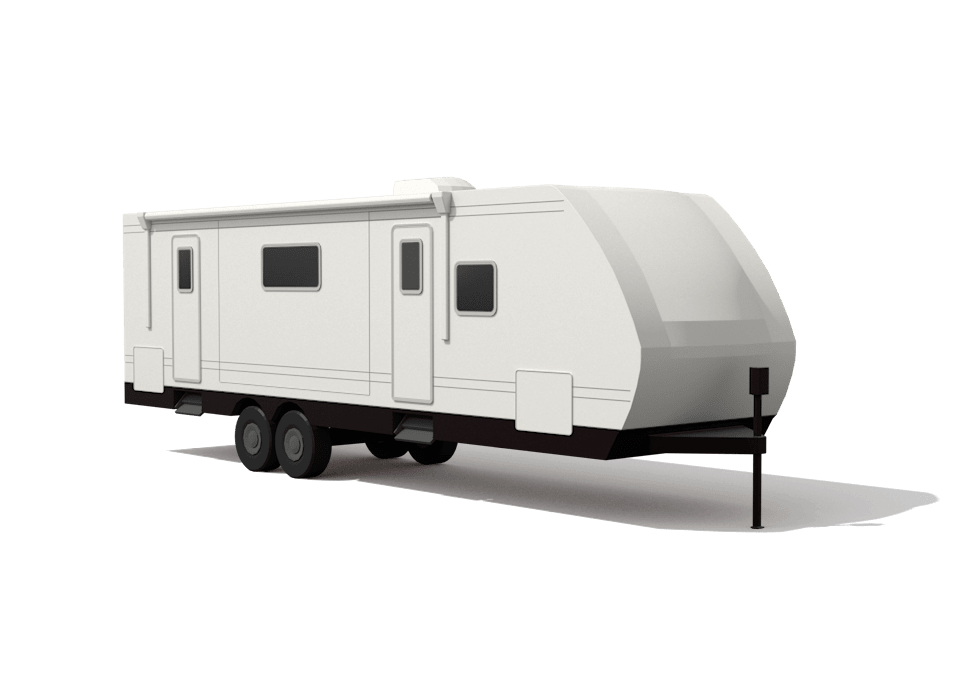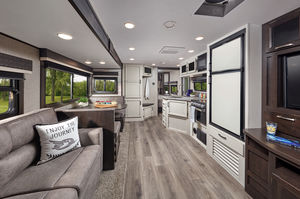 Spacious Living
Travel Trailers often have large living room areas and dedicated dining and kitchen space with full size appliances and large windows for lots of natural lighting.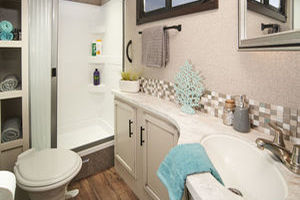 Large Bathroom
Travel trailers are large enough to offer extra storage cabinets and full size showers and bathtubs.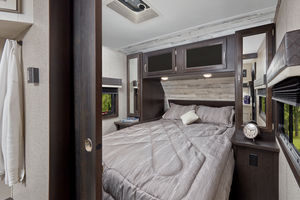 Separate Bedroom
Travel Trailers are large enough to offer a private bedroom, sometimes with king size beds, and additional closet and cabinet space.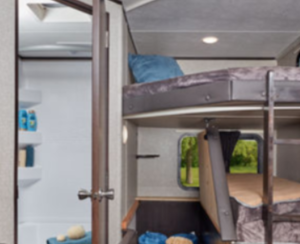 Bunk beds
In addition to couches and dinettes that convert to beds, some travel trailers have full sized bunk beds with additional storage space.
Travel Trailers are the most popular type of RV because they come in all shapes and sizes and can accommodate solo travelers all the way up to large families.
Sleeps up to 10 people
Extra storage
Full-sized bathroom and toilet
Large living space & separate bedroom
Large Entertainment Systems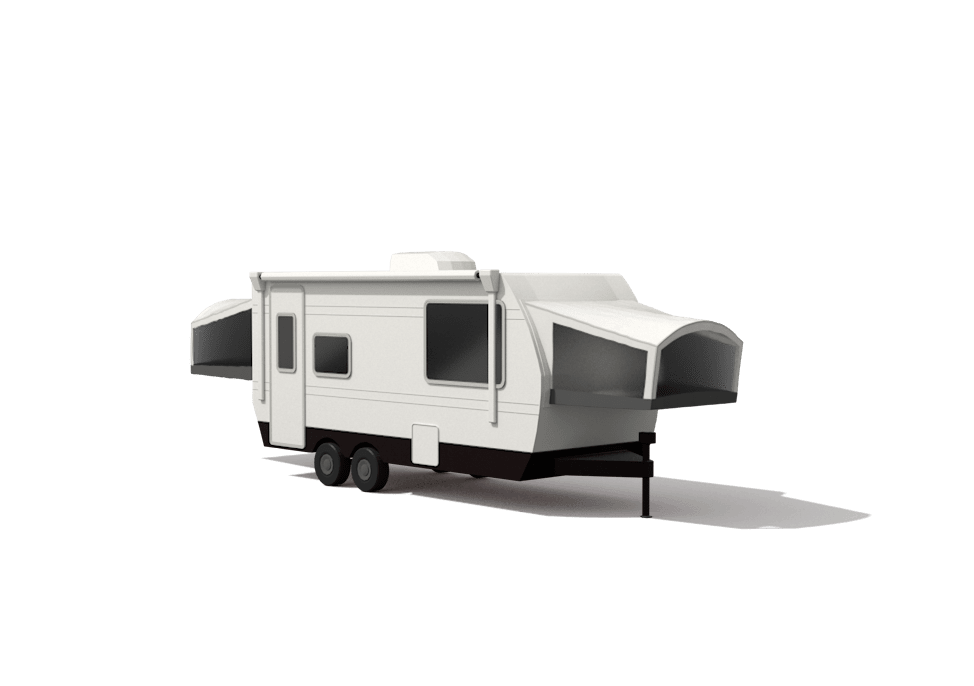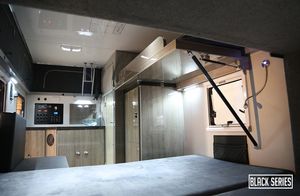 Living Space
There is a traditional living space with a kitchen and bathroom, bench seating that converts to an eating area and sometimes bunks that fold up and down.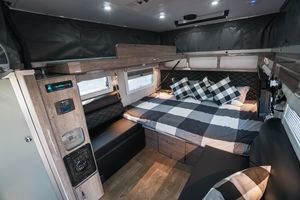 Pop-out sleeping
Much like a pop-up, the sleeping areas pop out from the sides creating extra space and the canvas sides give you a view of a starry sky.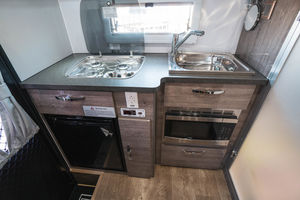 Functional Kitchen
There is enough space to prep and cook meals as well as wash up with the basic kitchen amenities.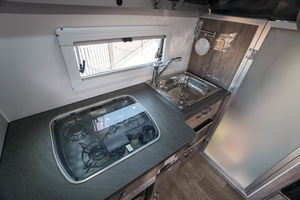 Counter Space
The stovetop area is covered when not in use creating more prep space.
Towable
Expandable Trailers
Expandable RVs are a cross between a hard-sided Travel Trailer and a Pop-up camper. Parts of the RV can be expanded on the ends or on top of the RV to provide more room that is usually additional sleeping areas.
Sleeps up to 8 people
Light-weight, can be towed with a family car, minivan or SUV
Budget-friendly
Bathroom amenities
Open-air sleeping experience
Open-air Sides
The canvas-sided sleeping areas in pop-ups allow fresh air to breeze through the RV so the user can feel like they are sleeping outdoors without sleeping on the ground.
Transforming Furniture
Tables and seating can be folded up and down for multiple uses such as eating, sitting, or sleeping.
Roomy interior
With sides that pop out, there is plenty of space for two sleeping areas and a full dining area within the pop-up.
Pop-up campers are designed for the RVer that wants to feel closer to nature and connected to the outdoors in a way that feels as though you are sleeping outside in the fresh air. Pop-ups offer plenty of room at the campground but are folded down to a more compact size for easy storage and travel.
Sleeps up to 8 people
Budget-friendly
Easy to store
Basic bathroom amenities
Open-air sleeping experience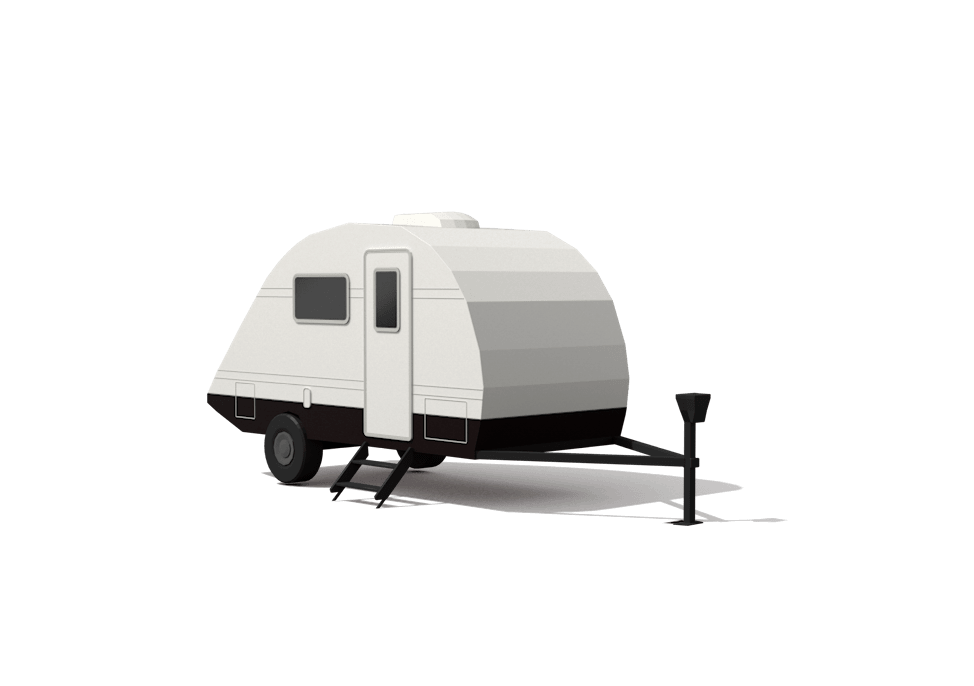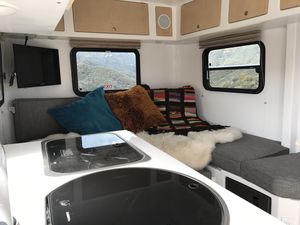 Lounge, Cook, Sleep
The bench seating teardrop trailers is often used for couch space, seating for meals, and converts to a bed for sleeping. Basic kitchens are standard in teardrops.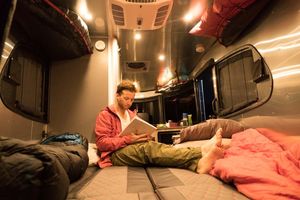 Roomy
Despite their exterior appearance, there is plenty of room to stretch out, cook, and sleep.
Towable
Teardrop Trailers
Teardrop Trailers
Sleeps 2-3 people
Light-weight, can be towed with a family car, minivan or SUV
Basic bathroom amenities
Basic kitchen amenities
Can be stored in a garage
Find the Right RV
Compare different RV types and find the perfect fit for your next #RealVacation.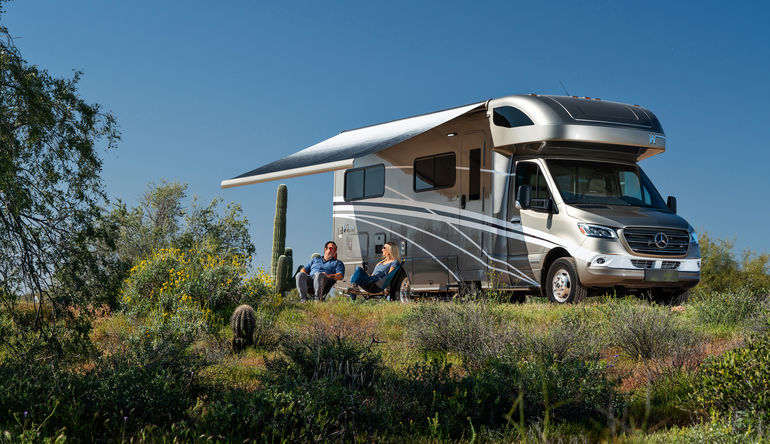 Keep Exploring
See where else you can travel in an RV and what you can do with your family and friends; the possibilities are endless! You may even discover that an RV can take you on adventures you never considered.
Get our newsletter!
Submit your email to get helpful tips and useful information from our partners.