The Way Camping was Meant to Be
Forget inflatable mattresses and canteens – we're talking memory foam mattresses, blender drinks, and single-flush toilets
Your Can Admit it
Everyone secretly wants gourmet meals and a real shower with hot water.
A Little Luxury
Tell your friends you went camping in the wild for a week. They'll never know you were enjoying temperature control, a real bed, and savoring hot showers.
Glamping in an RV
Camping can be glamorous with an RV! Make your campsite your dream oasis.
Tips for Entertaining at the Campground
Melody Pittman shares her expert tips for entertaining at the campground, including supplies to have on hand, easy recipes, and best ways to throw an RV park get-together.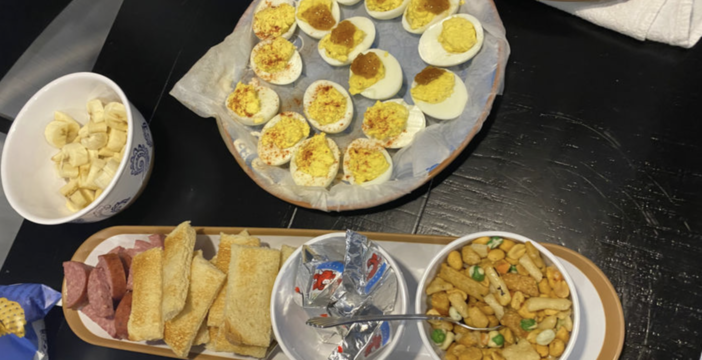 Fancy Camping
Janine Pettit and her girl camper crew go camping in style - good china, fancy wine glasses and silverware, fresh flowers and beautiful table settings.
Outdoor Entertaining Made Easy
Outdoor entertaining during our RVing adventures has been such a pleasure for me. As Monica looks back on her first experience, she does so with pride. She admits she's definitely come a long way from cooking for her small family of three to entertaining guests numbering over 25. From table setting, food stations, cooking, guest accommodations when you don't have room, to clean up, Monica's tips are sure to make any first-time entertainer feel more at ease.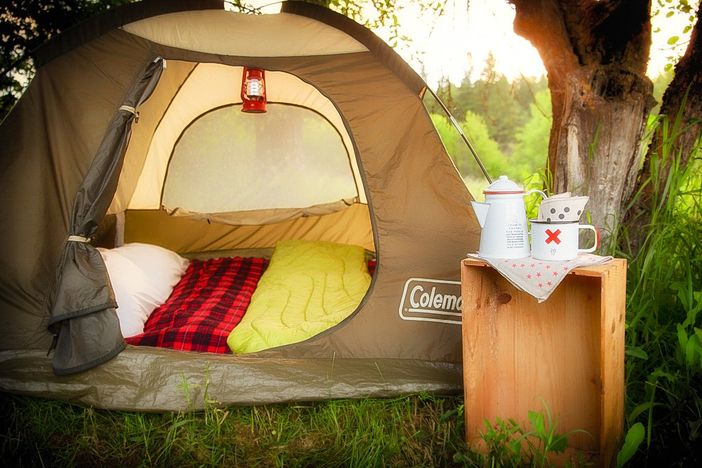 Hear from Real RVers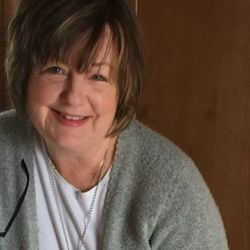 When we camp like a girl, the campsites are just dolled up to the nines. It's just beautiful.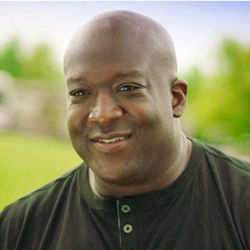 We are more like Glampers. We set up our chairs, we've got lights, we take our swag on the road - Britta Brown
You can't really beat the RV. It's just a much more comfortable way to travel and it's really easy to figure out. I enjoy it a lot.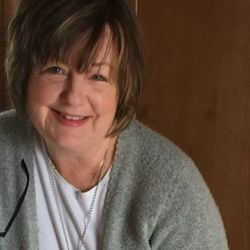 Sitting in the trailer with the windows open, laying in bed, flipping through a magazine? I would never do that at home.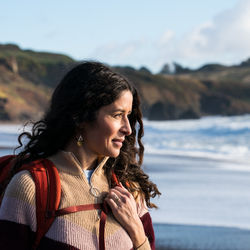 I think when you love something, you want to share it with those that you love. And I think that the way I was raised, camping was not just about where you went or what you did, it was about who you were with and it was important for me to be able to share that with someone that I love.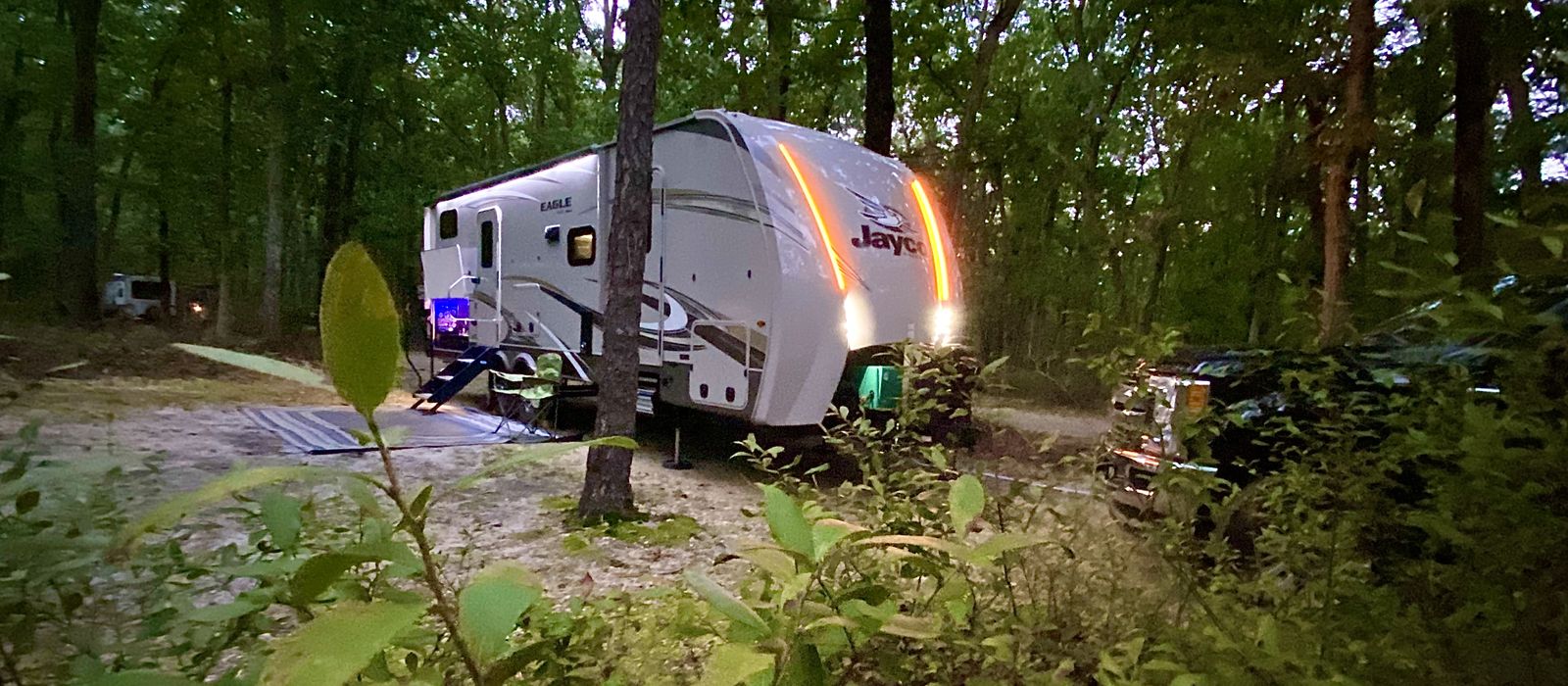 Expert Advice
8 Trending RV Features for 2021
When it comes to advances in technology, luxury, and off-the-grid capability, the RV industry has been innovating at a blistering pace--and in my humble opinion, there has never been a better time to be an RV owner. If you want an RV that is tricked out with high-tech gadgets and dozens of features that are controllable from an app, then that RV is out there waiting for you. If you want an RV that has all of the comforts of home and the fit and finish of a high end luxury apartment, then that RV is waiting for you too. Or if you want to get off grid and camp underneath the stars and #roamoutside, then you will also find plenty of suitable RVs that are ready for your next rugged adventure.
Read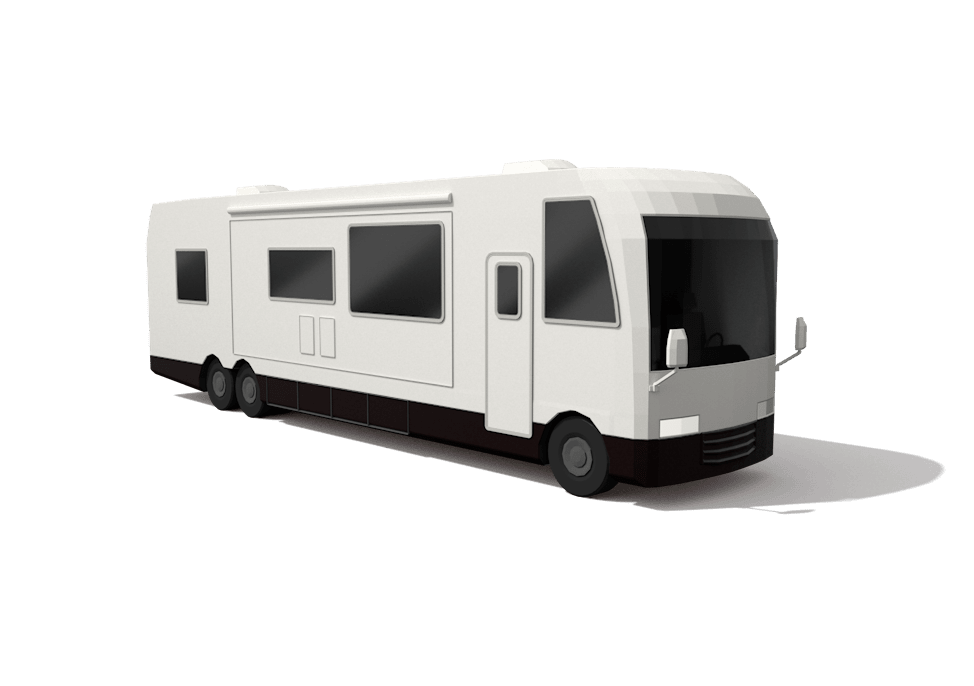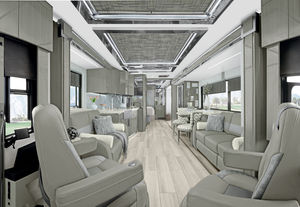 Living area
Class A motorhomes come with many features similar to what you have in your house. Comfortable furnishings, larger cabinets and sinks.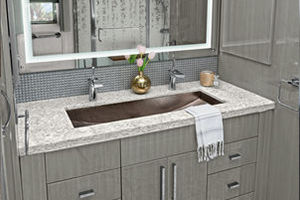 Full Vanity
Large vanities and double sinks appear in some of these larger RVs.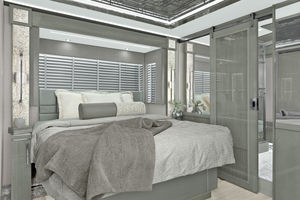 Private Bedroom
The layout and size of a Class A allows for a private bedroom separate from the rest of the living space.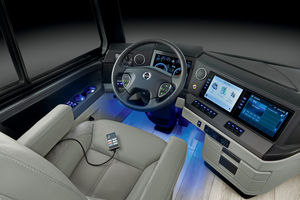 Cockpit
While there may be a couple more screens to learn about and a couple more buttons and knobs, being in the drivers seat is not dramatically different than other vehicles that may be more familiar - the back up cameras and alert systems will make newbies more comfortable with some practice.
Motorized
Class A Motorhomes
Class A motorhomes are designed with the comforts of home in mind equipped with a full kitchen, bathroom, large living and entertainment centers. They are built on specially designed motor vehicle chassis and do not require owning a separate tow vehicle.
Sleeps up to 8 people
Ample storage
Can tow something else for side trips
Full kitchen and large living area
Full-sized bathroom and toilet
Spacious Living
Travel Trailers often have large living room areas and dedicated dining and kitchen space with full size appliances and large windows for lots of natural lighting.
Large Bathroom
Travel trailers are large enough to offer extra storage cabinets and full size showers and bathtubs.
Separate Bedroom
Travel Trailers are large enough to offer a private bedroom, sometimes with king size beds, and additional closet and cabinet space.
Bunk beds
In addition to couches and dinettes that convert to beds, some travel trailers have full sized bunk beds with additional storage space.
Travel Trailers are the most popular type of RV because they come in all shapes and sizes and can accommodate solo travelers all the way up to large families.
Sleeps up to 10 people
Extra storage
Full-sized bathroom and toilet
Large living space & separate bedroom
Large Entertainment Systems
Living and kitchen area
Kitchens in fifth wheels go beyond offering full appliances and can even have a kitchen island making it seem like you are cooking in your kitchen at home.
Bunkhouse
Kids love sleeping in their own cozy spaces separated from parents. The bunkhouse is usually claimed as a fort within the first five mintues. Kids don't mind sharing a room in this setting and the conversation and fun can continue for siblings, cousins, and friends even after the lights go out.
Raised living room
The raised front section boasts a comfortable and spacious living area with large windows as well as entertainment systems.
Private Bedroom
5th wheels have ample space and are able to efficiently divide the living space and a private bedroom.
Bathroom
5th wheel bathrooms contain a full sized-shower, toilet, cabinet space and large sinks.
Fifth wheels often come with the same amenities as a motorhome or travel trailer but are constructed with a raised forward section that provides a more spacious bi-level floor plan. These models are designed to be towed by a pickup truck.
Sleeps 4-8 people
Slideouts can add three extra feet of width per slide
Ample Storage
Large living space & separate bedroom
Full-sized bathroom and toilet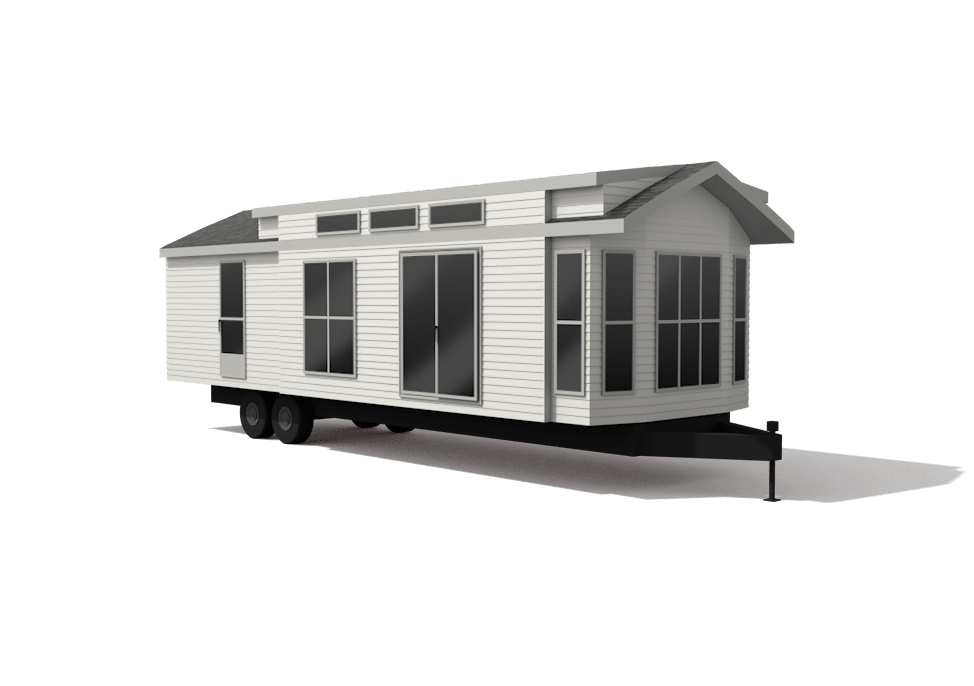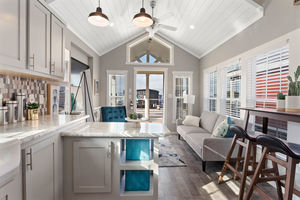 Living area
Park model RVs living areas could easily pass for the interior of a home or apartment. They often have larger doors, multiple windows and high ceilings to accommodate additional loft spaces.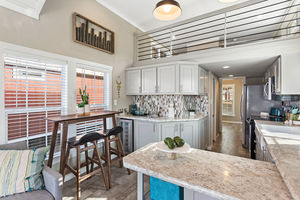 Lofts the kids love
The loft area in a park model can be used as storage but is most often utilized as bunkhouse and fort for the kids. It's just enough to give kids the privacy of their own space but allows them to feel connected to the main living area.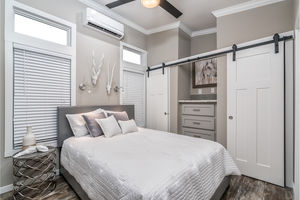 Large Bedroom
Bedrooms in park models are completely closed off from the rest of the unit and the high cielings make it feel like a private oasis. Often equipped with a queen size bed, many are large enough to include a king size bed with plenty of closet space, cabinets, and more.
Park model RVs, used for seasonal camping, are recognizable by their similarity in design to a home. These RVs are built on wheels so that they can be moved easily from campground to campground or around a campsite and they need to be hooked up to site electricity, sewer and water as with any RV.
Sleeping capacity for up to 10
Full-sized kitchen
Large living space & separate bedroom
Ample storage space
Full-sized bathroom and toilet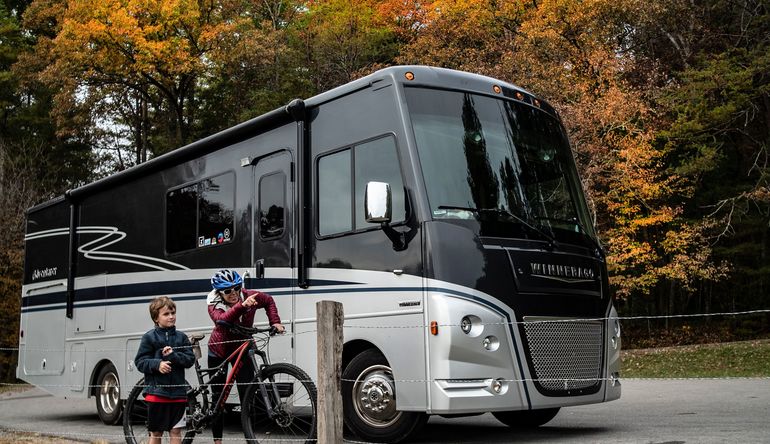 Find the Right RV
Find the RV that fits your needs with the Find my RV Quiz.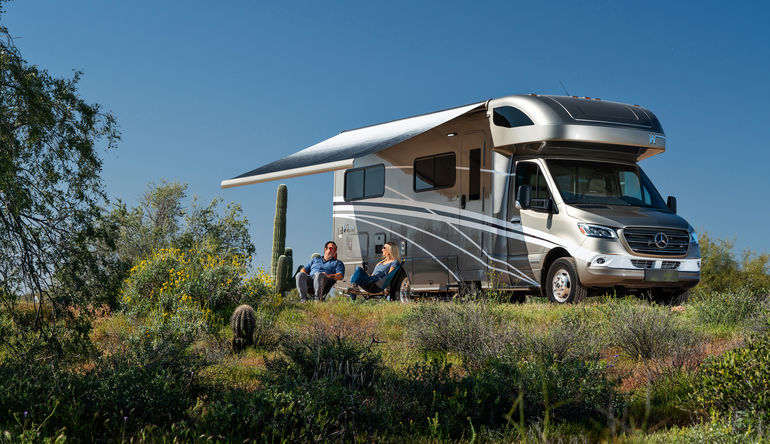 Keep Exploring
See where else you can travel in an RV and what you can do with your family and friends; the possibilities are endless! You may even discover that an RV can take you on adventures you never considered.
Get our newsletter!
Submit your email to get helpful tips and useful information from our partners.