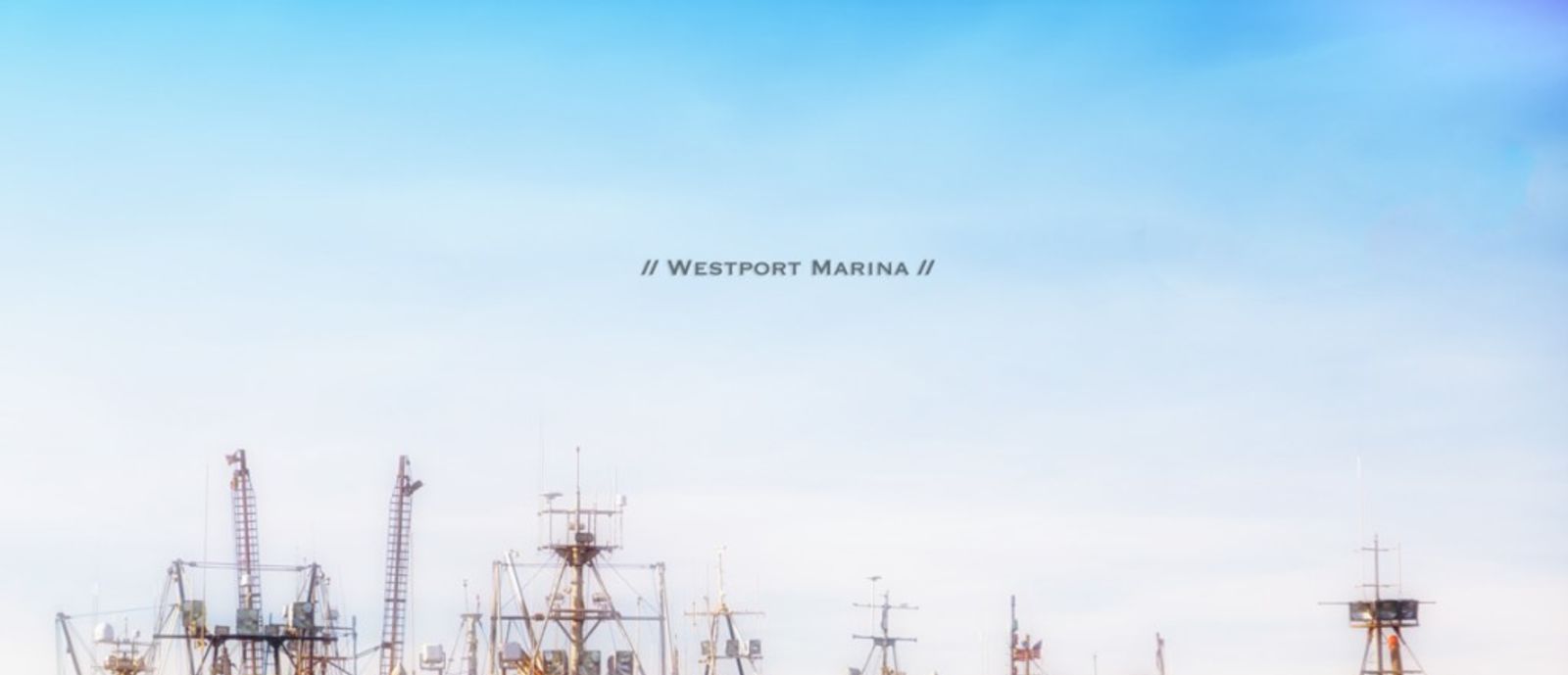 Expert Advice
A Taste Of Washington's Coast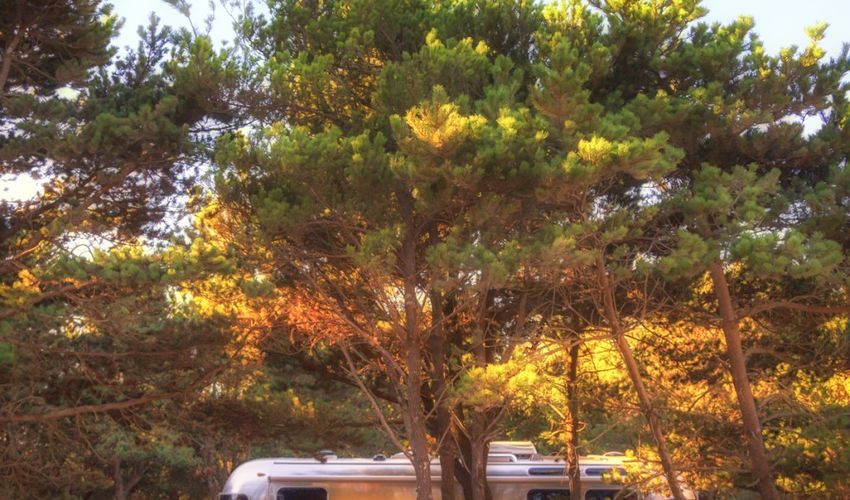 We began the first leg of our trip through the Olympic Peninsula of Washington state with a visit to the Waterfront at Potlach RV Park. Today we continue on with our trip visiting Grayland Beach State Park. We arrive after a leisurely 80-mile drive and still have the majority of the day ahead of us. This is the beauty of exploring the Olympic Peninsula, as camping destinations and places to visit are within short proximity to one another.
After we set up camp, we hop into the truck and make our way down the road to the city of Westport.  According to the Chamber of Commerce, we learn that Westport bills itself as the "Sport Fishing Capital of the World." That was not surprising to us as the marina was full of some pretty big fishing boats. The Westport Marina is also a great place to set your crab pots and pull in buckets of Dungeness crab. Crabbing, not fishing was our activity of the afternoon and we could hardly wait.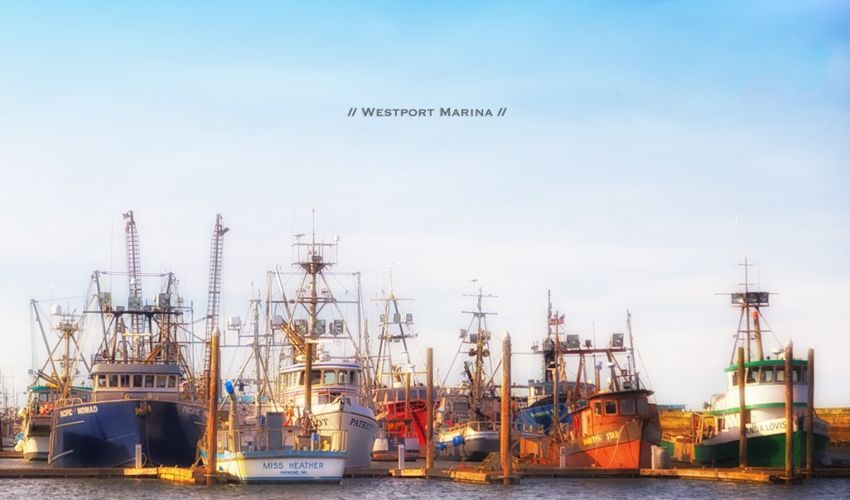 Hubby has been teaching B the art of crabbing since the boy was two years old. Now that he is 11 we see all the years of experience he has as he baits the trap and tosses it over the dock like a pro. Moments later, we are startled by a huge sea lion. He decides to jump out of the water on the dock across from us to have a look around. The local fishermen tell us that this particular sea lion is probably around 400 pounds!  He was really cute and I couldn't help but snap a picture since he posed his best side for me.
After our excitement over the sea lion, we decide to check the crab trap and found that we had a few keepers. That didn't take long at all. We rinsed off the traps and headed back to camp. We were all excited for dinner as a crab boil was on the menu.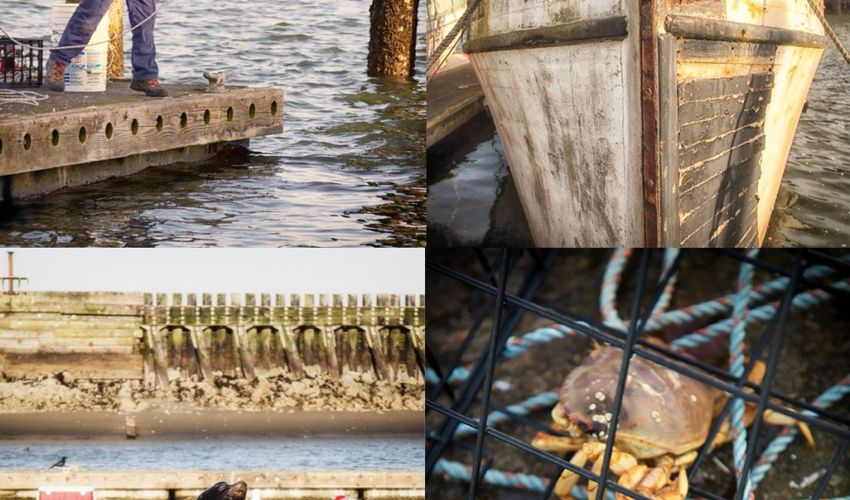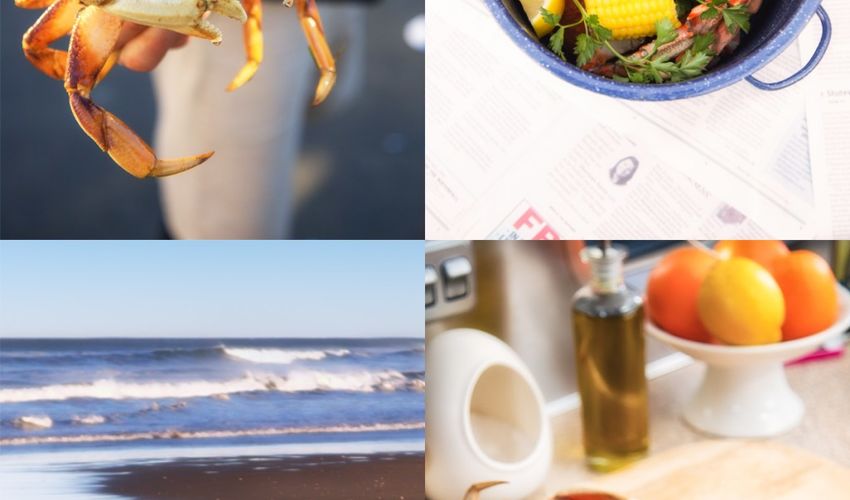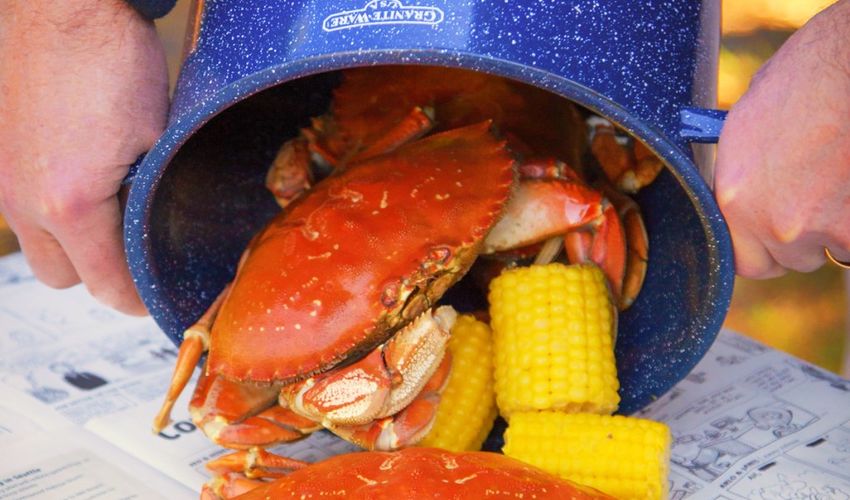 Corn on the cob, melted hot butter and fresh steamed crab makes for the perfect seaside dining experience. When you have fresh ingredients like these on hand, they need little to nothing more to enjoy their flavor. Steps to prepare a crab boil follow this post.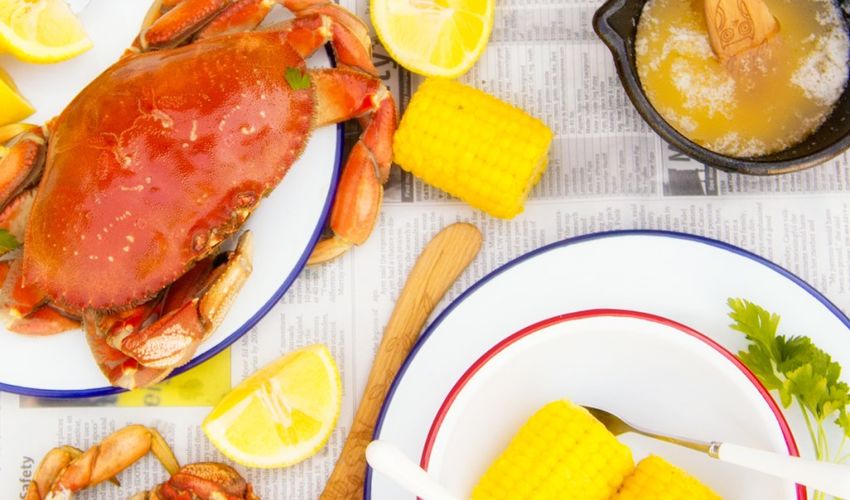 After dinner we take a drive around town to have a look around and see many people leaving the beach through a particular access point. There were cars leaving and people walking with buckets and razor clam tubes. A razor clam tube is a contraption to dig and catch the clams. We were intrigued and found out that we could buy our own tubes at a local fishing shop down the road. So we did just that and hurried back to the beach to give this clamming experience a go.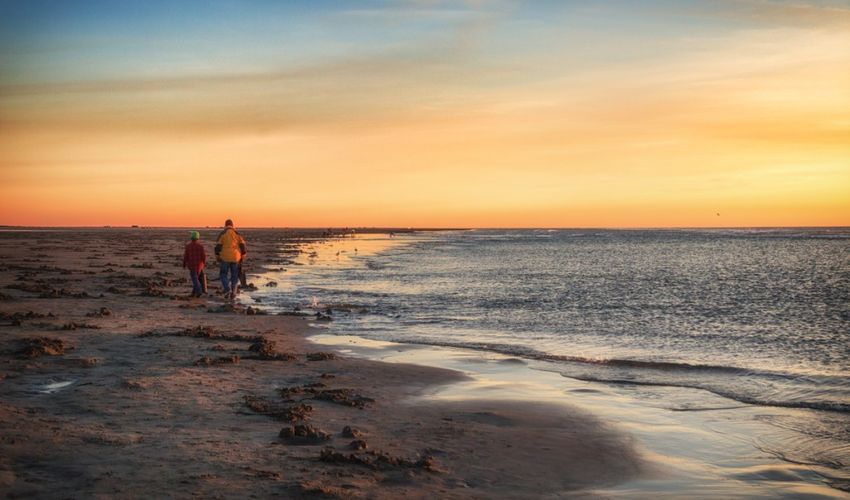 We spent the rest of the evening at the beach not only clamming but also exploring while enjoying the views. It was so beautiful.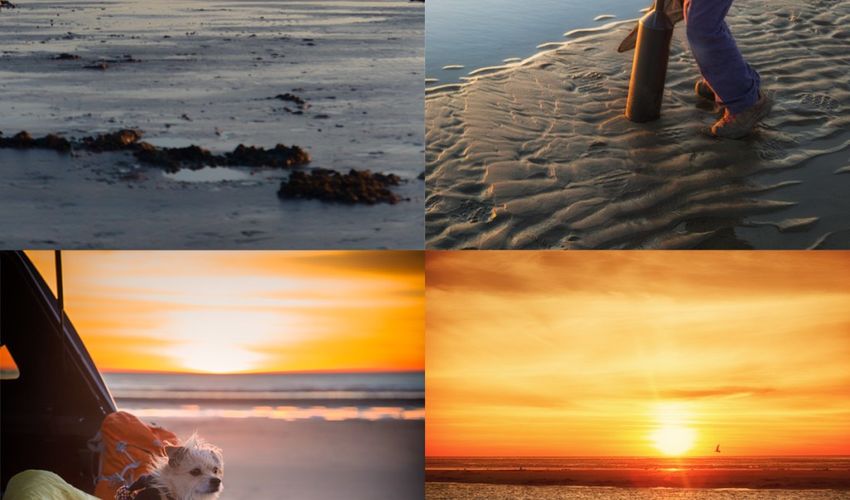 B and I started to get chilly so we headed back to the truck to make hot chocolate on the portable gas stove.  Hubby said he would be right back with us since he was getting clamming lessons from the locals on the beach. We always find the locals to be so helpful and friendly to us when we are traveling which only adds to the enjoyment of the RVing lifestyle.  We love meeting new people and making new friends.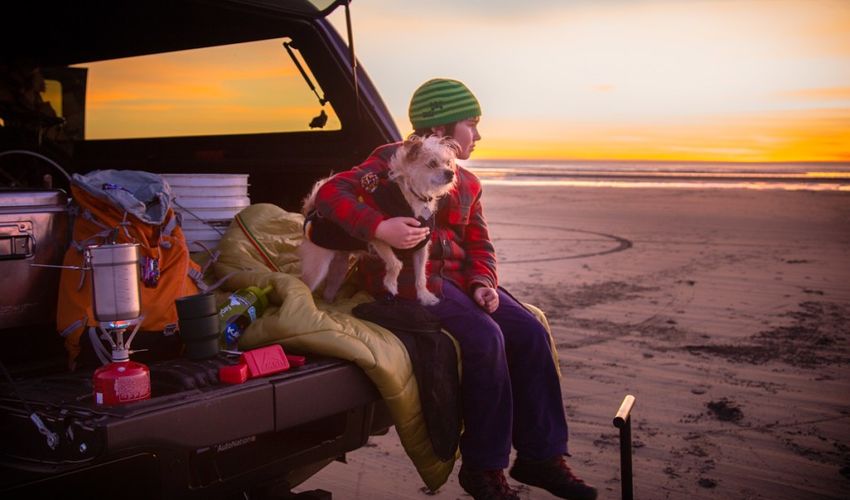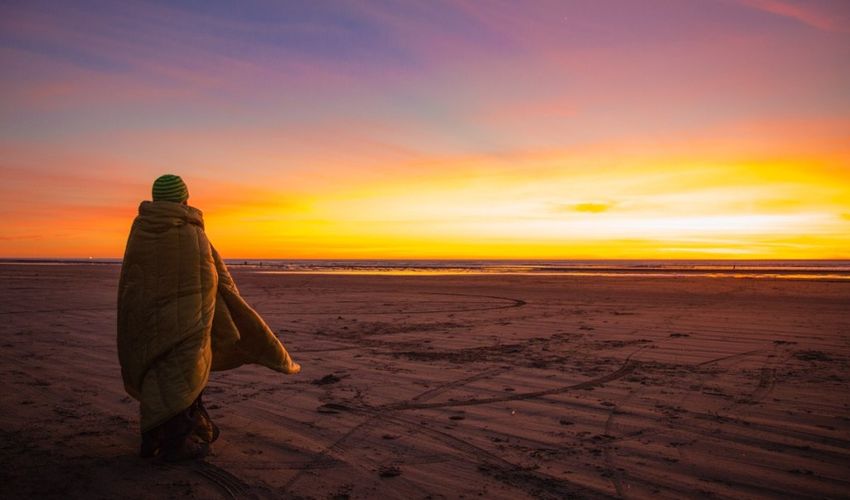 When hubby comes back he tells us that his new friends will meet us at the beach tomorrow to show us how to dig for razor clams. We are excited for tomorrow but even more excited to return to camp. We say goodbye to the beach and head back to our trailer where we enjoy each other's company playing a game of Monopoly.  It's starting to get late so we decide to hit the sack but not before I take Oliver for his last walk before bed. As we step out of the trailer and begin our quiet walk, I look up at our glorious night sky and am amazed. I allow Oliver to guide me wherever he will because I just can't take my eyes off the sky. What a beautiful night.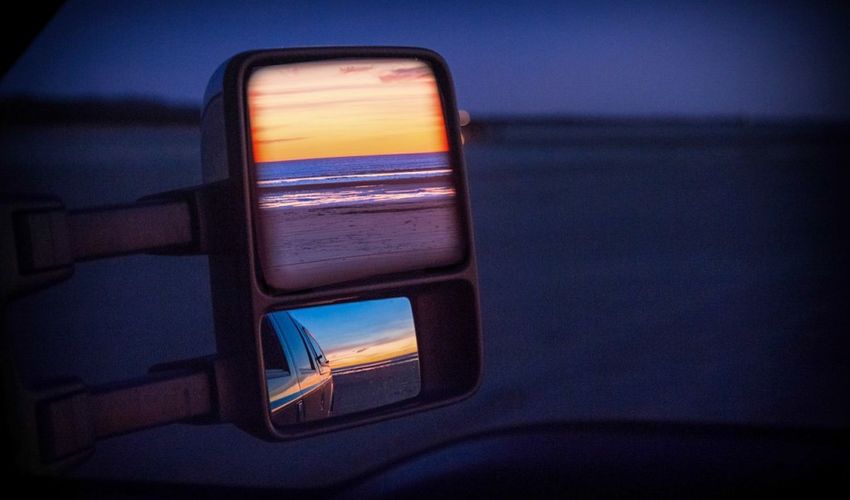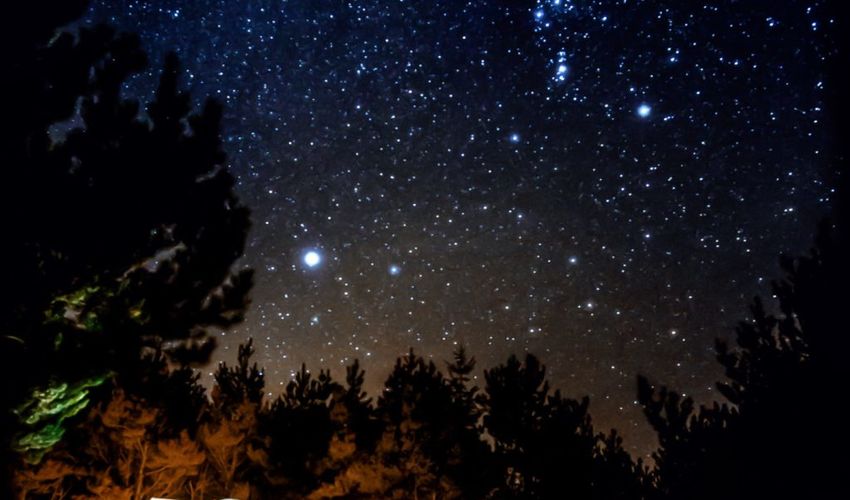 The next morning greeted us with beautiful blue sunny skies. We leashed up Oliver and headed to the beach, which was only steps away from our campsite. The Sandpiper birds were out in full force, feeding away. They were incredible to watch, as they would run as fast as their little legs could take them before taking off in weightless flight. They flew together in one large harmonious formation in the sky creating a symphony of beauty before our eyes. It really was an incredible performance of flight I will never forget.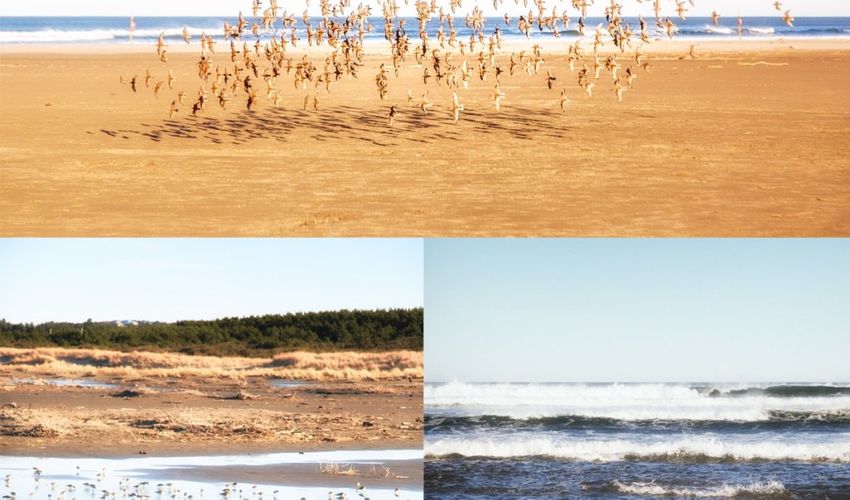 We let Oliver run free for a moment and instead of running after the birds, or running to sniff the ocean or sand, he came running to me and then back to B. We really enjoy having our little canine RVing companion with us on our trips. He always makes us smile and laugh.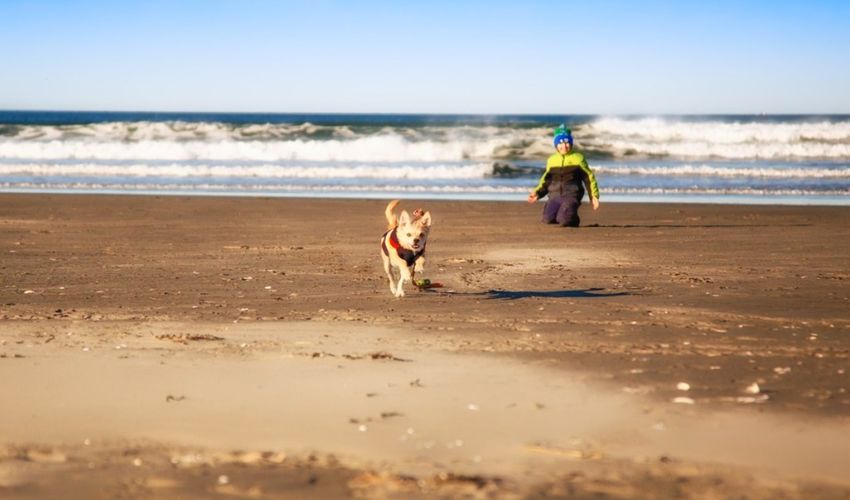 Soon it was low tide and that could have only meant one thing. Time to dig for clams! Hubby finds his friends from last night and they teach us how to properly dig for clams. First they tell us to look for the "dimple" in the sand, face the ocean and center the tube over the "dimple." The next step was to slant the top of the tube slightly towards our bodies and work the tube in carefully with a rocking or twisting motion. After that, we had to take it down about 10″ below the surface, place a thumb over the air vent and then pull up the tube.  Last was to check the sand inside the tube and if the clam is not there, reach into the hole and feel for it.  It took a few tries, but in no time we were catching those super-fast clams!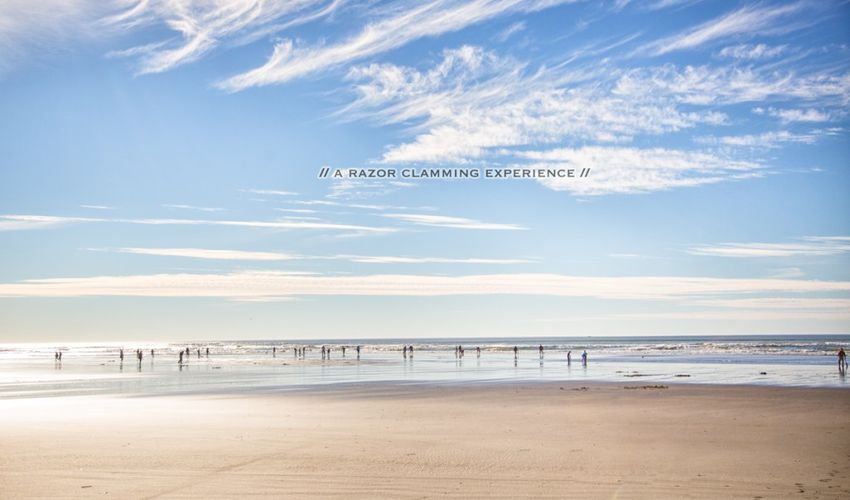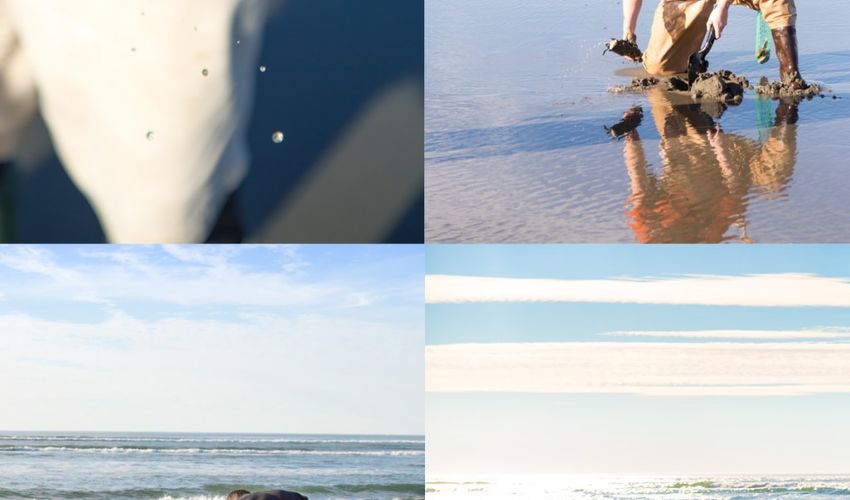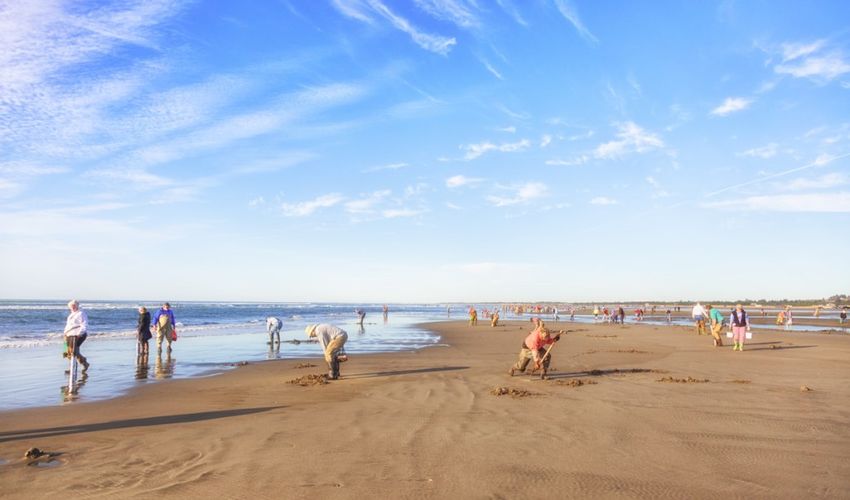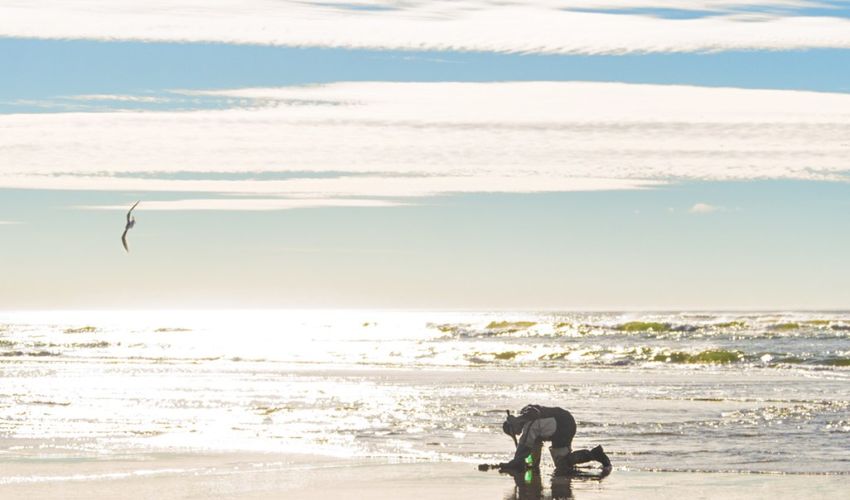 After we caught our limit, we headed back to camp. Our local friends gave me instructions on how to clean the clams. These were a type of clam I wasn't used to, that's for sure.  I've always been used to butter clams where you toss them into a pot with a little bit of butter and garlic and steam to open. These razor clams required more work than that. Basically you place them into a strainer over the sink and pour boiling hot water over them. The hot water will release them from their shells. You then must remove the stomach, gills, sand vein and snip off the tippy top of the neck. When finished, you only want to have the nice white meat left over and nothing else.  Since I managed to butcher these poor clams, I decided to make razor clam sliders.  Nestled in between two soft buns with lettuce and tomato, my razor clam cleaning fiasco would be surely disguised. But, boy, did those sliders taste delicious! That recipe will follow this post.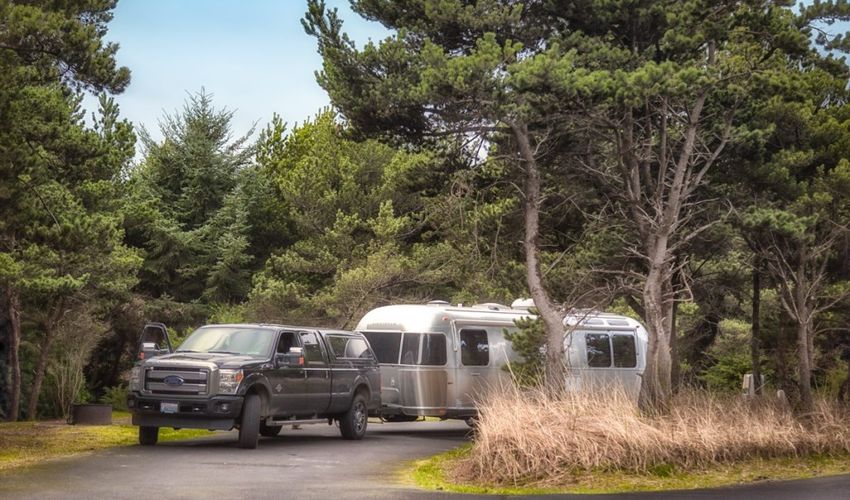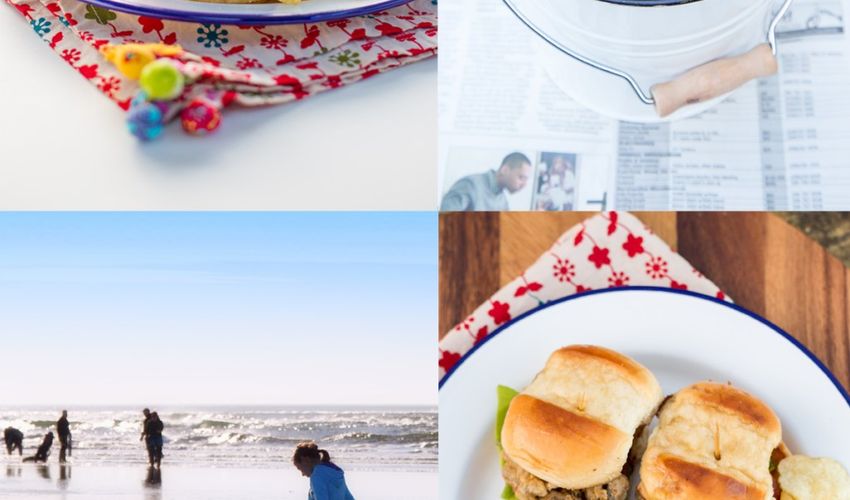 And in homage of our clamming experience, B and I made these really cute clam cookies. This is a fun DIY for kids – simply take two Madeleine cookies and with a paintbrush, paint water along the edges of the cookies and dip the cookie into sprinkles. Pipe frosting into the middle and place onto a bed of graham crackers to mimic sand. Bon appétit!
We enjoyed the rest of the day relaxing around camp. It would be our last night spent here before leaving the following day for our last stop on our Olympic Peninsula road trip, so we rode our bicycles and explored Grayland Beach State Park as much as we could. It is a huge park with many beautiful campsites. The park is well-maintained and the location can't be beat as you are close to the town of Westport. We will definitely be coming back here, that is for sure. What a fun place to camp.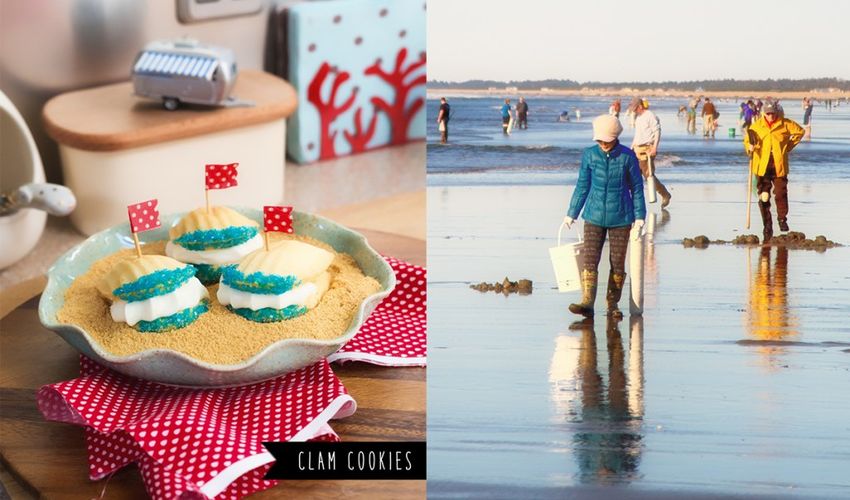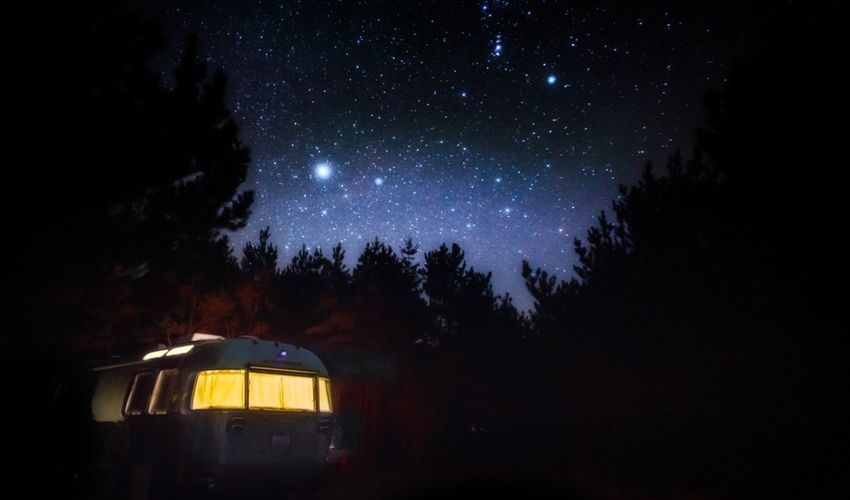 The next morning we woke up to an overcast sky with a definite chill in the air. We wanted to spend a few moments on the beach before departing so B and I leashed up Oliver and headed out. Hubby was on his own as he woke up early to head back to the Westport Marina in hopes of catching more crab.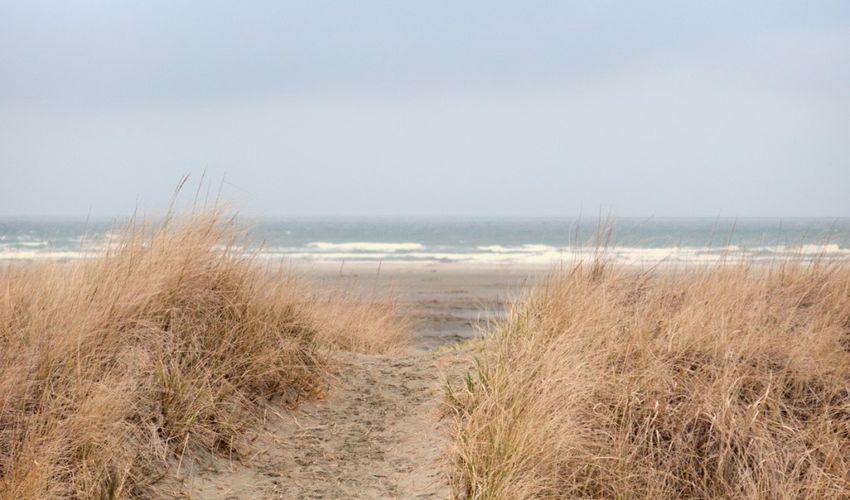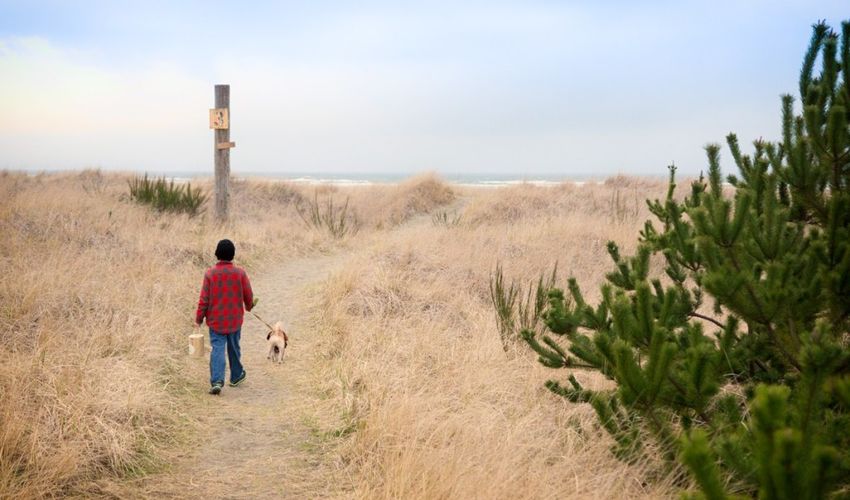 B made a little campfire for us to enjoy and we sat together, just the three of us. We talked about the good times we had during our visit here to Grayland Beach State Park. We talked about our crabbing experience at the Marina and then about our razor clamming experience at sunset. We reminisced about our entire trip while sipping on hot cocoa.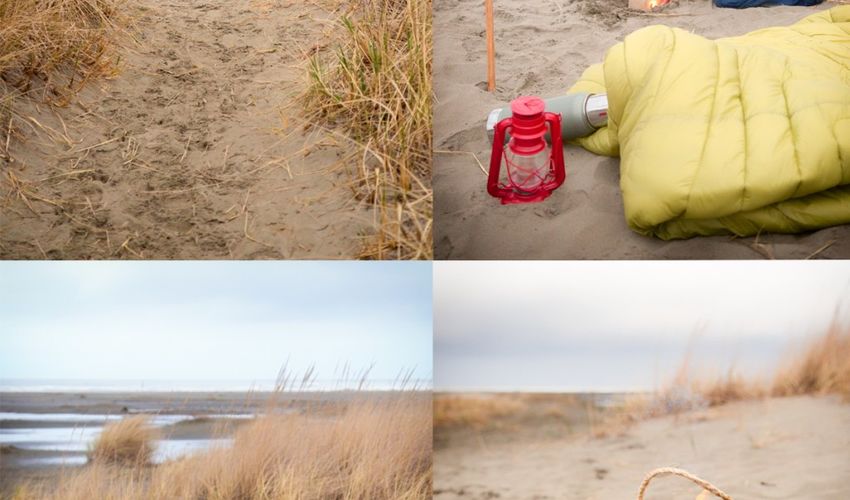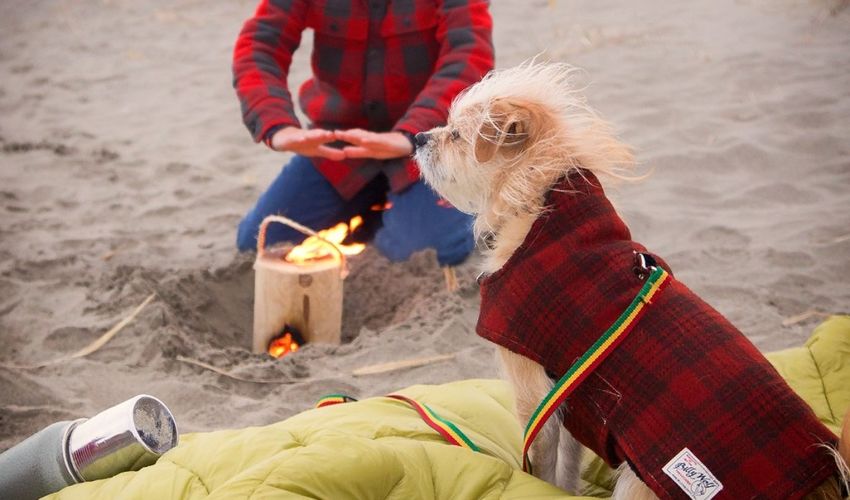 "Mommy, do you think we can come back here again?" B asks me with all seriousness.
"I think so, but tell me, why would you like to come back?" I curiously ask him.
"I love it here mommy, it's so peaceful and fun and the beach is so big and there is so much to do. Plus the razor clams are awesome and the crabs are so big!"
"Well then, we will definitely come back," I tell him.
He smiles big. Really big.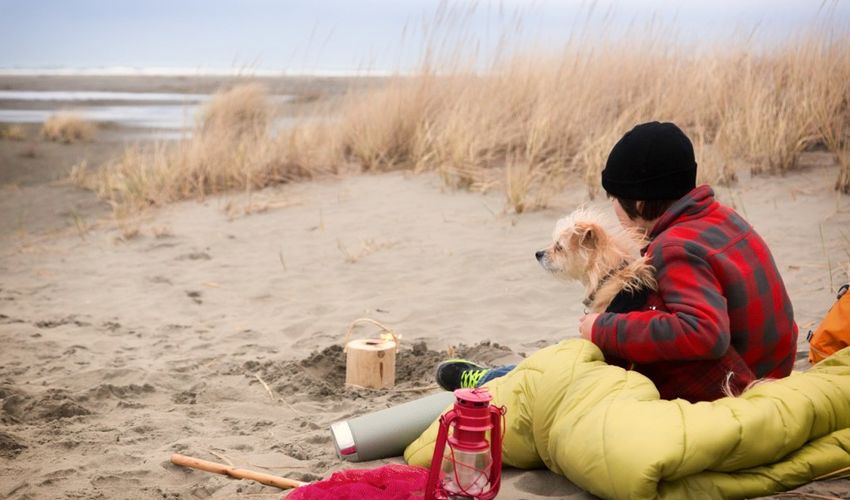 The Olympic Peninsula of Washington State continues to amaze us with all of the places to camp and outdoor activities to do. If you have ever visited the Olympic Peninsula, I would love to hear the places you have visited and any recommendations you may have on places to stay.
Razor Clam Sliders:
Ingredients
Six cleaned razor clams kept as whole as possible and then cut into two pieces.
2 Eggs, whisked
Old Bay Seasoning
2 T of Flour
1 T of Corn Meal
Pinch of Salt
Soft slider buns, lettuce, tomato, tartar sauce
Steps
1. In a shallow bowl, place your Old Bay seasoning, flour, corn meal and salt. 2. Dip clam pieces into egg and then into flour mixture. 3. In a frying pan, drizzle a good amount of cooking oil. You want to shallow fry the clams but not drown them in the oil. 4. Once the oil is hot, carefully add your clam pieces and cook until a nice golden color — just a few minutes. You don't want to overcook the clams. Otherwise they will become rubbery. 5. Place the clams onto the slider buns and top with lettuce, tomato, and tartar sauce — all to your liking of course. Steps to a perfect crab boil: Take a large stock pot and fill with water a quarter of the way up. 1. Add a few dashes of Old Bay seafood seasoning and a few generous pinches of salt. 2. Place the crabs and corn into the pot and cover. Bring to a boil and reduce heat to medium. Continue cooking for another 15 to 18 minutes or until the crabs are steamed through. 3. Strain the water from the pot by securing the lid and allowing water to drain through a small opening. 4. Pour the crab and corn onto a picnic table covered with newspaper. Serve with butter and a cold beverage. 5. Bon appétit.