Check off the bucket list
Treat yourself to that iconic fly fishing river three states away that you've dreamed about for years
The perfect fishing spot
Your RV is your mobile, year-round fishing camp
Ice Fishing
Never miss a bite! Go ice fishing from the comforts of indoors with the added benefit of a bathroom, bed, and a kitchen.
RVing and Fishing
Go where the fish are! Your RV allows you to take you to fishing spots you've never been before. With an RV as your basecamp, the fishing experience is made even better.
Turning Your Passion Into a Career
Ecologist, Charles Post, takes his work on the road with his wife Rachel and their dog Kinute. Charles bridges his love of the outdoors with his love of science, and uses his social influence to educate and inform people about wildlife.
Gourmet Forager
Viet Pham is a professional chef, winner of Iron Chef America vs. Bobby Flay, and owner of Pretty Bird Chicken. When Viet isn't taking the culinary world by storm, he enjoys getting out into nature in his RV, and foraging for ingredients to create beautiful, natural meals.
Swimming Upstream with the Salmon Sisters
Claire and Emma, founders and owners of Salmon Sisters, a fisherman's lifestyle brand, run their sustainable salmon fishing business from Homer, Alaska. The sisters hit the road in their Class C RV to both make pick-ups and deliveries and enjoy camping, dining on the beach with friends, and a final outdoor adventure during the last days of fall.
Ice Fishing in Minnesota
The Salzbrun family in Minnesota go ice fishing in their RV every chance they get. While the temperatures on the 2-foot-thick frozen lake were chilly, the atmosphere inside their Glacier House RV was a snug 72 degrees. This fun-loving family enjoys their time together and allows everyone to participate including their daughter who has cerebral palsy.
Living on the Fly
Maddie Brenneman is a Rocky Mountain fly fishing guide based in Denver, Colorado. Her stress melts away on her fly fishing adventures with her partner Nick and RVing gives the couple freedom to plan but also leaves room for the spontaneity that Maddie craves.
Reel 'em in
Ish Monroe is a professional angler who travels the country in his RV competing in fishing tournaments. He spends 200+ days per year on the road and his RV provides the comforts of home as he travels from one fishing spot to another.
Hear from real RVers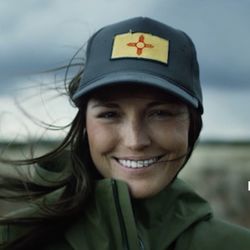 When you go in with an open mind, there's a lot more room to feel fulfilled and excited by all these cool things you didn't expect.
Everything you've ever learned about in a book at school, when you Go RVing, you get to see that.
We got to sleep with a closeness to nature you wouldn't normally get. It was amazing!
Trip Planning
8 Great Lakefront Campgrounds With Gorgeous Views
For an RV owner, there are few things better than scoring a great site on or near a beautiful lake. Whether you love to fish, kayak, swim, or just take in the soothing views from your camp chair, lakefront camping is highly desirable.
Read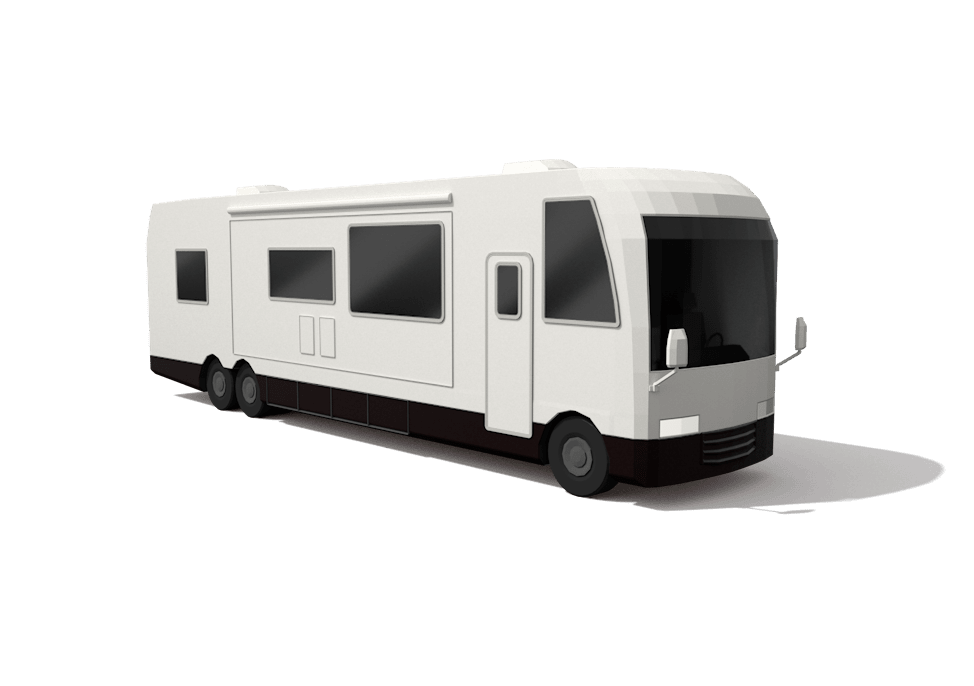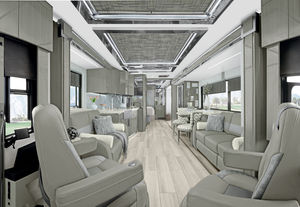 Living area
Class A motorhomes come with many features similar to what you have in your house. Comfortable furnishings, larger cabinets and sinks.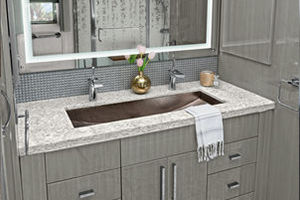 Full Vanity
Large vanities and double sinks appear in some of these larger RVs.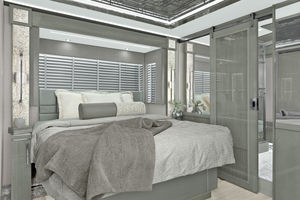 Private Bedroom
The layout and size of a Class A allows for a private bedroom separate from the rest of the living space.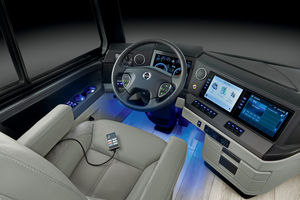 Cockpit
While there may be a couple more screens to learn about and a couple more buttons and knobs, being in the drivers seat is not dramatically different than other vehicles that may be more familiar - the back up cameras and alert systems will make newbies more comfortable with some practice.
Motorized
Class A Motorhomes
Class A motorhomes are designed with the comforts of home in mind equipped with a full kitchen, bathroom, large living and entertainment centers. They are built on specially designed motor vehicle chassis and do not require owning a separate tow vehicle.
Sleeps up to 8 people
Ample storage
Can tow something else for side trips
Full kitchen and large living area
Full-sized bathroom and toilet
Garage
The back of the RV drops down to create a ramp to easily access the garage for storing bikes, ATVs, kayaks, motorcycles, and other toys to bring along on the RV adventure. Some garage areas also have fold up bunk beds to increase sleeping areas while the garage is not being used.
Living area
There is plenty of space in this type of vehicle including a large living area with a kitchen, couch, entertainment system, and a full bathroom.
Private Bedroom
The larger sport utility RVs have a separate bedroom area for occupants. This can be found in travel trailers, 5th wheels and motorized sport utility RVs.
Towable
Sport Utility RVs
Available as travel trailers, 5th wheels, and Class A motorhomes, sport utility RVs are built for those who want to take motorcycles, dirt bikes, ATVs, or other motorized toys on the road with them while RVing. The back of the RV drops down forming a ramp for access into a garage area to easily store and access sports equipment.
Sleeping capacity for up to 8 people
Garage for storing and accessing large sports equipment
Full-sized bathroom
Kitchen Amenities
Entertainment Systems
Cook
Truck campers often feature an efficient kitchen complete with an oven, stove, microwave, refrigerator, and sink.
Bathe Comfortably
Truck campers include full wet or dry baths and some even have a bathtub!
Dining
Truck campers often offer comfortable, dedicated dining areas.
Comfy Bed
The dedicated bedroom area often boasts a queen size bed and entertainment system.
Truck Campers are portable units designed to be loaded onto, or affixed to, the bed or chassis of a pickup truck. This type of RV is an easy and economical option for pick up truck owners.
Sleeps 2-6 people
Nimble and easy to drive
Easy to Park
Entertainment Systems
Simple Bathroom Facilities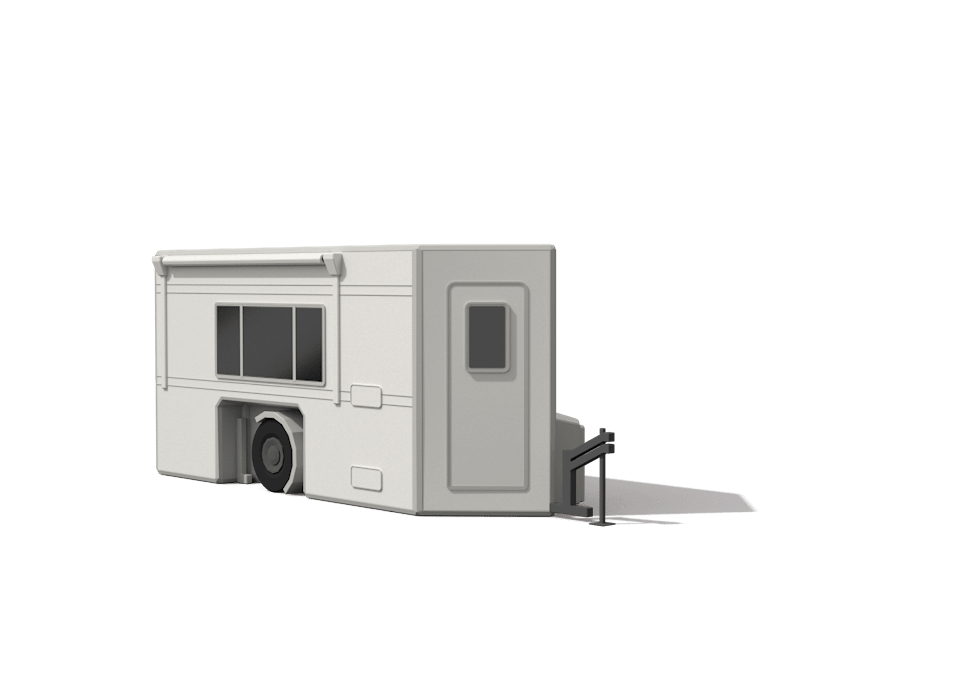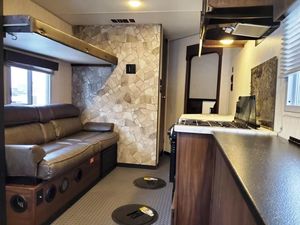 Living area
Equipped with 6-10 ice holes, these RVs are built with basic kitchens, bathrooms, and couches. Some even have pull-down bunks for those long weekends.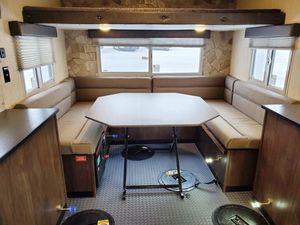 Dinette
Tables are often not secured to the floor in ice fish houses so that they can be easily stowed, opening up more living space and access to ice holes.
Specialty
Ice Fish Houses
Fish Houses are designed to shelter you from the element while ice fishing with friends and family. These fish houses are easy to tow into place and have specially designed floors with several ice holes throughout the RV that can be opened and closed.
Sleeps 2-6 people
Lightweight
Basic bathroom amenities
Basic kitchen amenities
Can go ice-fishing without exposure to harsh elements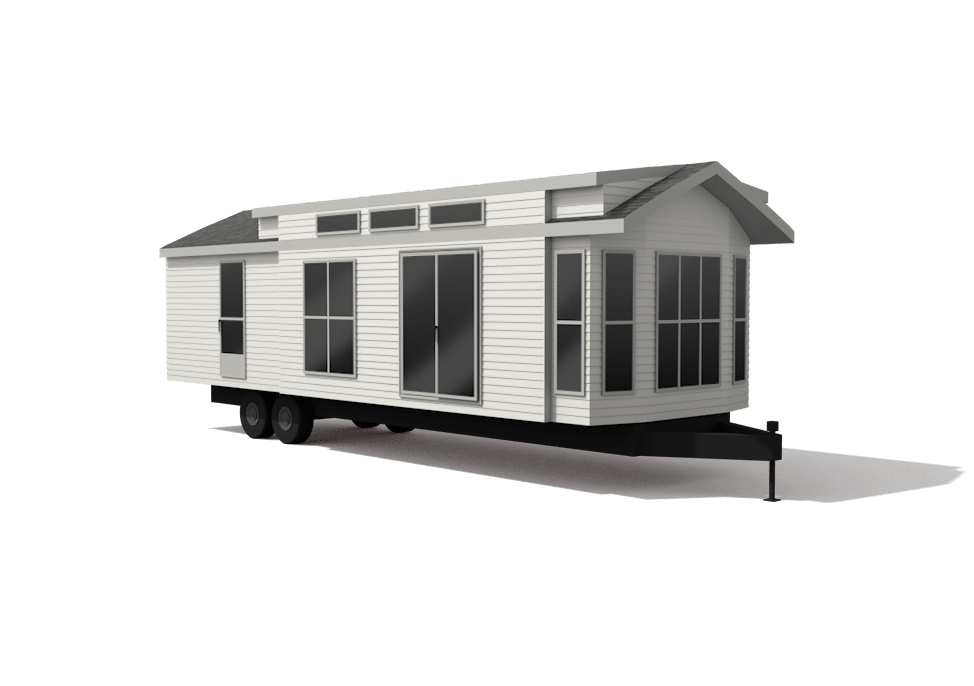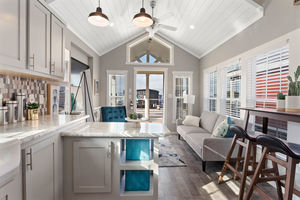 Living area
Park model RVs living areas could easily pass for the interior of a home or apartment. They often have larger doors, multiple windows and high ceilings to accommodate additional loft spaces.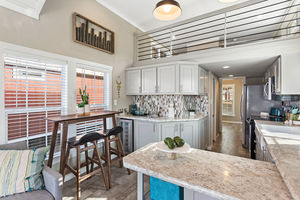 Lofts the kids love
The loft area in a park model can be used as storage but is most often utilized as bunkhouse and fort for the kids. It's just enough to give kids the privacy of their own space but allows them to feel connected to the main living area.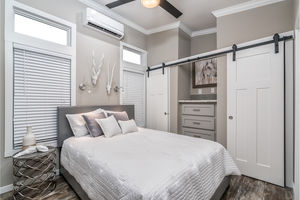 Large Bedroom
Bedrooms in park models are completely closed off from the rest of the unit and the high cielings make it feel like a private oasis. Often equipped with a queen size bed, many are large enough to include a king size bed with plenty of closet space, cabinets, and more.
Park model RVs, used for seasonal camping, are recognizable by their similarity in design to a home. These RVs are built on wheels so that they can be moved easily from campground to campground or around a campsite and they need to be hooked up to site electricity, sewer and water as with any RV.
Sleeping capacity for up to 10
Full-sized kitchen
Large living space & separate bedroom
Ample storage space
Full-sized bathroom and toilet
Find the Right RV
Find the RV that fits your needs with the Find my RV Quiz.
Keep Exploring
See where else you can travel in an RV and what you can do with your family and friends; the possibilities are endless! You may even discover that an RV can take you on adventures you never considered.
Get our newsletter!
Submit your email to get helpful tips and useful information from our partners.