Comfort food
The outdoors is also about great meals – make and savor them in your RV
Campfire cooking
Discover the outdoors all day – and spend the evening with family and friends enjoying the fish you caught or the bounty of a local farmer's market
Savor local ingredients
From farm-to-table to haute cuisine, your RV is your passport to exploring your food passions in new places
Fuel Your Foodie Passion
If you're foodie or self-proclaimed chef, RVing can be the perfect way to take your passion for food on the road!
Swimming Upstream with the Salmon Sisters
Claire and Emma, founders and owners of Salmon Sisters, a fisherman's lifestyle brand, run their sustainable salmon fishing business from Homer, Alaska. The sisters hit the road in their Class C RV to both make pick-ups and deliveries and enjoy camping, dining on the beach with friends, and a final outdoor adventure during the last days of fall.
Food Tastes Better with Friends
For these two couples, nothing is better than spending time together and sharing good food. With a park model RV, they have a home away from home with everything they need to create their foodie masterpieces.
Fueling An Athlete
Lentine's Story
Lentine takes her love of cooking on the road, finding fresh ingredients to create meals that are both delicious and healthy to fuel her active lifestyle.
Gourmet Forager
Viet Pham is a professional chef, winner of Iron Chef America vs. Bobby Flay, and owner of Pretty Bird Chicken. When Viet isn't taking the culinary world by storm, he enjoys getting out into nature in his RV, and foraging for ingredients to create beautiful, natural meals.
Fresh off the Grid
Megan and Michael are food bloggers with a knack for putting together unique, easy, and healthy meals that can be used at any campsite. On their adventure, they enjoy delicious food, friendship, and the comforts of an RV!
The World is Your Oyster
YouTube vloggers Kara and Nate have made their dream of full time travel a reality. In December of 2019, they achieved their goal of visiting 100 countries but they aren't done yet! Even these jet-setters know that there is a lot to offer stateside and enjoyed a memorable and very special trip to the Maine coastline.
Hear from Real RVers
The understanding of what my body and spirit need, in sport and in life, is a guiding principal for me in my work as a chef for athletes and everyday superheroes.
What better place to have a fun cooking experience than around the campfire? Cooking is the perfect activity to bring people together and have a moment to share with everyone in a new spot at a campsite.
Traveling in our travel trailer not only makes us feel right at home with the comforts of home with things such as a bed, a shower, and the like but with good home-cooked meals we love – prepared right there in our kitchen on wheels and stocked with all of the ingredients and spices needed to prepare it.
When cooking with local and fresh ingredients, a typical dinner turns into something extra-special.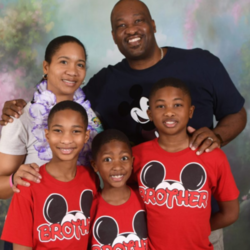 We tailgate in comfort: We have TVs to watch the early games and we don't have to worry about traffic afterward because we hangout and watch the late games.
You never know where you will find your next adventure… you might look down and find it right under your feet!
Expert Advice
Finding Farmers Markets While RVing
Did you know that RV dealers that reopened in early May reported that their monthly sales were up 170 percent? The global pandemic has definitely fueled interest in recreational vehicles including RVs, campers and travel trailers because RV travel is the perfect solution to social distancing while traveling.
Read
Find the Right RV
Find the RV that fits your needs with the Find my RV Quiz.
Keep Exploring
See where else you can travel in an RV and what you can do with your family and friends; the possibilities are endless! You may even discover that an RV can take you on adventures you never considered.
Get our newsletter!
Submit your email to get helpful tips and useful information from our partners.