Your own Pace
Release your inner athlete.
Try all the sports
Try your hand at wind-surfing. Test your bouldering skills. Check out the Appalachian Trail. Your RV takes you there.
Disconnect to reconnect
Get your family off their screens and onto the trails.
Families That Kayak Together, Stay Together
Tommy, Polly, and their four boys are professional kayakers, navigating even the most difficult rapids in the USA. Tommy and Polly teach their kids that they can do whatever they put their minds to, whether it's on the river or in life.
Skating Across Colorado
Annie Guglia, originally from Montreal Canada, travels in her RV across Colorado, skating in parks surrounded by the state's natural beauty.
Fueling the Athlete
Lentine takes her love of cooking on the road, finding fresh ingredients to create meals that are both delicious and healthy to fuel her active lifestyle.
Cross-country Skiing and Trail Running
Mirna Valerio wears many hats - ultra runner, coach, mom, writer, and more. But above all, she is a motivator who challenges herself and others to step out of their comfort zone and try new things.
Hear from Real RVers
Growing up, outside meant freedom. I would spend the entire afternoon riding my bike and exploring but the outdoors was limited to my neighborhood. When I started rock climbing, I never imagined what I would find and the people I would meet.
We wondered how we would maintain our active lifestyle without regular access to a gym or the regular routine we were used to. But all we had to do, was open up the door to the RV.
Running fed me in a way that nothing else did. It fed me physically, spiritually, mentally and emotionally and that's what it does for me today.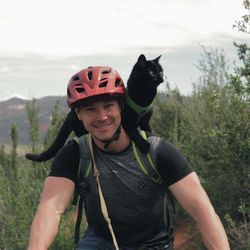 Simon and I enjoy mountain biking. Having all my gear ready to go in the RV makes adventurous road trips easy. It's a fun and convenient way to explore.
I can stop the RV, putting on my running shoes, and hit the open road on foot. It allows me to see the world from a whole new perspective.
Expert Advice
5 Must Haves To Stay Fit On The Road
It can be hard to think about exercising when we're on the road. The brain's in vacation-mode, which, for some reason, becomes an easy excuse to bail on fitness. But what I learned long ago, right at the beginning of our RVing years, is that workouts on the road are some of the best kinds.
Read
Find the Right RV
Compare different RV types and find the perfect fit for your next #RealVacation.
Keep Exploring
See where else you can travel in an RV and what you can do with your family and friends; the possibilities are endless! You may even discover that an RV can take you on adventures you never considered.
Want to learn more?
Send us your email to get helpful tips and useful information from our partners.