Take your Time
Savor the journey as much as the destination by taking the long way
The Road Less Traveled
Pave your own way off the beaten path
See more of the Country
Your literal window to the beauty and uniqueness of scenic byways
Nomad On Wheels
Kina Pickett, his wife, and two children travel across the country in their 1971 Airstream RV. An entrepreneur and photographer, Kina combines his creativity and love of outdoors in his businesses and everyday life.
Single Female, Will Travel
Fueled by a desire to explore, Oneika enjoys the freedom of traveling in an RV and seeing the world from new perspectives.
Swimming Upstream with the Salmon Sisters
Claire and Emma, founders and owners of Salmon Sisters, a fisherman's lifestyle brand, run their sustainable salmon fishing business from Homer, Alaska. The sisters hit the road in their Class C RV to both make pick-ups and deliveries and enjoy camping, dining on the beach with friends, and a final outdoor adventure during the last days of fall.
Women on the road
Laura Borichevsky hosts her podcast Women on the Road from the comforts of her vintage travel trailer. Her RV provides the comforts of a home studio, right from the road.
Get Your Kicks on Route 66
Route 66 is the ultimate American road trip. Officially opened in 1926, Route 66 is 2448 miles long running from Chicago, IL to Santa Monica, CA. The Newschool Nomads started out determined to stay on the official Historic Route 66 whenever possible but quickly discovered that with limited time (and toddlers) they needed to travel between major destinations by interstate weaving off and on the byway to see points and towns of interest.
Hear From Real RVers
I can easily remember the day we set out to hit the road for an all-American road trip through Washington, Idaho, Montana, Wyoming, South Dakota, and Oregon. When I think back at all the memories we have created on this trip, it brings nothing but a smile to my face.
I think it is really crucial for all of us to understand that there are so many different ways to do road travel and that's one of the basic principles that underline the show; that there is no wrong way to do it.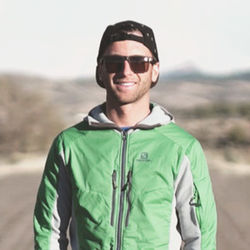 After an incredible year spent going on feasible, inexpensive, weekend-to-week-long road trips with my friends, I think the RV bug has bitten me.
On the Road with RVers
Coffee for Two
Stefaan and Sarah discover what it's like to live an inspired, nomadic life on the road.
Read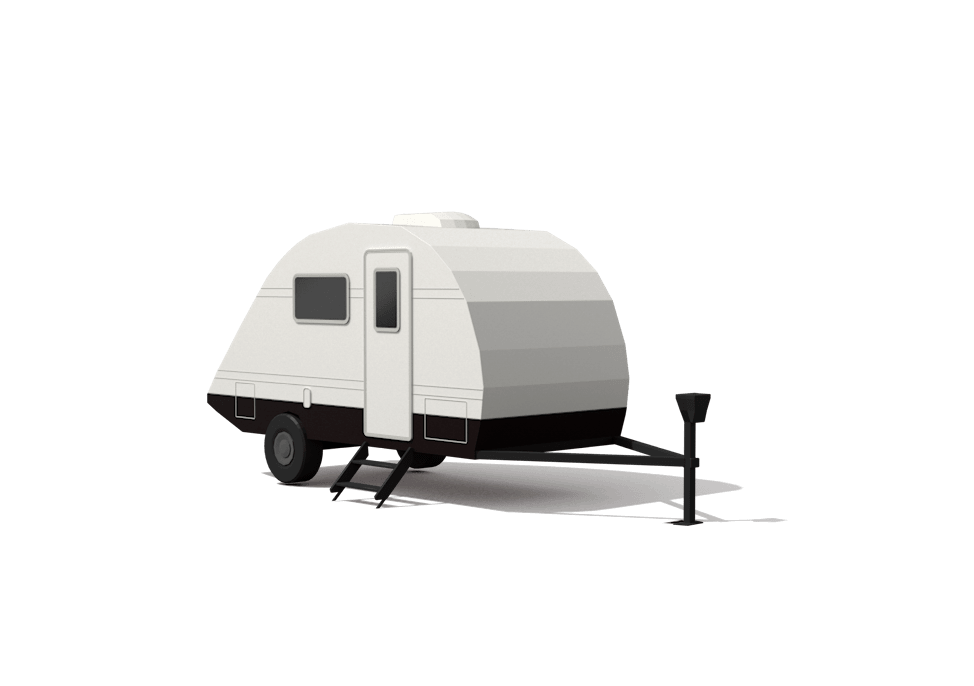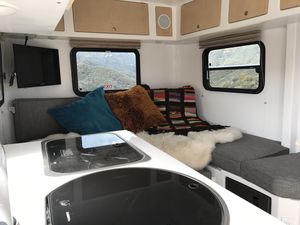 Lounge, Cook, Sleep
The bench seating teardrop trailers is often used for couch space, seating for meals, and converts to a bed for sleeping. Basic kitchens are standard in teardrops.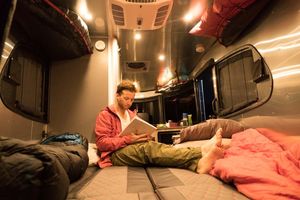 Roomy
Despite their exterior appearance, there is plenty of room to stretch out, cook, and sleep.
Towable
Teardrop Trailers
Teardrop Trailers
Sleeps 2-3 people
Light-weight, can be towed with a family car, minivan or SUV
Basic bathroom amenities
Basic kitchen amenities
Can be stored in a garage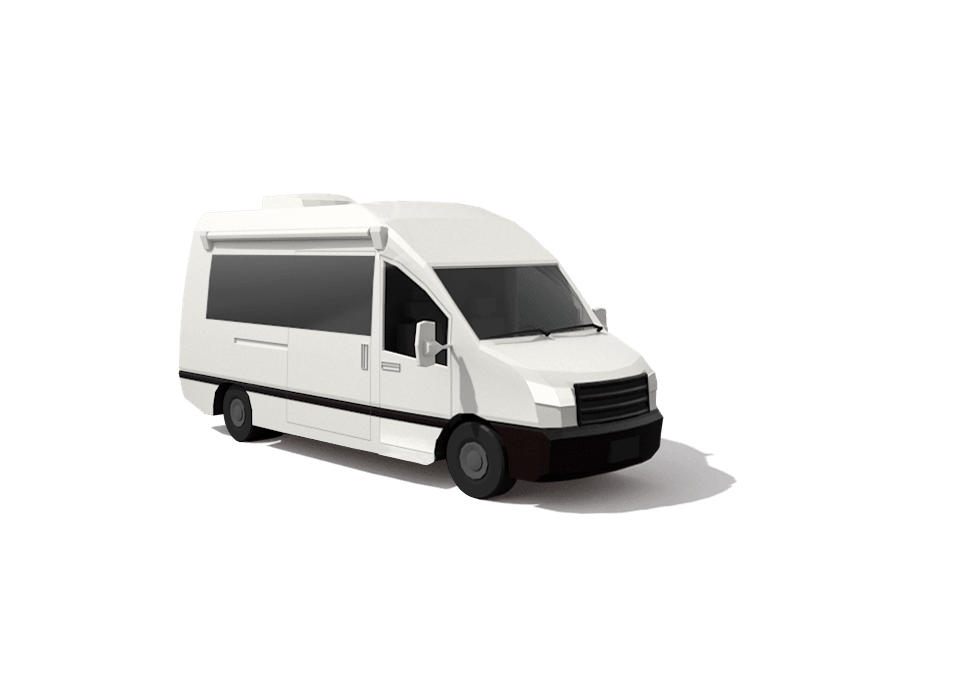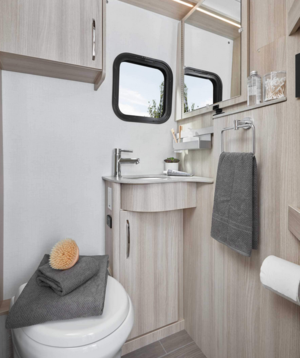 Full Bathroom
Space is used efficiently in class B RVs and many have full wet or dry baths.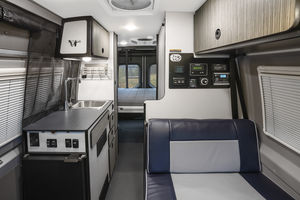 Beyond the Basics
Class Bs offer a kitchen, seating, bathroom and place to sleep.
Motorized
Class B Motorhomes
Class B motorhomes, also known as camper vans, feature all the conveniences of a furnished motor home but are compact enough to make driving one as easy as your regular van or SUV.
Sleeps 2 to 4 people
Easy Parking
Nimble & easy to drive
Simple Bathroom Facilities
Compact kitchen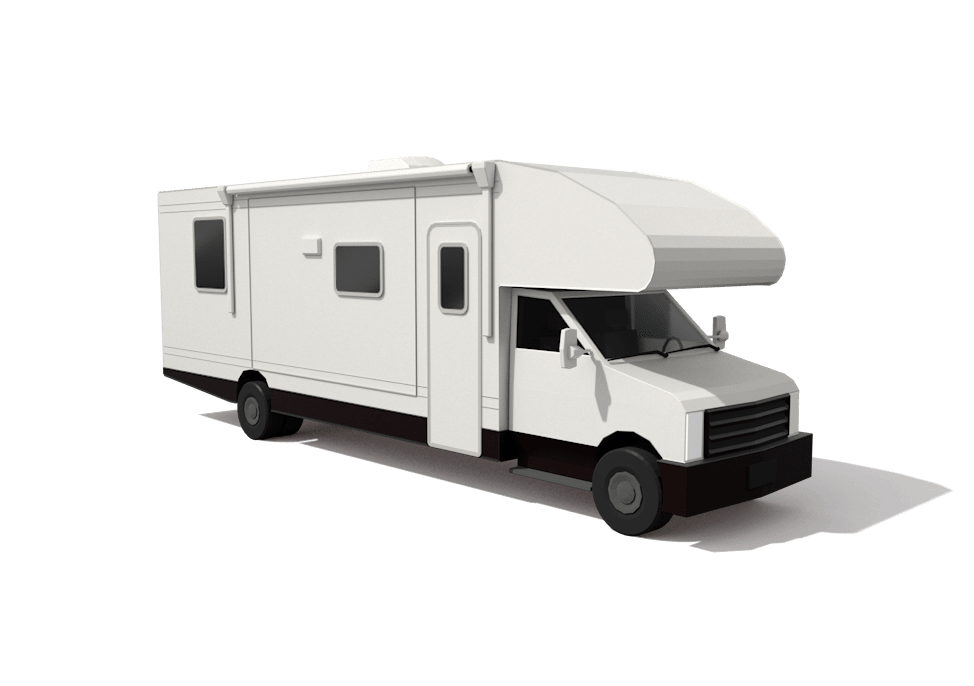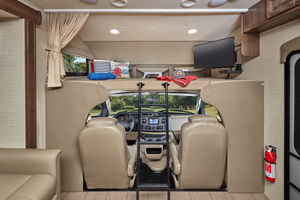 Cockpit and Bunk
Class Cs use the cabin space above the cockpit as a loft bed.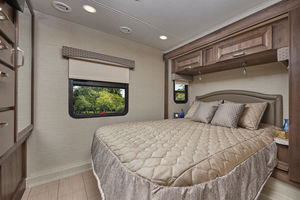 Private bedroom
Class Cs are large enough to include a separate bedroom with a king or queen size bed, closet space, and additional storage.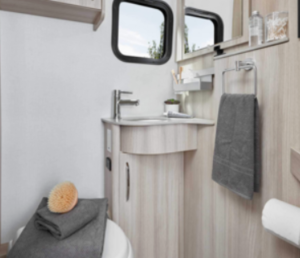 Full Bathroom
This type of RV is equipped with a full size dry bath with a toilet, sink, and shower or bath.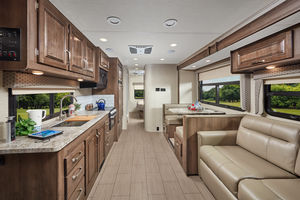 Living area
The living area can be made larger with slide-outs for a roomy living, dining and kitchen area.
Motorhome
Class C Motorhomes
Built on an automotive van frame with a wider body section attached to the original cab, class C motorhomes are easily recognizable by the over-the-cab portion that is often an optional sleeping area.
Sleeps up to 8 people
Can tow another vehicle for side trips
Loft for extra sleeping space
Full-sized kitchen and bathroom
Storage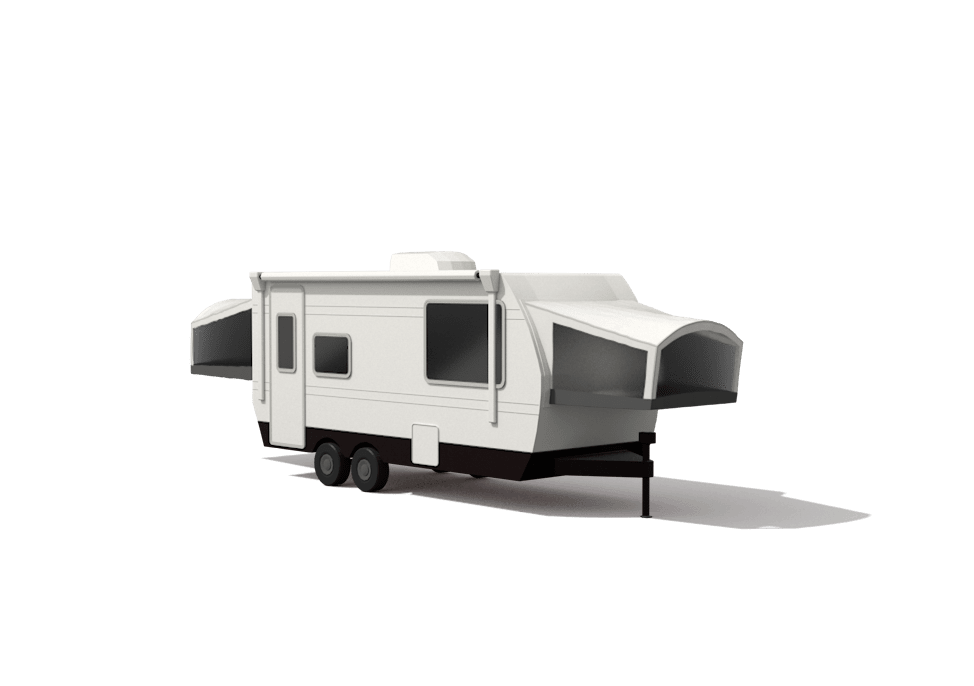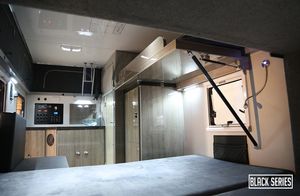 Living Space
There is a traditional living space with a kitchen and bathroom, bench seating that converts to an eating area and sometimes bunks that fold up and down.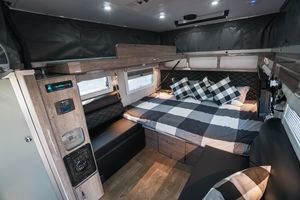 Pop-out sleeping
Much like a pop-up, the sleeping areas pop out from the sides creating extra space and the canvas sides give you a view of a starry sky.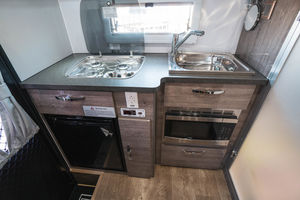 Functional Kitchen
There is enough space to prep and cook meals as well as wash up with the basic kitchen amenities.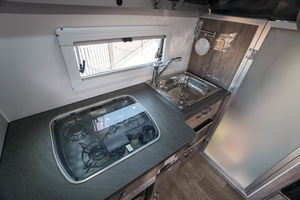 Counter Space
The stovetop area is covered when not in use creating more prep space.
Towable
Expandable Trailers
Expandable RVs are a cross between a hard-sided Travel Trailer and a Pop-up camper. Parts of the RV can be expanded on the ends or on top of the RV to provide more room that is usually additional sleeping areas.
Sleeps up to 8 people
Light-weight, can be towed with a family car, minivan or SUV
Budget-friendly
Bathroom amenities
Open-air sleeping experience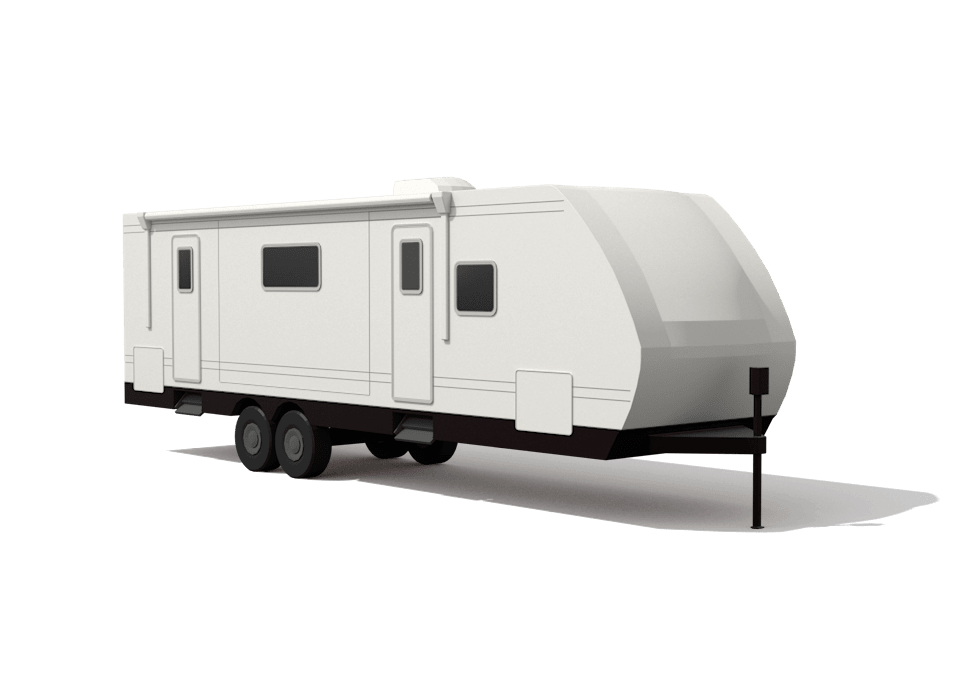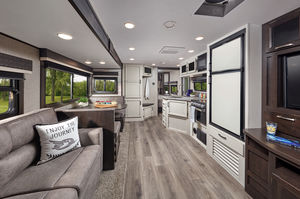 Spacious Living
Travel Trailers often have large living room areas and dedicated dining and kitchen space with full size appliances and large windows for lots of natural lighting.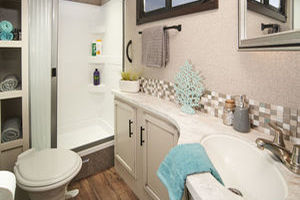 Large Bathroom
Travel trailers are large enough to offer extra storage cabinets and full size showers and bathtubs.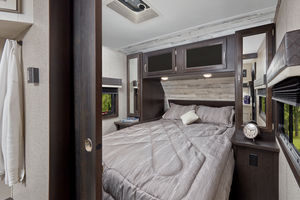 Separate Bedroom
Travel Trailers are large enough to offer a private bedroom, sometimes with king size beds, and additional closet and cabinet space.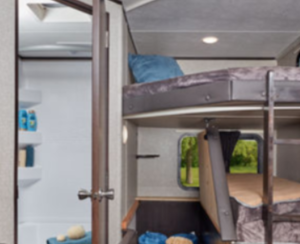 Bunk beds
In addition to couches and dinettes that convert to beds, some travel trailers have full sized bunk beds with additional storage space.
Travel Trailers are the most popular type of RV because they come in all shapes and sizes and can accommodate solo travelers all the way up to large families.
Sleeps up to 10 people
Extra storage
Full-sized bathroom and toilet
Large living space & separate bedroom
Large Entertainment Systems
Find the Right RV
Compare different RV types and find the perfect fit for your next #RealVacation.
Keep Exploring
See where else you can travel in an RV and what you can do with your family and friends; the possibilities are endless! You may even discover that an RV can take you on adventures you never considered.
Get our newsletter!
Submit your email to get helpful tips and useful information from our partners.