Beyond the standard - campgrounds are family-friendly destinations
A lot of campgrounds have game rooms, playgrounds, swimming pools, mini-golf, live entertainment, water sports, nature trails, arts and crafts...the list of things to do goes on. Some even have water parks and outdoor movie theaters
Amenities
Many campgrounds have full-service campsites including electricity, water and sewer hookups, and Wi-Fi service. Some even have shuttle service to popular tourist destinations so you can leave your car behind
Growing opportunities
12,863 private campgrounds and 9,734 public campgrounds across the country – and more being built every year to meet the rising demand
Our Happy Place
Will and Britta Brown decided not to wait until retirement to start checking off the items on their bucket list. They love the spontaneity of RVing and enjoy living out all their life dreams together.
Reserving the Perfect Campsite: 10 Questions to Ask Before Booking Your Campsite
Most RVers put a ton of time into researching the best campgrounds for their family vacations and weekend getaways. They will pour over catalogs, read online reviews, post questions in forums, and binge listen to podcasts. There is no one-size-fits-all ideal. The best campsite for a family with small children might be a young couple's worst nightmare. Here are ten questions to make sure you get the experience you want.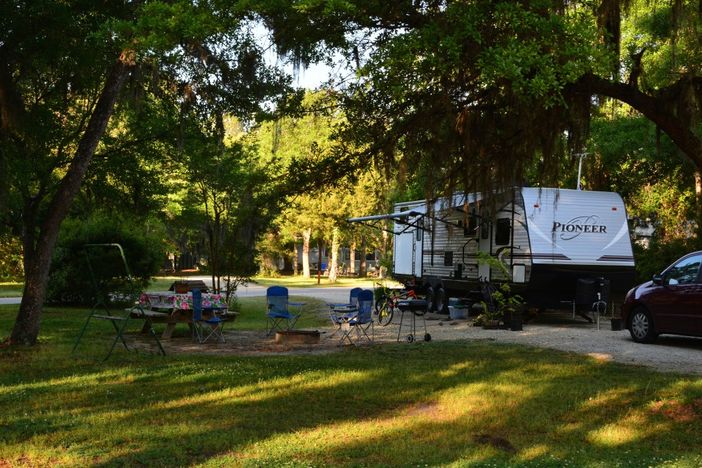 Hear from Real RVers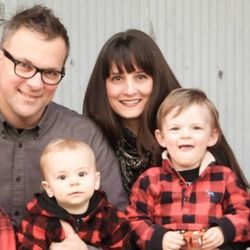 There's nothing like time together with family around the campfire.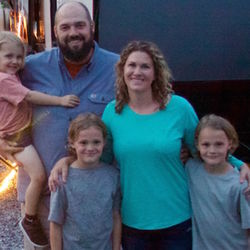 This is our number one piece of advice for RVers: whenever possible, talk to a member of the staff who knows the campground well. The key to enjoying campground bliss lies in knowing the exact type of site you want and then making the effort to reserve that spot.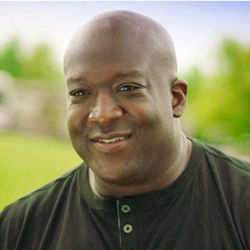 As a kid, I said that when I retired, I was going to buy an RV and travel the country. And then I finally realized, why do I need to wait until I'm older? How often do you get to live out your life dreams while you're still young?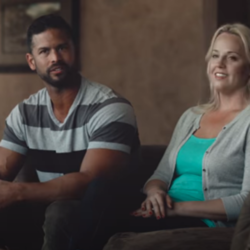 We go back to this RV park near our house often just because it's convenient. We don't have to plan it out for weeks. We know what we're going to do when we get there and what we like to do and it's simple for us.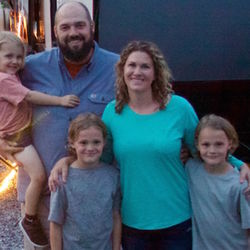 When I walk by the RV, it calls my name. It's saying, 'Jeremy, when are you gonna get me out of the driveway and get me to the campground?'
Trip Planning
8 Great Lakefront Campgrounds With Gorgeous Views
For an RV owner, there are few things better than scoring a great site on or near a beautiful lake. Whether you love to fish, kayak, swim, or just take in the soothing views from your camp chair, lakefront camping is highly desirable.
Read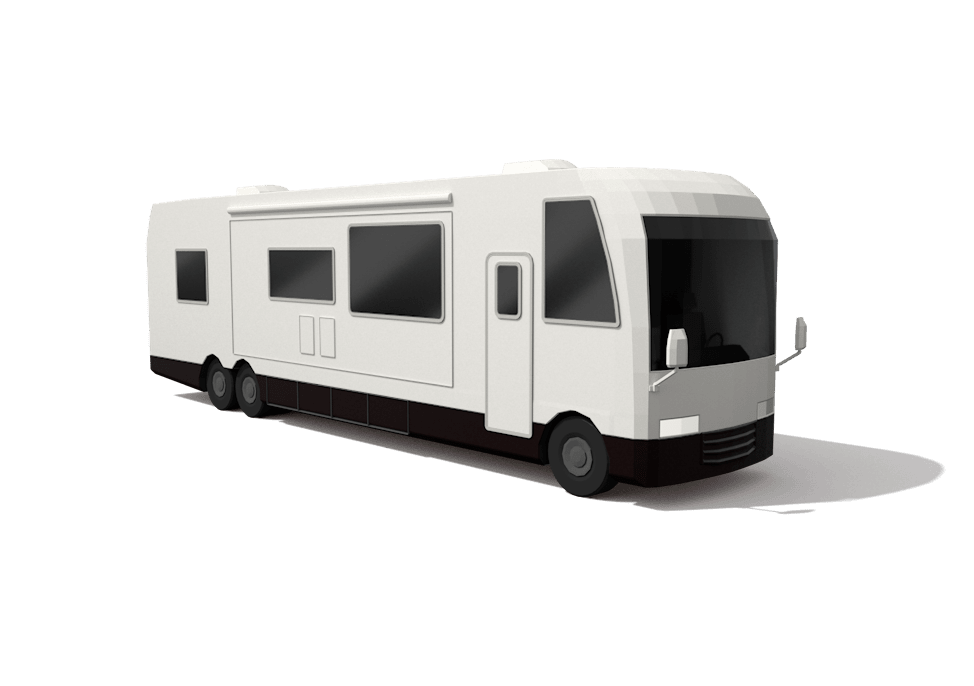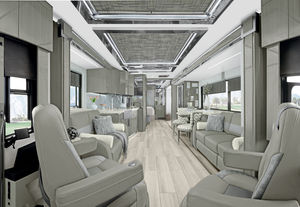 Living area
Class A motorhomes come with many features similar to what you have in your house. Comfortable furnishings, larger cabinets and sinks.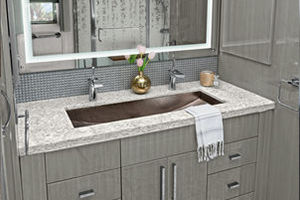 Full Vanity
Large vanities and double sinks appear in some of these larger RVs.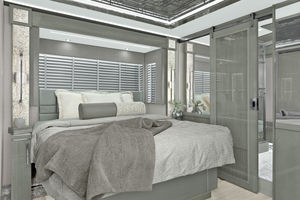 Private Bedroom
The layout and size of a Class A allows for a private bedroom separate from the rest of the living space.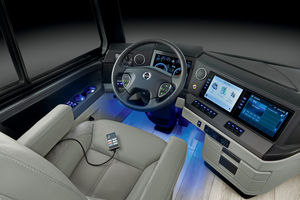 Cockpit
While there may be a couple more screens to learn about and a couple more buttons and knobs, being in the drivers seat is not dramatically different than other vehicles that may be more familiar - the back up cameras and alert systems will make newbies more comfortable with some practice.
Motorized
Class A Motorhomes
Class A motorhomes are designed with the comforts of home in mind equipped with a full kitchen, bathroom, large living and entertainment centers. They are built on specially designed motor vehicle chassis and do not require owning a separate tow vehicle.
Sleeps up to 8 people
Ample storage
Can tow something else for side trips
Full kitchen and large living area
Full-sized bathroom and toilet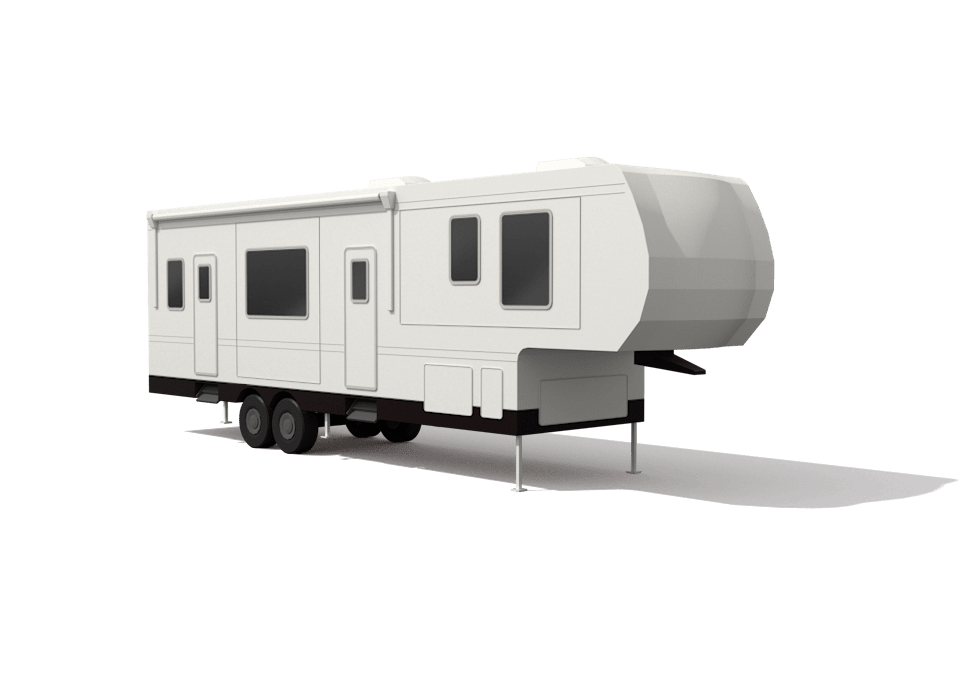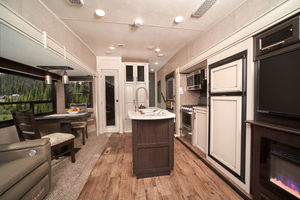 Living and kitchen area
Kitchens in fifth wheels go beyond offering full appliances and can even have a kitchen island making it seem like you are cooking in your kitchen at home.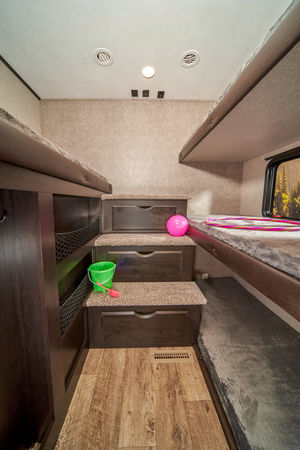 Bunkhouse
Kids love sleeping in their own cozy spaces separated from parents. The bunkhouse is usually claimed as a fort within the first five mintues. Kids don't mind sharing a room in this setting and the conversation and fun can continue for siblings, cousins, and friends even after the lights go out.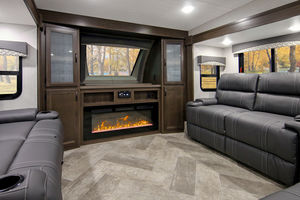 Raised living room
The raised front section boasts a comfortable and spacious living area with large windows as well as entertainment systems.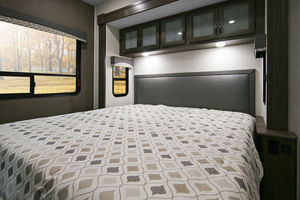 Private Bedroom
5th wheels have ample space and are able to efficiently divide the living space and a private bedroom.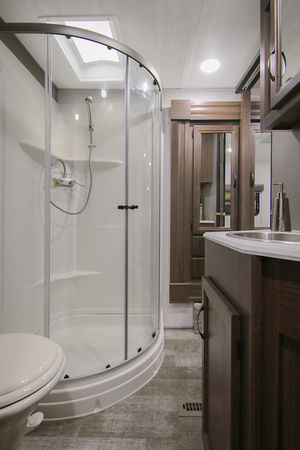 Bathroom
5th wheel bathrooms contain a full sized-shower, toilet, cabinet space and large sinks.
Fifth wheels often come with the same amenities as a motorhome or travel trailer but are constructed with a raised forward section that provides a more spacious bi-level floor plan. These models are designed to be towed by a pickup truck.
Sleeps 4-8 people
Slideouts can add three extra feet of width per slide
Ample Storage
Large living space & separate bedroom
Full-sized bathroom and toilet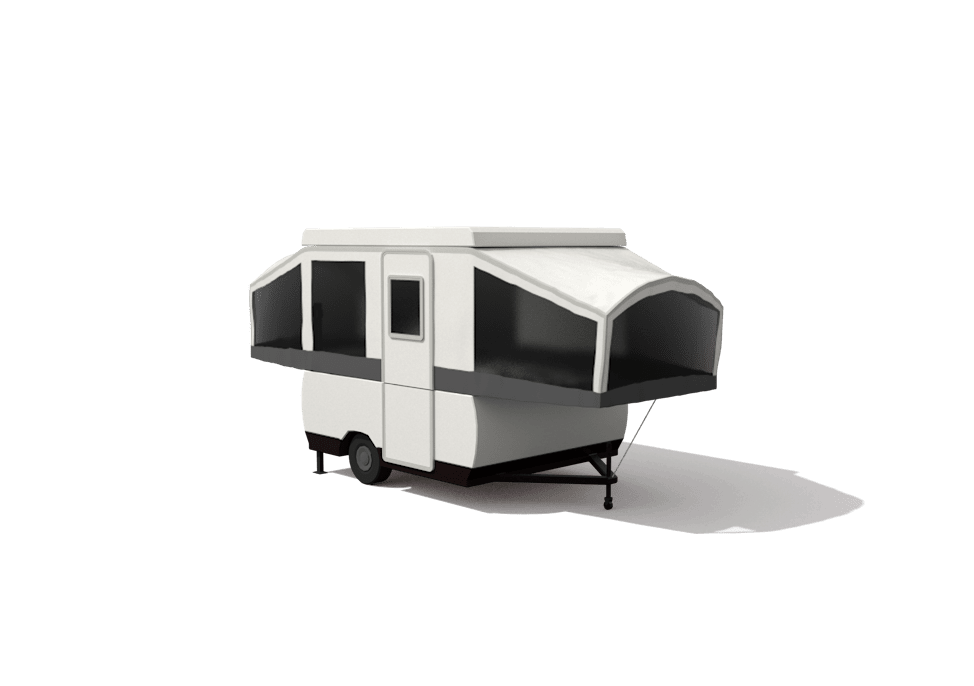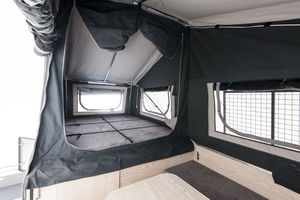 Open-air Sides
The canvas-sided sleeping areas in pop-ups allow fresh air to breeze through the RV so the user can feel like they are sleeping outdoors without sleeping on the ground.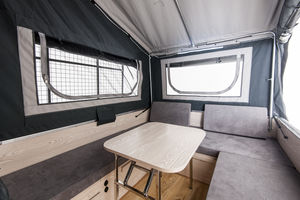 Transforming Furniture
Tables and seating can be folded up and down for multiple uses such as eating, sitting, or sleeping.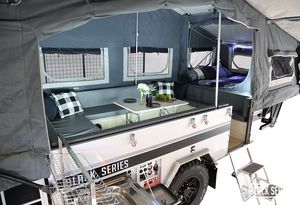 Roomy interior
With sides that pop out, there is plenty of space for two sleeping areas and a full dining area within the pop-up.
Pop-up campers are designed for the RVer that wants to feel closer to nature and connected to the outdoors in a way that feels as though you are sleeping outside in the fresh air. Pop-ups offer plenty of room at the campground but are folded down to a more compact size for easy storage and travel.
Sleeps up to 8 people
Budget-friendly
Easy to store
Basic bathroom amenities
Open-air sleeping experience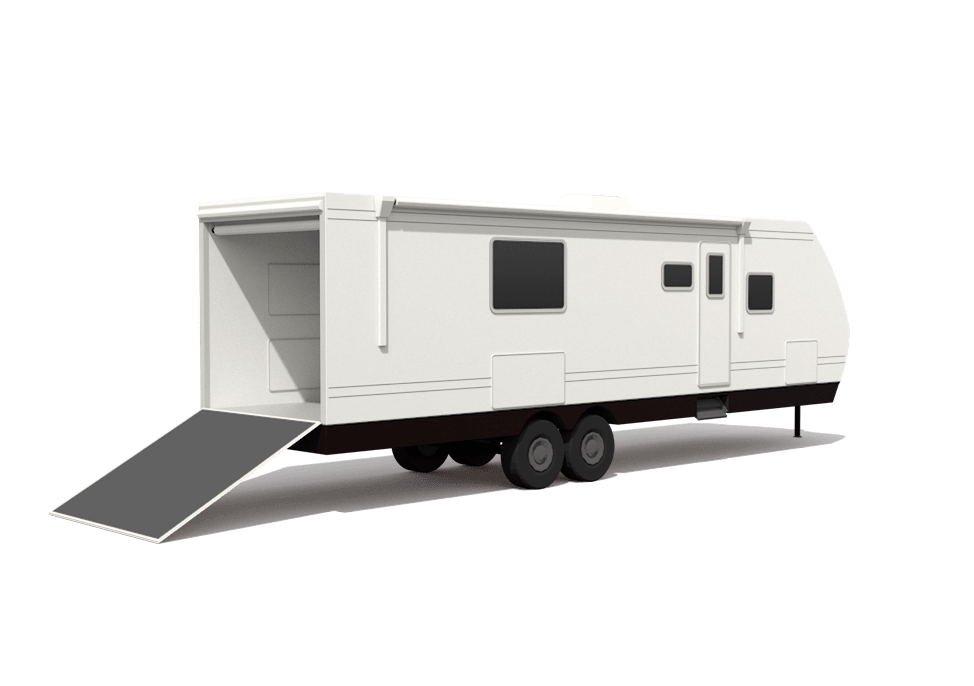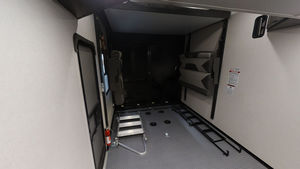 Garage
The back of the RV drops down to create a ramp to easily access the garage for storing bikes, ATVs, kayaks, motorcycles, and other toys to bring along on the RV adventure. Some garage areas also have fold up bunk beds to increase sleeping areas while the garage is not being used.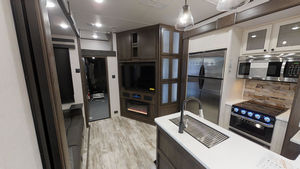 Living area
There is plenty of space in this type of vehicle including a large living area with a kitchen, couch, entertainment system, and a full bathroom.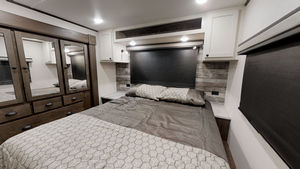 Private Bedroom
The larger sport utility RVs have a separate bedroom area for occupants. This can be found in travel trailers, 5th wheels and motorized sport utility RVs.
Towable
Sport Utility RVs
Available as travel trailers, 5th wheels, and Class A motorhomes, sport utility RVs are built for those who want to take motorcycles, dirt bikes, ATVs, or other motorized toys on the road with them while RVing. The back of the RV drops down forming a ramp for access into a garage area to easily store and access sports equipment.
Sleeping capacity for up to 8 people
Garage for storing and accessing large sports equipment
Full-sized bathroom
Kitchen Amenities
Entertainment Systems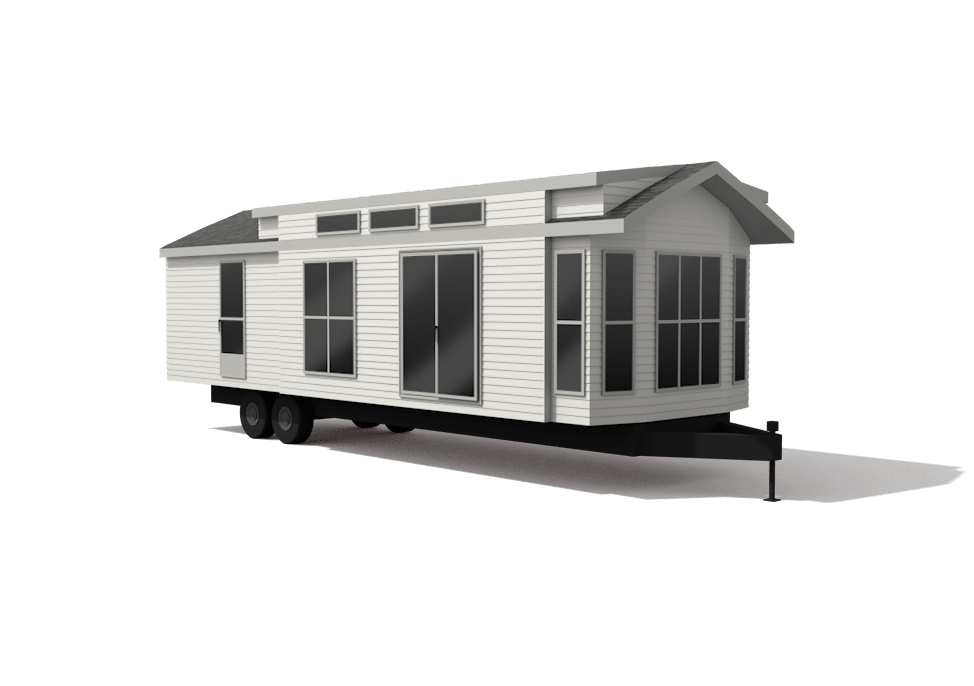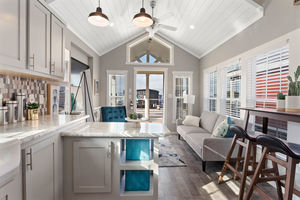 Living area
Park model RVs living areas could easily pass for the interior of a home or apartment. They often have larger doors, multiple windows and high ceilings to accommodate additional loft spaces.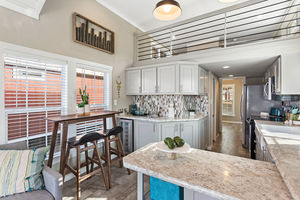 Lofts the kids love
The loft area in a park model can be used as storage but is most often utilized as bunkhouse and fort for the kids. It's just enough to give kids the privacy of their own space but allows them to feel connected to the main living area.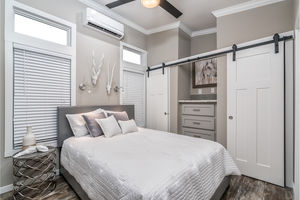 Large Bedroom
Bedrooms in park models are completely closed off from the rest of the unit and the high cielings make it feel like a private oasis. Often equipped with a queen size bed, many are large enough to include a king size bed with plenty of closet space, cabinets, and more.
Park model RVs, used for seasonal camping, are recognizable by their similarity in design to a home. These RVs are built on wheels so that they can be moved easily from campground to campground or around a campsite and they need to be hooked up to site electricity, sewer and water as with any RV.
Sleeping capacity for up to 10
Full-sized kitchen
Large living space & separate bedroom
Ample storage space
Full-sized bathroom and toilet
Find the Right RV
Compare different RV types and find the perfect fit for your next #RealVacation.
Keep Exploring
Find the perfect campground and see what the RV experts recommend before booking your next trip.
Want to learn more?
Send us your email to get helpful tips and useful information from our partners.