A room with 360-degree views
Every room has the best view
Relax after a full day of adventure
Instant access to your living space, kitchen, bedroom, and bathroom
Sleep in your own bed
Your private headquarters for all your outdoor adventures
Comfort in the Cold
Brody Leven hikes up mountains and skis down. After a day full of adventures, it's nice to have a basecamp to return to before doing it all again the next day.
Cycling For a Cure
Silver medal Olympian for freestyle skiing, Gus Kenworthy, participates in the 545-mile bike rid from San Francisco to Los Angeles to raise awareness and funding for HIV/AIDS treatment and research.
Hear from Real RVers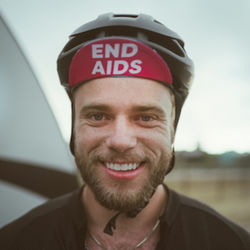 Everyone on lifecycle camps and we have been staying in an RV. It's just been so nice that our team has a place to leave their bags, leave their clothes, charge our phones, relax, hangout and it's just a nice warm, safe space.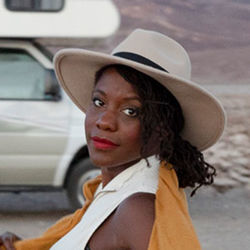 I love the freedom that an RV gives me as a single female traveler because I'm able to go wherever I want, whenever I want. No permission needed.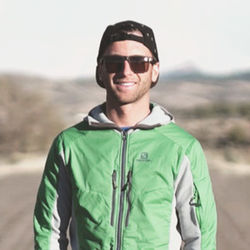 We travel to do what we do, and it's nice to have comfort to return to.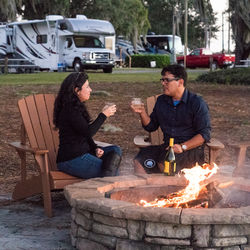 It's not just a place to park and live, but it's a place to live outside as well. We've learned that this is how we find the most important things.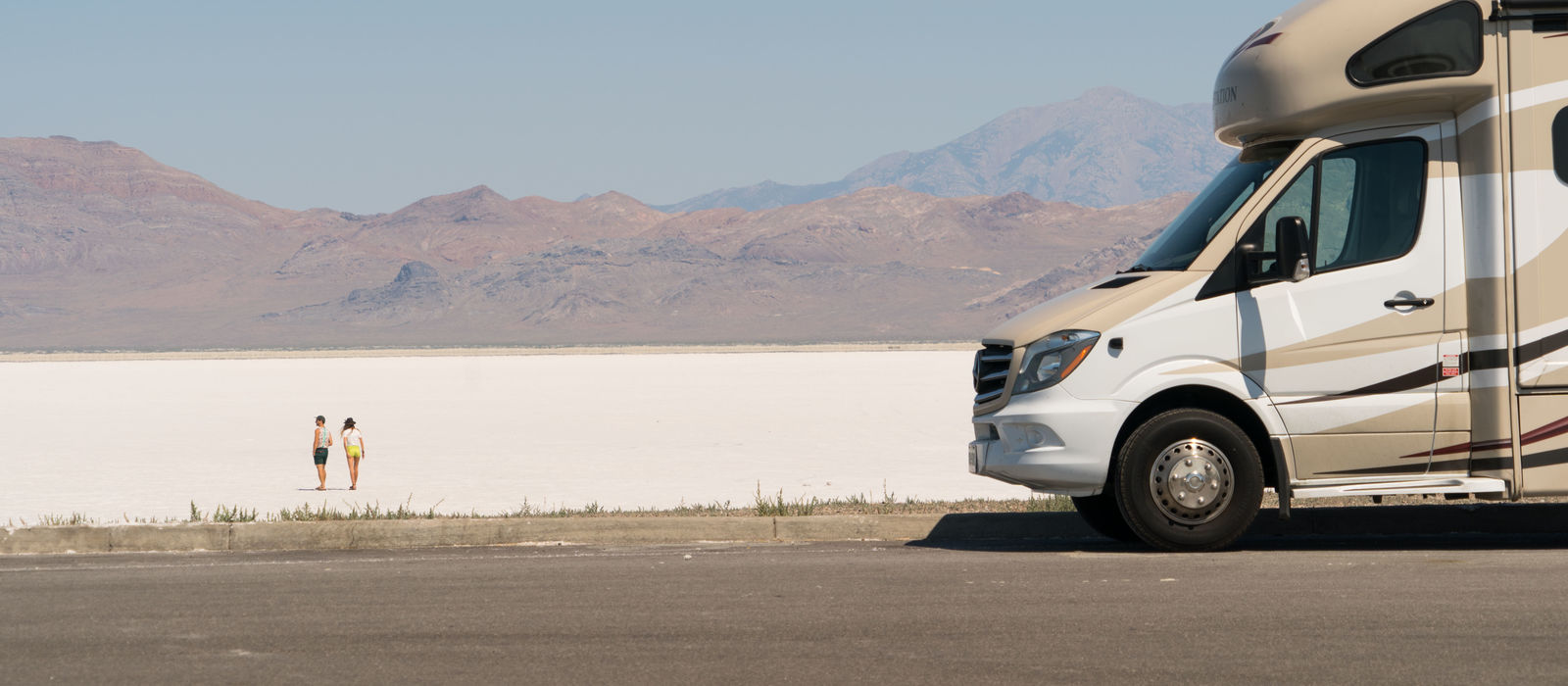 Trip Planning
An Unexpected Journey
Adventure skier Brody Leven and photographer Adam Clark are featured in Go RVing's Unexpected series which chronicles their adventures in four different regions of the U.S. using four different types of RVs.
Read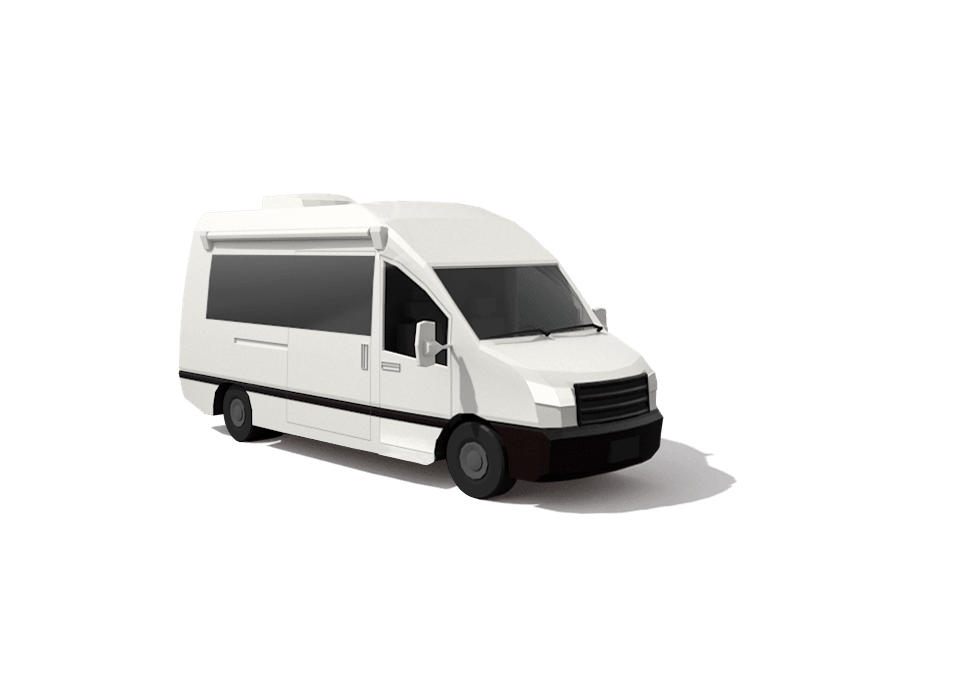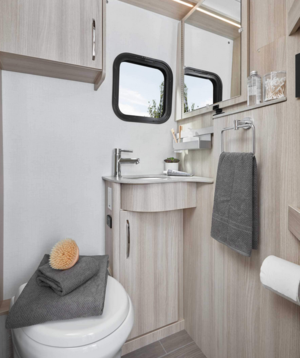 Full Bathroom
Space is used efficiently in class B RVs and many have full wet or dry baths.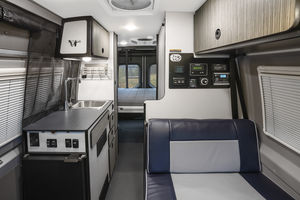 Beyond the Basics
Class Bs offer a kitchen, seating, bathroom and place to sleep.
Motorized
Class B Motorhomes
Class B motorhomes, also known as camper vans, feature all the conveniences of a furnished motor home but are compact enough to make driving one as easy as your regular van or SUV.
Sleeps 2 to 4 people
Easy Parking
Nimble & easy to drive
Simple Bathroom Facilities
Compact kitchen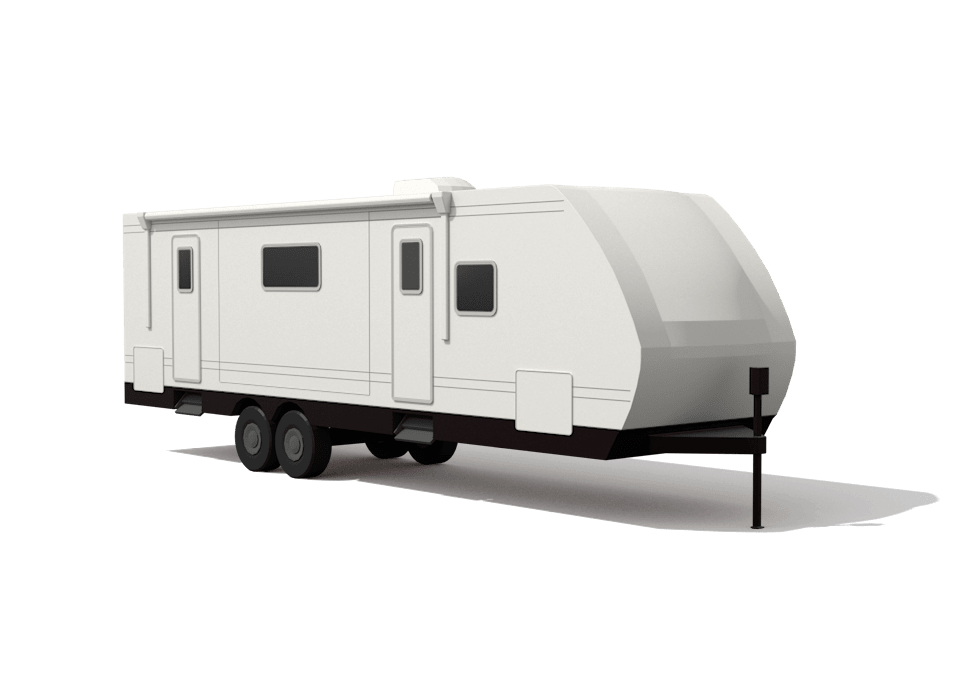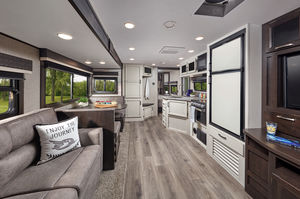 Spacious Living
Travel Trailers often have large living room areas and dedicated dining and kitchen space with full size appliances and large windows for lots of natural lighting.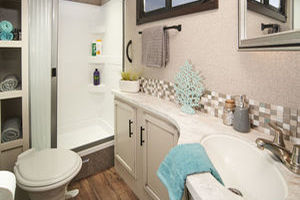 Large Bathroom
Travel trailers are large enough to offer extra storage cabinets and full size showers and bathtubs.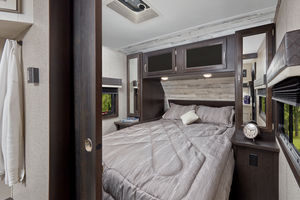 Separate Bedroom
Travel Trailers are large enough to offer a private bedroom, sometimes with king size beds, and additional closet and cabinet space.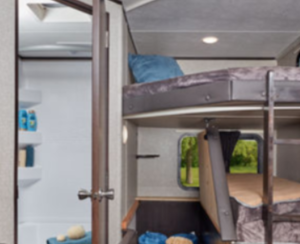 Bunk beds
In addition to couches and dinettes that convert to beds, some travel trailers have full sized bunk beds with additional storage space.
Travel Trailers are the most popular type of RV because they come in all shapes and sizes and can accommodate solo travelers all the way up to large families.
Sleeps up to 10 people
Extra storage
Full-sized bathroom and toilet
Large living space & separate bedroom
Large Entertainment Systems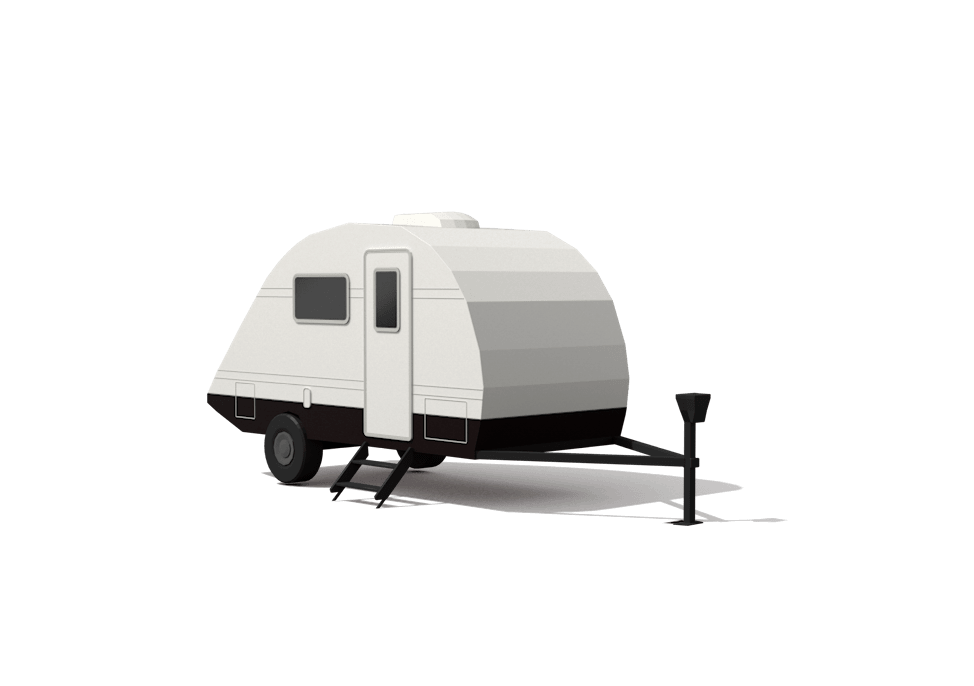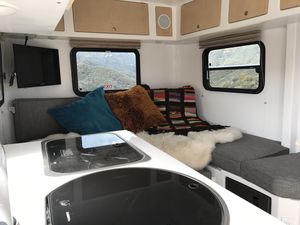 Lounge, Cook, Sleep
The bench seating teardrop trailers is often used for couch space, seating for meals, and converts to a bed for sleeping. Basic kitchens are standard in teardrops.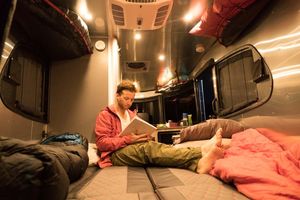 Roomy
Despite their exterior appearance, there is plenty of room to stretch out, cook, and sleep.
Towable
Teardrop Trailers
Teardrop Trailers
Sleeps 2-3 people
Light-weight, can be towed with a family car, minivan or SUV
Basic bathroom amenities
Basic kitchen amenities
Can be stored in a garage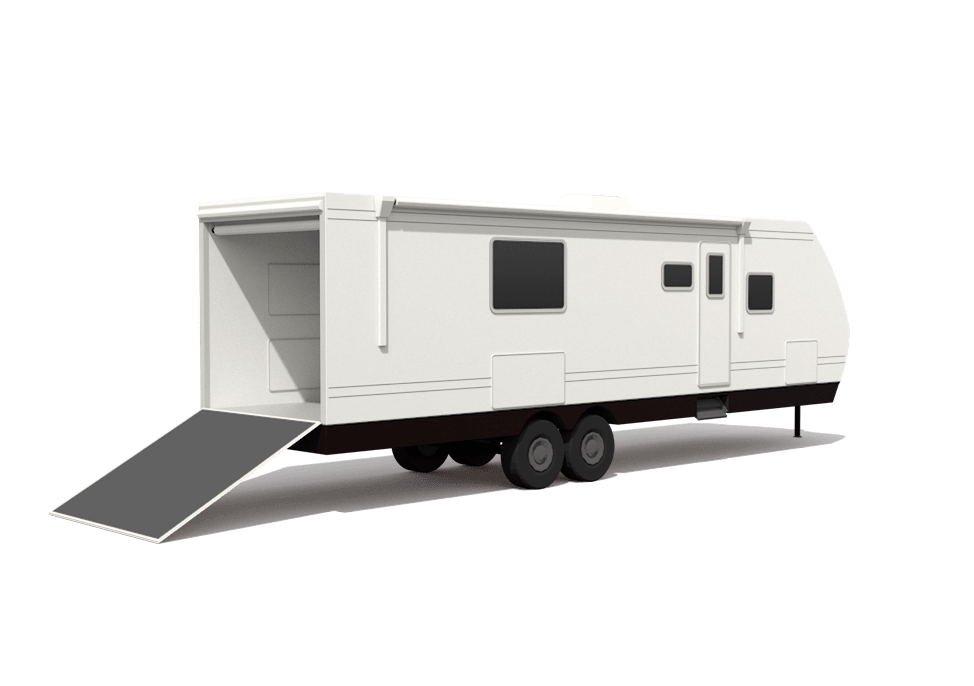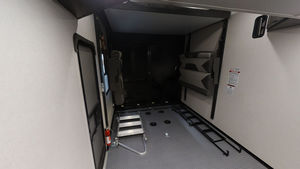 Garage
The back of the RV drops down to create a ramp to easily access the garage for storing bikes, ATVs, kayaks, motorcycles, and other toys to bring along on the RV adventure. Some garage areas also have fold up bunk beds to increase sleeping areas while the garage is not being used.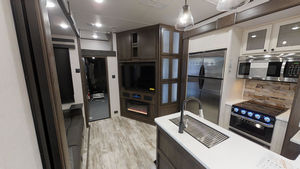 Living area
There is plenty of space in this type of vehicle including a large living area with a kitchen, couch, entertainment system, and a full bathroom.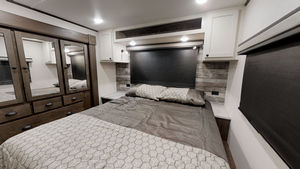 Private Bedroom
The larger sport utility RVs have a separate bedroom area for occupants. This can be found in travel trailers, 5th wheels and motorized sport utility RVs.
Towable
Sport Utility RVs
Available as travel trailers, 5th wheels, and Class A motorhomes, sport utility RVs are built for those who want to take motorcycles, dirt bikes, ATVs, or other motorized toys on the road with them while RVing. The back of the RV drops down forming a ramp for access into a garage area to easily store and access sports equipment.
Sleeping capacity for up to 8 people
Garage for storing and accessing large sports equipment
Full-sized bathroom
Kitchen Amenities
Entertainment Systems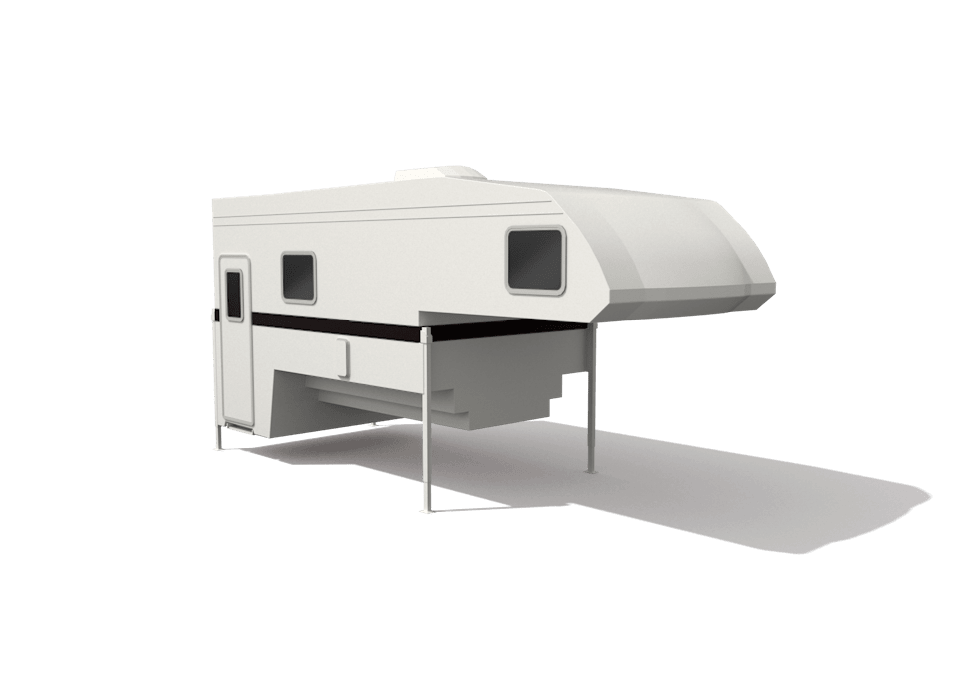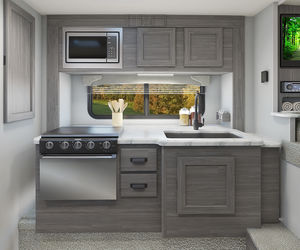 Cook
Truck campers often feature an efficient kitchen complete with an oven, stove, microwave, refrigerator, and sink.
Bathe Comfortably
Truck campers include full wet or dry baths and some even have a bathtub!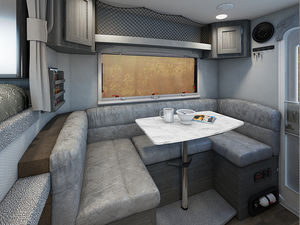 Dining
Truck campers often offer comfortable, dedicated dining areas.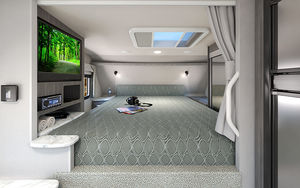 Comfy Bed
The dedicated bedroom area often boasts a queen size bed and entertainment system.
Truck Campers are portable units designed to be loaded onto, or affixed to, the bed or chassis of a pickup truck. This type of RV is an easy and economical option for pick up truck owners.
Sleeps 2-6 people
Nimble and easy to drive
Easy to Park
Entertainment Systems
Simple Bathroom Facilities
Find the Right RV
Compare different RV types and find the perfect fit for your next #RealVacation.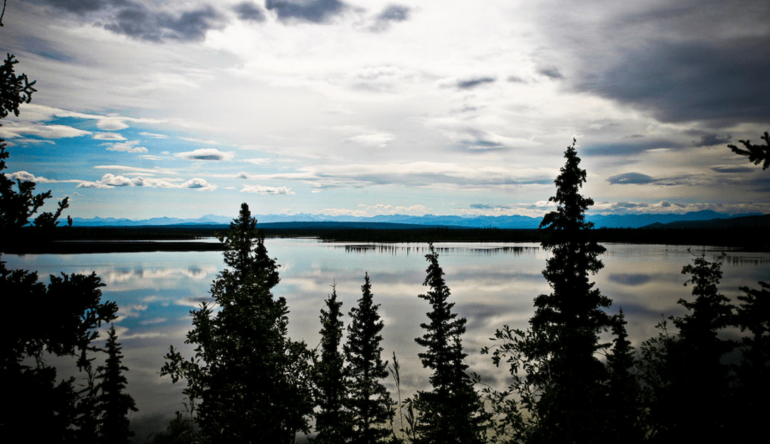 Keep Exploring
RVing has so many benefits from affordability and versatility to feeling more connected to nature, friends, and family than ever before.
Want to learn more?
Send us your email to get helpful tips and useful information from our partners.