Let it snow
Skiing. Snowboarding. Hiking. Snowmobiling. Your RV is your basecamp for outdoor winter fun.
Try something new
Discover new outdoor winter sports with weekend RV adventures
Winter wonderland
After a day sledding with your kids and building a snowman, warm up in your RV and curl up by the fire.
Snowy Adventures - Cross-Country Skiing and Trail Running
Mirna is an ultra-runner and coach who constantly challenges herself and others to step out of their comfort zone to try something new. Her adventure leads her to the mountains in her RV to try cross-country skiing for the first time.
Extreme Sports in Extreme Conditions
From the daily grind of real estate to extreme sports goals, see how an RV provides the perfect basecamp for adventurer Rob Lea. His journey takes him skiing and open water cold swimming.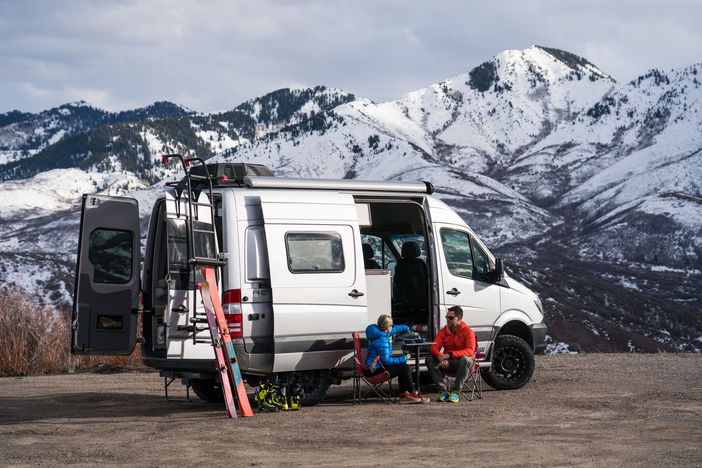 Hear from real RVers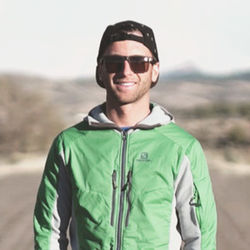 Climbing mountains, being in the cold, being in the hot, these things that are challenges and are uncomfortable, can be offset largely by having a nice kitchen to cook in and a nice bed to come back to.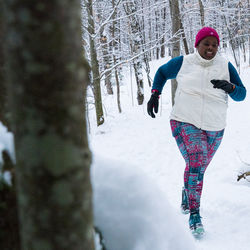 When I was out cross-country skiing, it was a whiteout. I was doing something that I had wanted to do for a long time and I definitely stepped out of my bubble.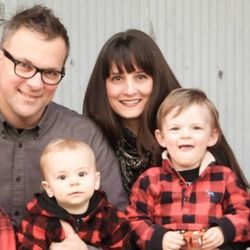 There's something special about being in the RV when it's cold and rainy outside… and when it's snowing, it feels like an adventure!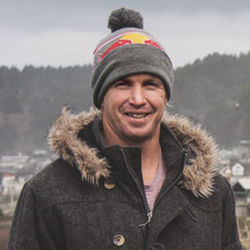 By taking an RV, we were able to move our adventure base camp instantly: from the ocean to the river to the mountain.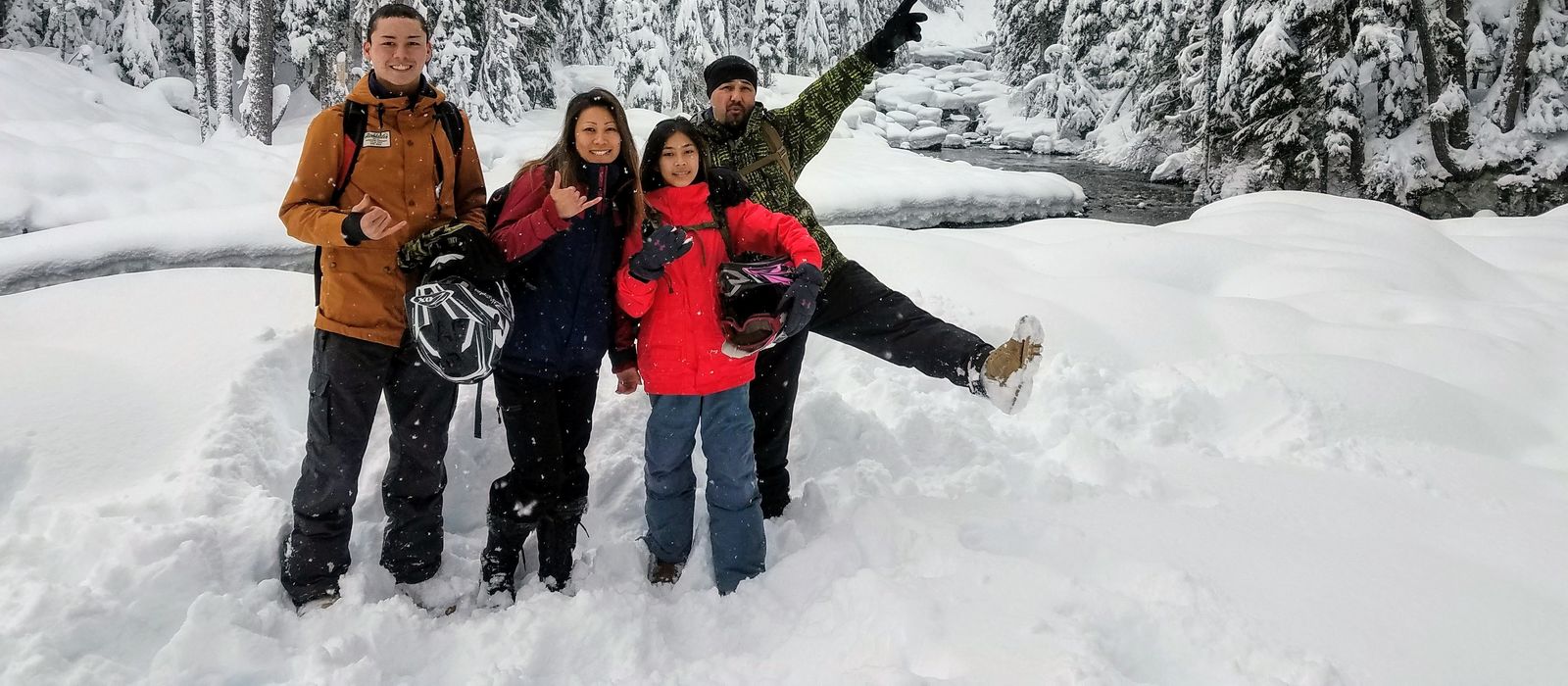 Trip Planning
Skiing And Camping In A Winter Wonderland
In 2018, my family and I took our first winter RVing trip to Whistler. It was a short trip nonetheless, but it was an experience of a lifetime. To prepare for our trip, I did a lot of research on how to winter camp and made sure we knew what to do to stay safe and comfortable especially because we were traveling with our children.
Read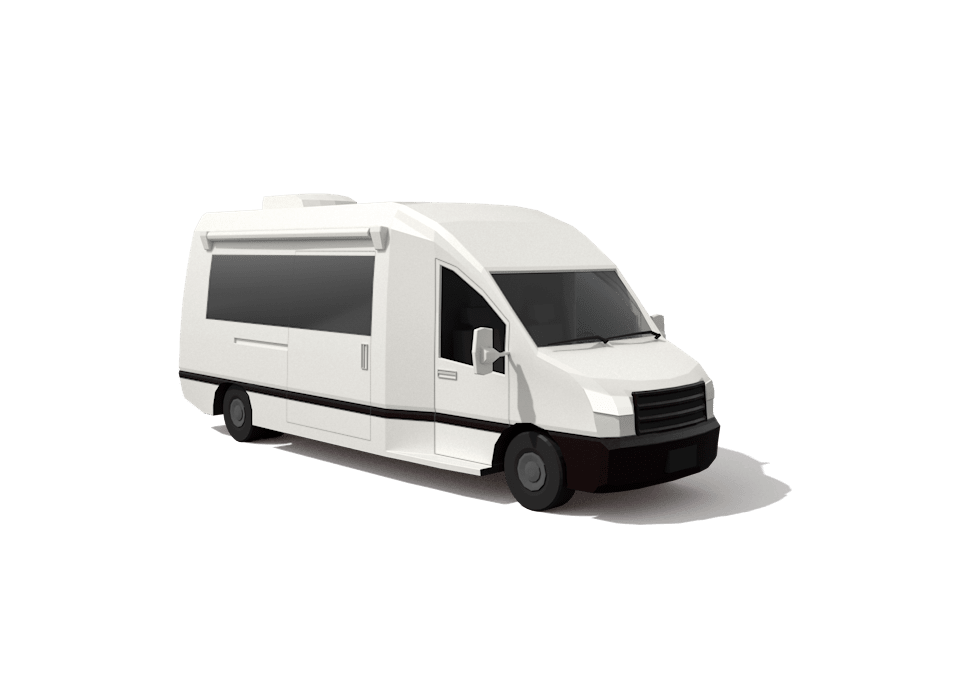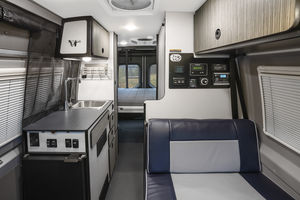 Beyond the Basics
Class Bs offer a kitchen, seating, bathroom and place to sleep.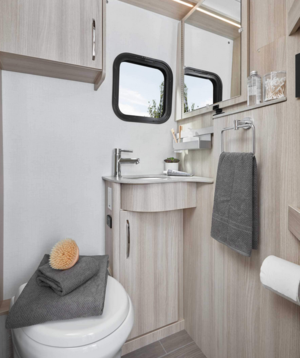 Full Bathroom
Space is used efficiently in class B RVs and many have full wet or dry baths.
Motorized
Class B Motorhomes
Class B motorhomes, also known as camper vans, feature all the conveniences of a furnished motor home but are compact enough to make driving one as easy as your regular van or SUV.
Sleeps 2 to 4 people
Easy Parking
Nimble & easy to drive
Simple Bathroom Facilities
Compact kitchen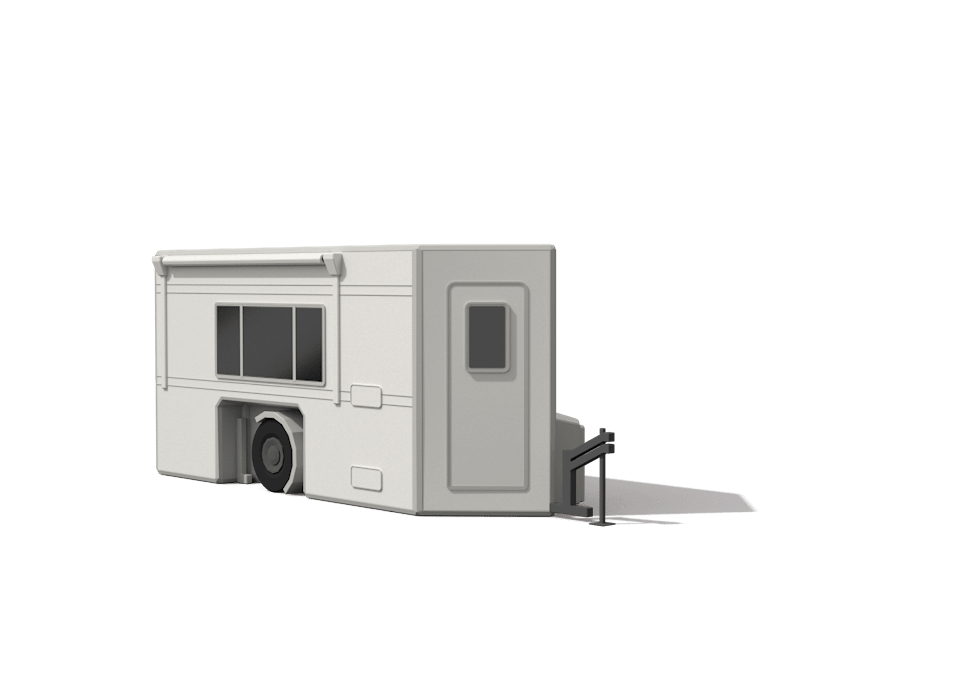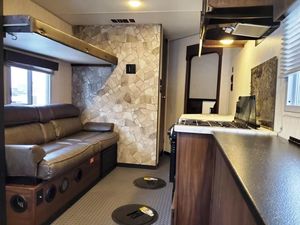 Living area
Equipped with 6-10 ice holes, these RVs are built with basic kitchens, bathrooms, and couches. Some even have pull-down bunks for those long weekends.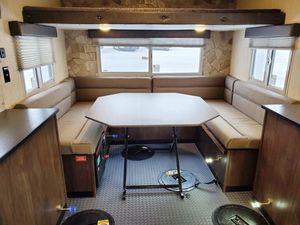 Dinette
Tables are often not secured to the floor in ice fish houses so that they can be easily stowed, opening up more living space and access to ice holes.
Specialty
Ice Fish Houses
Fish Houses are designed to shelter you from the element while ice fishing with friends and family. These fish houses are easy to tow into place and have specially designed floors with several ice holes throughout the RV that can be opened and closed.
Sleeps 2-6 people
Lightweight
Basic bathroom amenities
Basic kitchen amenities
Can go ice-fishing without exposure to harsh elements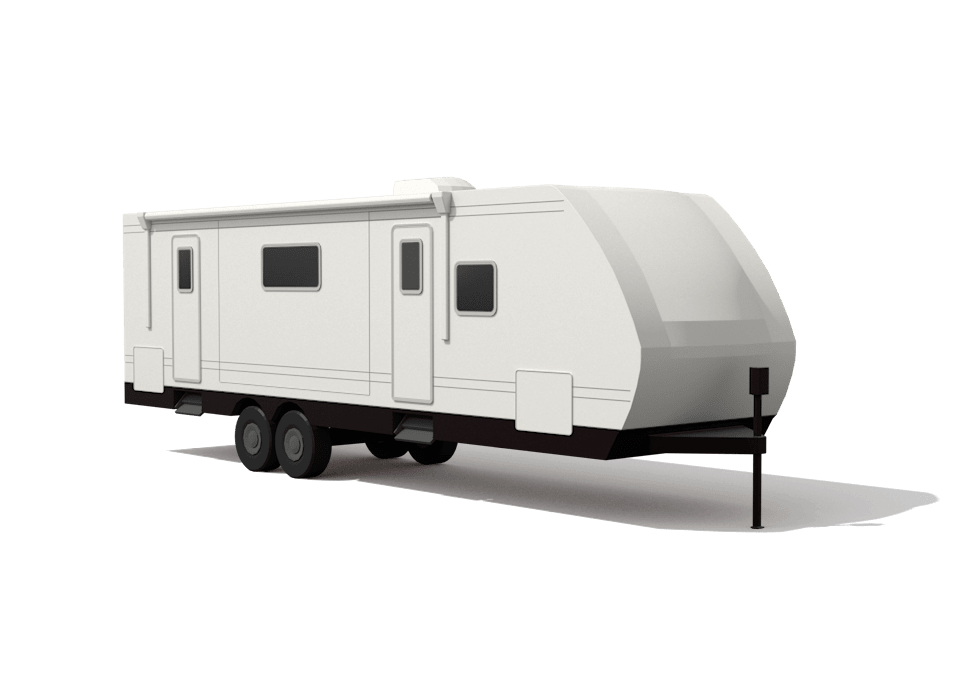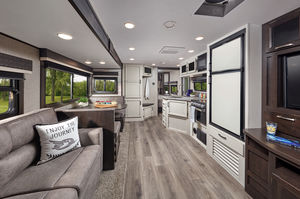 Spacious Living
Travel Trailers often have large living room areas and dedicated dining and kitchen space with full size appliances and large windows for lots of natural lighting.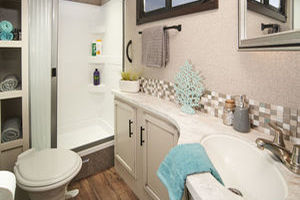 Large Bathroom
Travel trailers are large enough to offer extra storage cabinets and full size showers and bathtubs.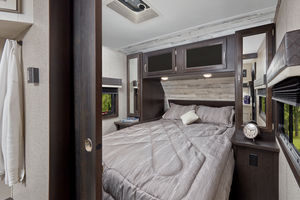 Separate Bedroom
Travel Trailers are large enough to offer a private bedroom, sometimes with king size beds, and additional closet and cabinet space.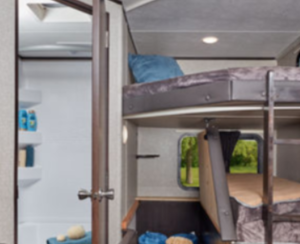 Bunk beds
In addition to couches and dinettes that convert to beds, some travel trailers have full sized bunk beds with additional storage space.
Travel Trailers are the most popular type of RV because they come in all shapes and sizes and can accommodate solo travelers all the way up to large families.
Sleeps up to 10 people
Extra storage
Full-sized bathroom and toilet
Large living space & separate bedroom
Large Entertainment Systems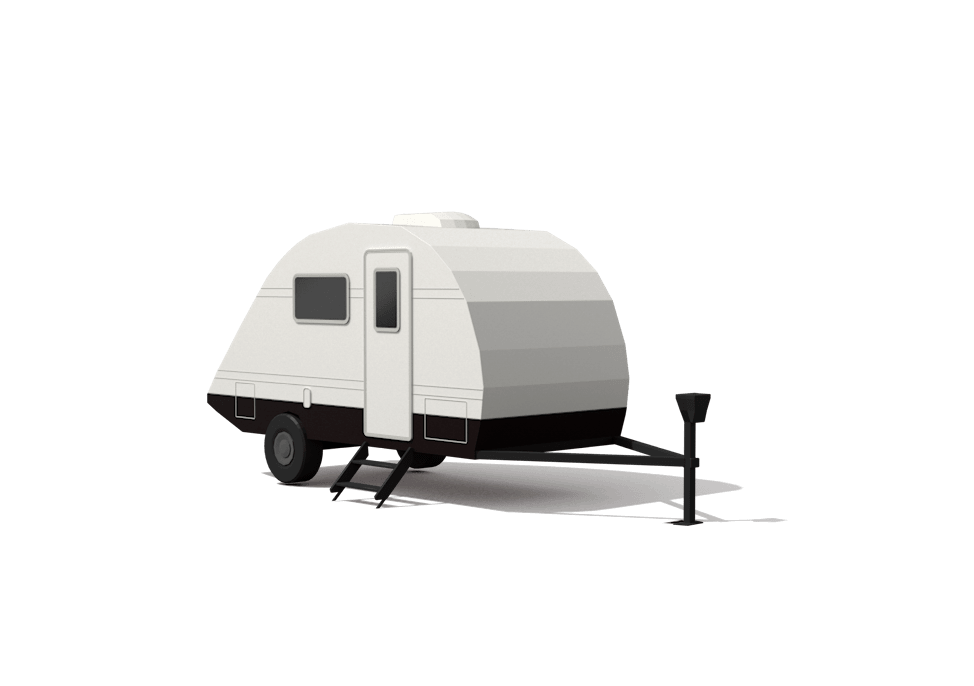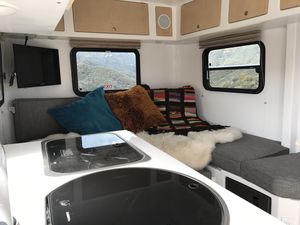 Lounge, Cook, Sleep
The bench seating teardrop trailers is often used for couch space, seating for meals, and converts to a bed for sleeping. Basic kitchens are standard in teardrops.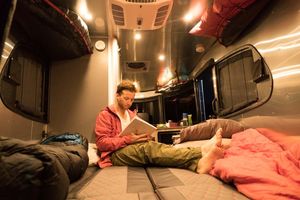 Roomy
Despite their exterior appearance, there is plenty of room to stretch out, cook, and sleep.
Towable
Teardrop Trailers
Teardrop Trailers
Sleeps 2-3 people
Light-weight, can be towed with a family car, minivan or SUV
Basic bathroom amenities
Basic kitchen amenities
Can be stored in a garage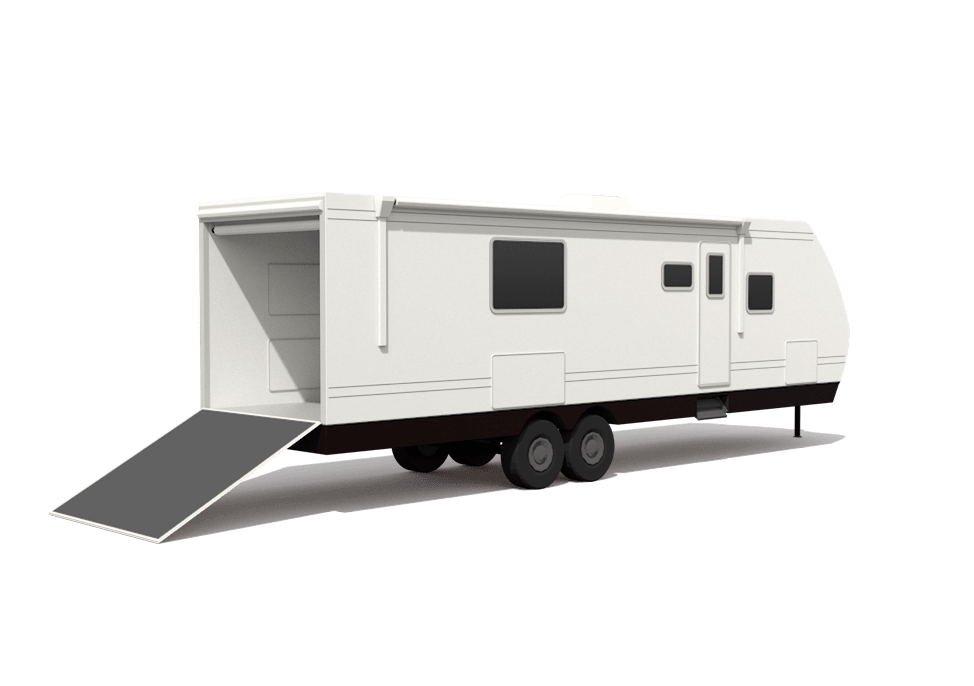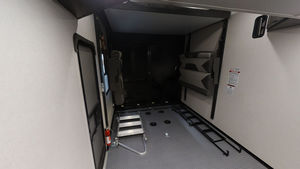 Garage
The back of the RV drops down to create a ramp to easily access the garage for storing bikes, ATVs, kayaks, motorcycles, and other toys to bring along on the RV adventure. Some garage areas also have fold up bunk beds to increase sleeping areas while the garage is not being used.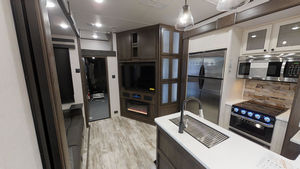 Living area
There is plenty of space in this type of vehicle including a large living area with a kitchen, couch, entertainment system, and a full bathroom.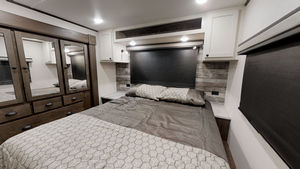 Private Bedroom
The larger sport utility RVs have a separate bedroom area for occupants. This can be found in travel trailers, 5th wheels and motorized sport utility RVs.
Towable
Sport Utility RVs
Available as travel trailers, 5th wheels, and Class A motorhomes, sport utility RVs are built for those who want to take motorcycles, dirt bikes, ATVs, or other motorized toys on the road with them while RVing. The back of the RV drops down forming a ramp for access into a garage area to easily store and access sports equipment.
Sleeping capacity for up to 8 people
Garage for storing and accessing large sports equipment
Full-sized bathroom
Kitchen Amenities
Entertainment Systems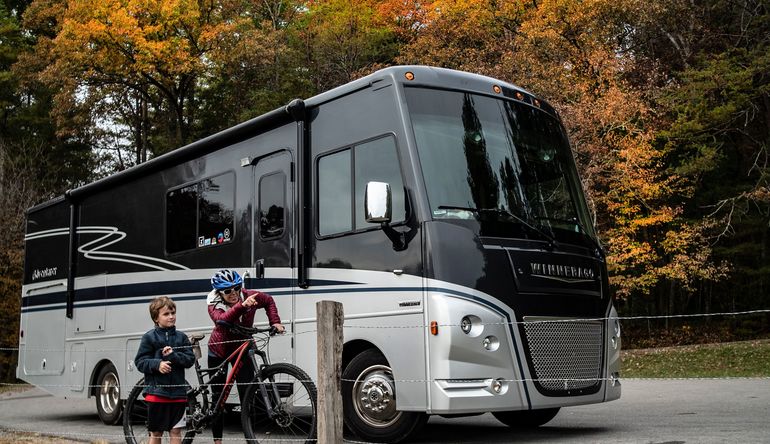 Find the Right RV
Find the RV that fits your needs with the Find my RV Quiz.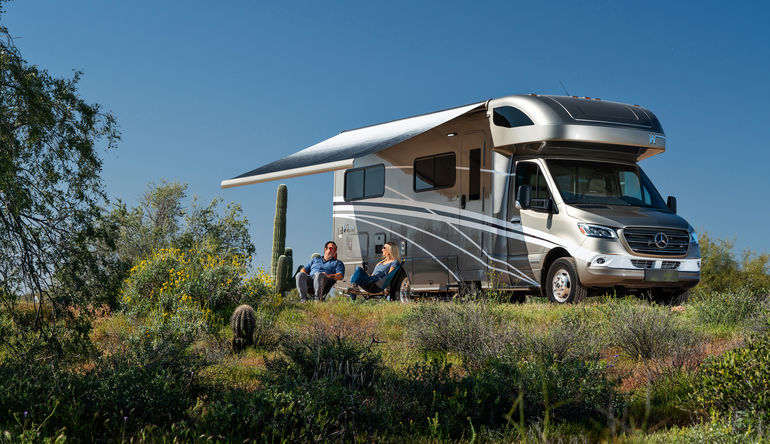 Keep Exploring
See where else you can travel in an RV and what you can do with your family and friends; the possibilities are endless! You may even discover that an RV can take you on adventures you never considered.
Want to learn more?
Send us your email to get helpful tips and useful information from our partners.