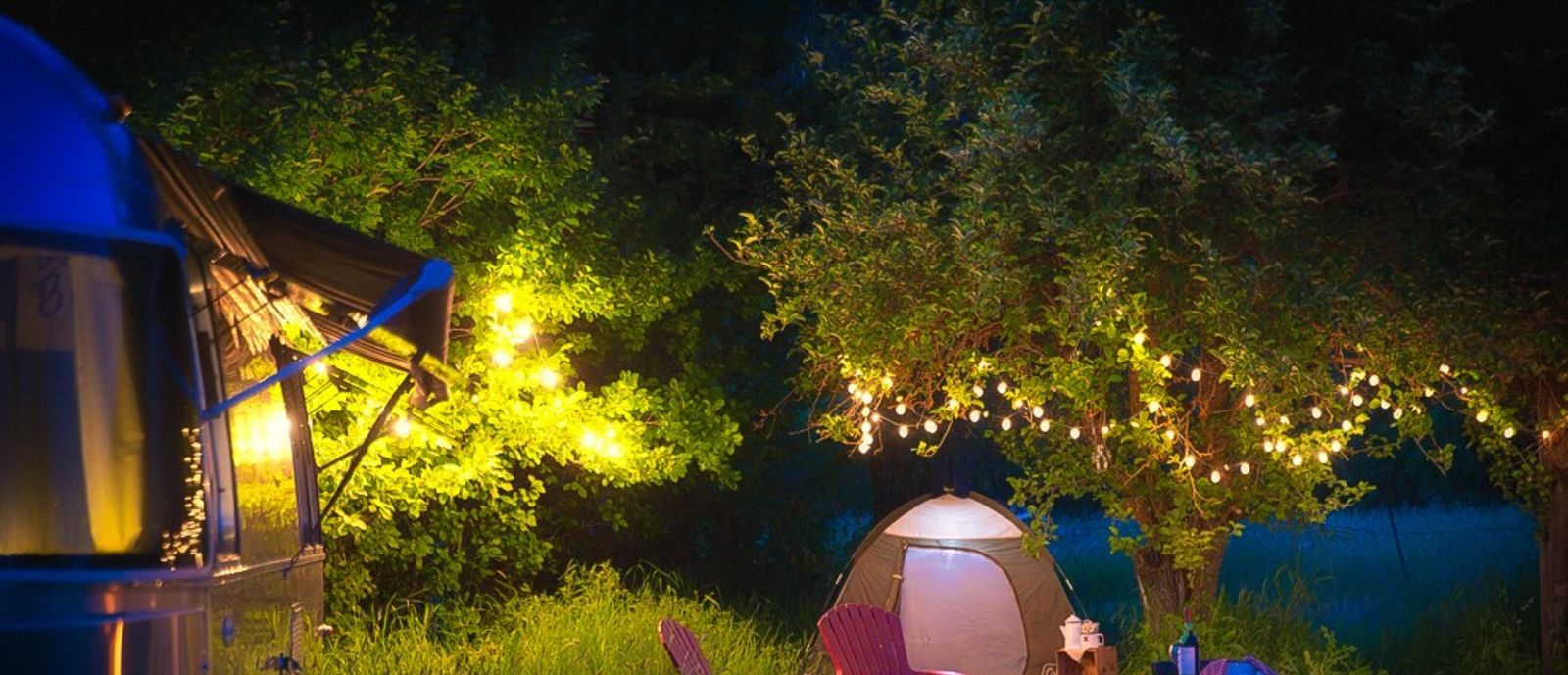 Expert Advice
Outdoor Entertaining Made Easy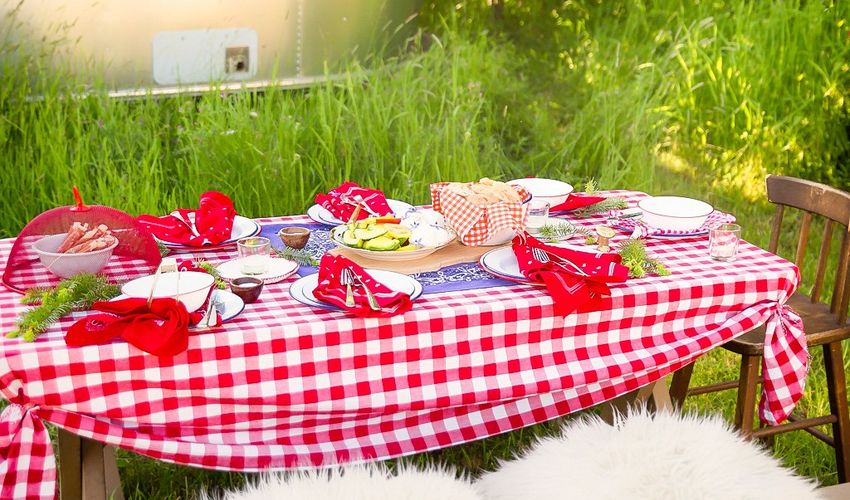 A few years back we were deep-sea fishing off the coast in Washington State with a very lovely family-run charter business, when hubby decided to invite the captain, his crew and their families to come and join us back at camp for dinner.  "I'm sure Monica would love to cook up the catch of the day for you all!" He beamed (it was a very good day fishing, after all).  To set the record straight, the catch of the day happened to equate to one very fat 12-pound salmon, an extremely large bucket of over flowing prawns and no less than 12 extra-large Dungeness crabs.  As the boat rocked from the force of the waves, I grabbed the handrail and took a good foothold while taking a deep breath. I had visions of my tiny kitchen overrun with all this seafood and myself in the middle in utter despair. How on earth am I going to prepare a seafood feast for all our guests?
In the end, I survived that evening. As I look back, I'm not sure how, after all, I forgot to bone a freshly caught fish, forgot the salmon dip in the oven (which I discovered the next morning) and had no choice but to serve wine in coffee mugs.  Regardless of all that, everyone had a great time. I also realized that evening just how capable my RV kitchen was.
Since then we've enjoyed many great evenings with friends of ours along the way. Take for example the time we returned to Orcas Island in the San Juan Islands of Washington State where we entertained over 25 of our friends. This is when I learned that when your guests offer help, you take it. I also realized it's quite alright not to cook every course from scratch. My friend Gavin who runs Asher & Olive's catering business on the island came to my rescue with Bananas Foster for all of our friends. Thank you, Gavin!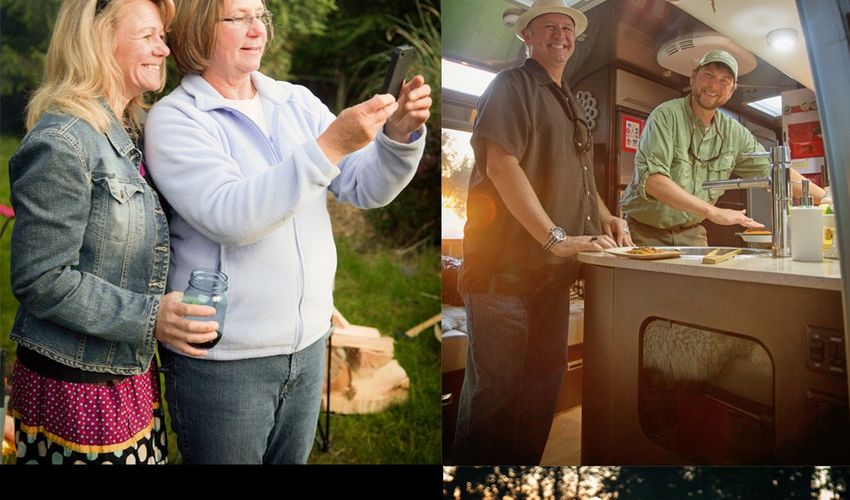 I also learned during that dinner party that it would have probably been a great idea to have a "guest room" for friends who were too tired to drive home late at night if they were staying at a different RV park. So now, whenever we are entertaining, a guest room is a must and I am grateful we lug that tent around because it has come in very handy on more than one occasion. It also dawned on me that many items in the RV can be repurposed for outside use. For example, using pillows as cushions at the picnic table makes for a very comfortable dining experience and bringing out warm blankets and throws can help your guests feel more comfortable as the evening turns cooler (just don't forget to bring them in before you retire for the evening, otherwise they'll be damp from the morning dew).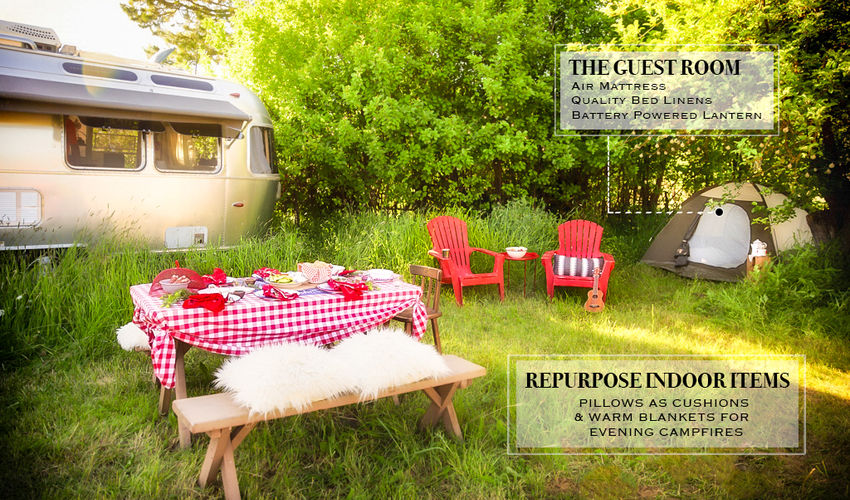 To keep guests from congregating around one table, it's also a great idea to spread out the goodies. Repurpose outdoor side tables to hold a drink station and a separate dessert station. We've even asked camp hosts in the past if it was okay to borrow the picnic table at the unoccupied site next to us. We've always had great experiences with our camp hosts in situations like these and most of them have even gone above and beyond offering up their own tables for our use, should we need them. So nice!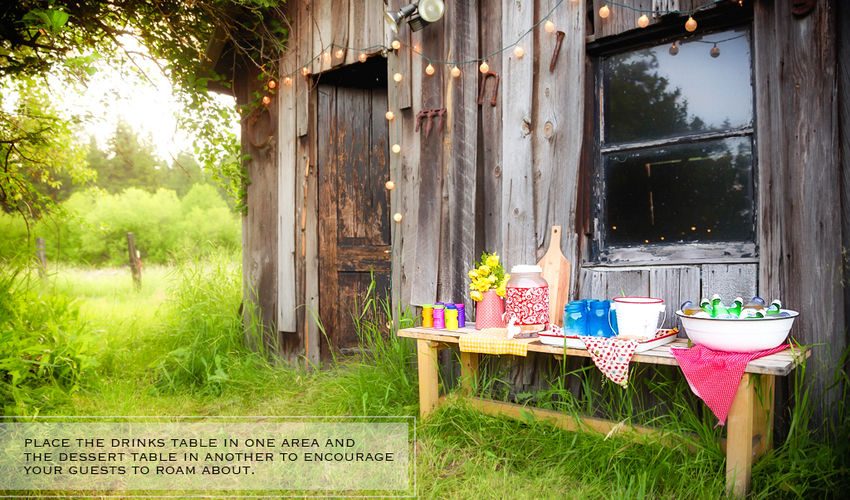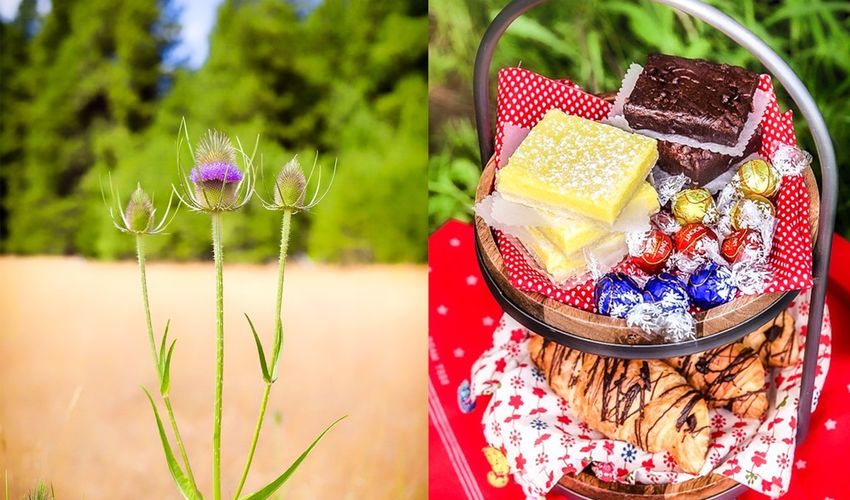 Setting a table in the great outdoors can be challenging especially if it's windy. My little tip is to take some ribbon and tie the edges of the tablecloth together on all four sides to secure it so it doesn't blow all over the place. Sure you can use those clip on weights to secure the tablecloth, but I find this works just as well, if not even better. Also, use bandanas in place of napkins and weigh them down with the silverware. Not only do bandana napkins really dress up a table, they also wash up and dry quickly. Decorate the table using foliage from the yard, and once the sun starts to set, drop some tea lights into mason jars or small votives to add a bit of ambiance to the table. A screened dome to protect appetizers from pests is also a good idea as well as lighting a citronella candle (away from the table) and providing insect repellant is also a good idea. No one wants to be eaten alive once the sun starts to set.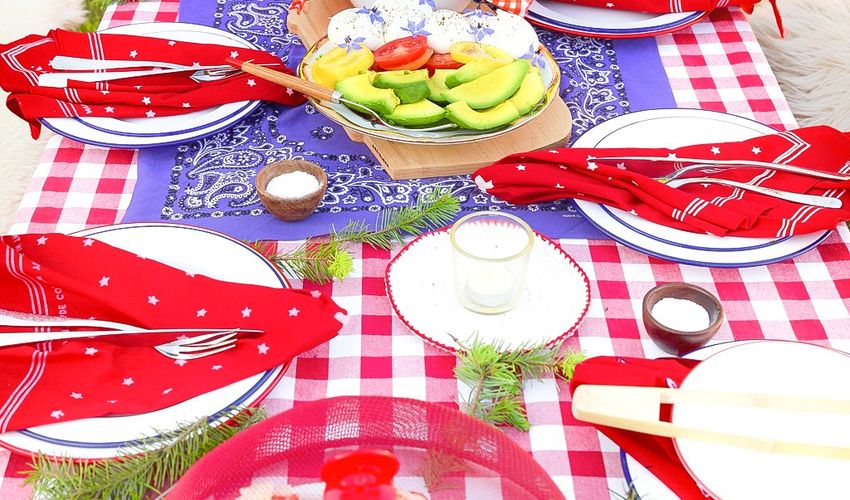 As for the menu, gone are the days of complicated recipe trials and errors. Now I cook what I know how to cook well and I keep it simple. For me, it's kebabs. Recently I had some friends over and onto the grill went Greek yogurt and lemon marinated chicken kebabs alongside morel mushroom and thick cut bacon kebabs. It was a complete crowd pleaser.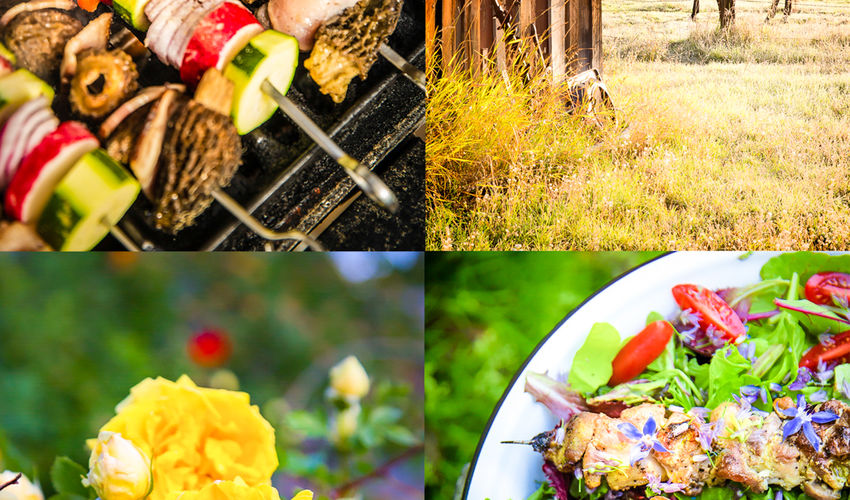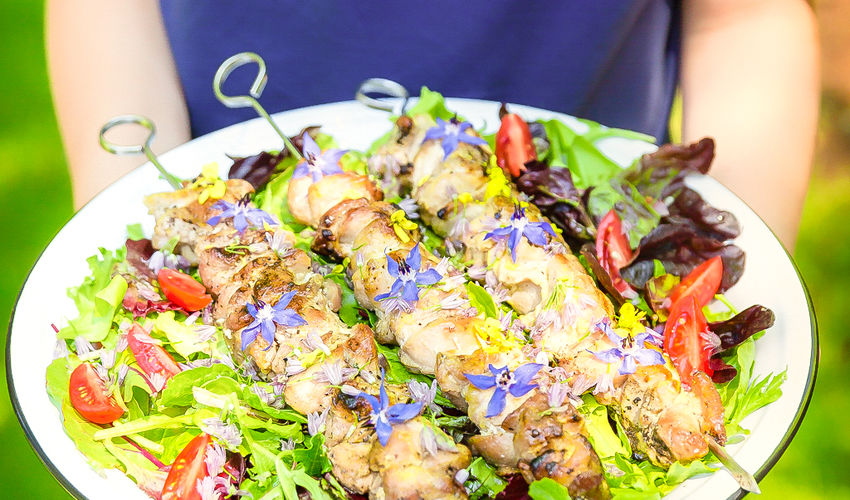 While the kebabs were finishing up on the grill, I tossed a big salad and placed the kebabs on top and at once, dinner was served. To enjoy alongside the kebabs, I brought out a big plate of burrata cheese with sliced sweet tomatoes next to a generous helping of avocado. I served that with a bowl of sliced rustic bread and we were set. One of the best dinners we've had. Simple and delicious. How it should be!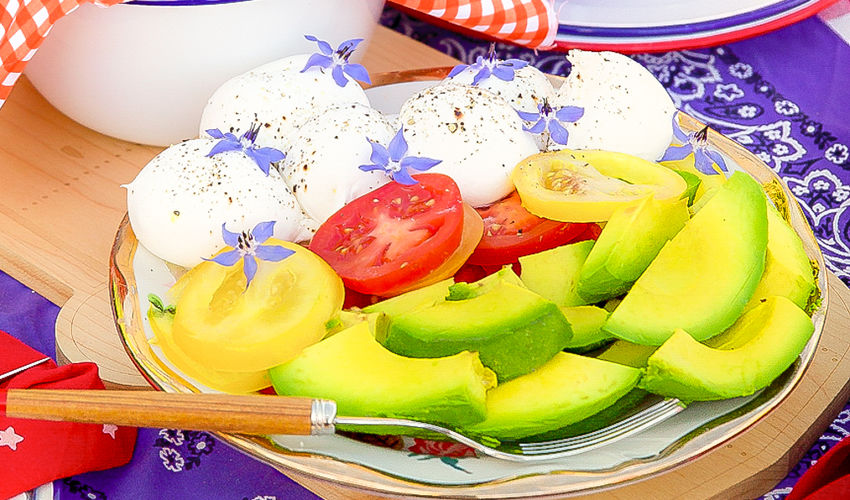 As for the guest tent I mentioned earlier, if you can, add a bit of extra luxury by having an air mattress dressed in soft linens, fluffy pillows and a warm blanket. A battery-powered lantern is a must, along with a fresh pot of hot coffee in the morning. It's the little things that make a big difference. If you want to make your guests feel special, this is the way to do it.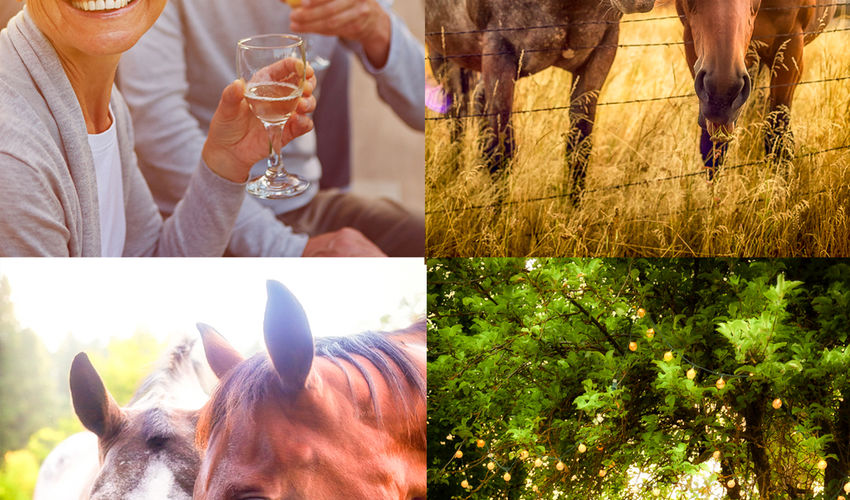 Outdoor entertaining during our RVing adventures has been such a pleasure for me.  As I look back on my first experience, I do so with pride. I have definitely come a long way from cooking for my small family of three to entertaining guests numbering over 25. For that, I am proud.
Please, if you have any tips or suggestions on outdoor entertaining, I would really love to hear!